Ms Liu has been in the Chamber this afternoon …what happened to the court proceeding?
Challenges to the election of Josh and Gladys have been referred by the High Court sitting as the Court of Disputed Returns to the Federal Court today, Wednesday!
View the Challenges post on CAAN Facebook!
Senate erupts as Cormann backs Gladys Liu "double agent"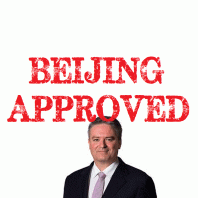 By Houses and Holes in Australian Politics
September 18, 2019 | 28 comments
Via the ABC:
Labor is facing accusations it is using "dog whistle" politics in its attack on Liberal backbencher Gladys Liu, who is under sustained pressure amid allegations about her links to China
Federal Government Leader in the Senate, Mathias Cormann, told the Parliament Ms Liu had the Coalition's "full support" to remain as an MP.
"Gladys Liu is the elected Member for Chisholm because a majority of Australians in Chisholm preferred her and the Liberal Party to the Labor alternative," Senator Cormann said.
"Her Labor opponent was a member of a number of the same organisations that Labor is now using for its disgraceful, unsubstantiated smear and dog whistle."
Senator Cormann, as the Coalition's leader in the Upper House, represents Prime Minister Scott Morrison in the Senate.
It was in that capacity that the Senate on Tuesday compelled him to make a statement in the chamber on Wednesday morning.
Senators called on Senator Cormann to explain the Government's response to allegations made against Ms Liu and offer an assurance she was a "fit and proper" person to remain in the Parliament.
Last week, the ABC revealed Chinese Government records indicating the Liberal backbencher was a member of two provincial chapters of the China Overseas Exchange Association between 2003 and 2015.
Having initially said she "cannot recall" being a member of either group, Ms Liu later confirmed she held an honorary role with Guangdong Overseas Exchange Association in 2011, but no longer had any association with the organisation.
PHOTO: Scott Morrison sits between Ji Jianmin and Gladys Liu on February 2, 2018. (Supplied)
The ABC also revealed ASIO had advised then prime minister Malcolm Turnbull not attend an event, based on the guest list, which Ms Liu had arranged in Melbourne.
Ms Liu has insisted Chinese associations list people as members without their knowledge.
Senator Cormann and Foreign Minister Marise Payne have repeatedly refused to use the term "fit and proper" but instead said they had "full confidence" in her remaining a MP.
"The Member for Chisholm is a strong advocate for her constituents and is a valued member of our team in this Parliament," he said.
"She has the Government's full support."
Senator Cormann spoke for less than two minutes despite having up to 20 minutes to address the issue.
Labor's Senate leader Penny Wong slammed Senator Cormann for a short speech that she said failed to address the Senate's demand.
"Yet again we see the arrogance of this Government refusing to be accountable to this Parliament, refusing to respond to public allegations, refusing to put the national interest first," Senator Wong said in an almost 16 minute response to Senator Cormann.
Coalition senators left the chamber as Senator Wong spoke, prompting outrage from Labor's Upper House leader.
*"As they leave the chamber, ladies and gentlemen, this shows what this Government thinks of the national interest," Senator Wong said.
"Walk out. Because you don't actually want to defend Australia's national interest.
"What a shameful group of cowards they are. What a shameful group of cowards they are."
Ministers Anne Ruston and Bridget McKenzie mounted further defences of Ms Liu and accused Labor of a broader smear of Chinese-Australians.
They said Ms Liu was a well respected member within her suburban Melbourne community.
Labor's Kristina Keneally and Kimberley Kitching told the Senate about repeated allegations leveraged against Ms Liu, including her ability to raise money for the Liberal Party.
Senator Kitching said it was outrageous to suggest that security agencies or Labor was acting with racist intent.
One Nation's Malcolm Roberts said Senator Cormann had failed to provide enough information about Ms Liu.
He said Australians want answers and Liberal claims the attacks on Ms Liu were racist were "annoying".
ScoMo has jumped the shark.
He should have done the right thing and sacked Liu straight away. He would probably would have won the by-election on the sustained high moral ground versus Labor.
*Now, not only is the ALP off the hook, his entire Government is sinking into a national security scandal that it cannot win.
The longer ScoMo holds on, the more voters he will alienate.
Does he really think that his "quiet Australians" approve of this?
Worse, his "racism" defense is sucking the ethnic Chinese community into the scandal discomforting everyone.
SocoMo made the same mistake that Labor did with its parental visa bribe at the election, assuming the Chinese community would endorse cheap parlour tricks.
This is fast becoming a disaster for the Government.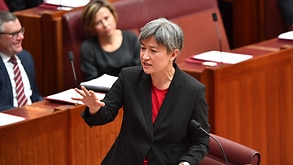 Labor Senate leader Penny Wong speaks after Minister for Finance Mathias Cormann made a statement on Liberal member for Chisholm Gladys Liu in the Senate. Source: AAP
SOURCE: https://www.macrobusiness.com.au/2019/09/senate-erupts-as-cormann-backs-gladys-liu-double-agent/
CAAN FACEBOOK:
https://www.facebook.com/Community-Action-Alliance-for-NSW-744190798994541/?ref=aymt_homepage_panel
WEBSITE:
https://caanhousinginequalitywithaussieslockedout.wordpress.com/