AND no amount of Dams will be enough if the rains don't fall …
Why? It's called Climate Change … Our Governments should be addressing this …
Key Points …
-less than 3% increase in large dam storage capacity since 1990
–population risen from 17M to more than 25 Million
–fed govt analysis found water storage per person in NSW, Victoria and Queensland would fall by more than 30% by 2030
–6.5 million (35%) increase in population over 20 years
STOP with the PONZI … or … face deep water restrictions, desal plants and high water costs in $thousands!
RELATED ARTICLES: https://caanhousinginequalitywithaussieslockedout.com/2019/09/17/sydney-illawarra-drinking-water-catchment-under-threat-as-mining-takes-toll-on-key-wetlands/?fbclid=IwAR3ZMLWX7Kx4yj3srkc0XJOKevoJYoLF2ODRndAJlmEEll6ifyI1CrOldaw
https://caanhousinginequalitywithaussieslockedout.com/2019/09/15/the-towns-that-are-at-risk-of-running-out-of-water/?fbclid=IwAR2BPhZ-_aD2stycGoxCFYwL285arunMEQ6GOsHq7OVgmMLWLztMOA9Ydg4
https://caanhousinginequalitywithaussieslockedout.com/2019/09/16/the-drought-is-now-so-severe-it-is-biting-in-even-the-greenest-corners-of-the-country/?fbclid=IwAR2yQBdhWAGuodrwDzdimLaSrrsDT-wW5LN2krJ51zbmQjrvGOJfTR8dqwM
PHOTO: A dry river bed on Tony Saul's property (ABC News: Jerry Rickard)
17.5m more migrants will suck Australia's water dry
By Unconventional Economist in Australian Economy
September 18, 2019 | 21 comments
The Australian has published a report warning that Australia's water supply is running far behind the nation's rapid immigration-driven population growth: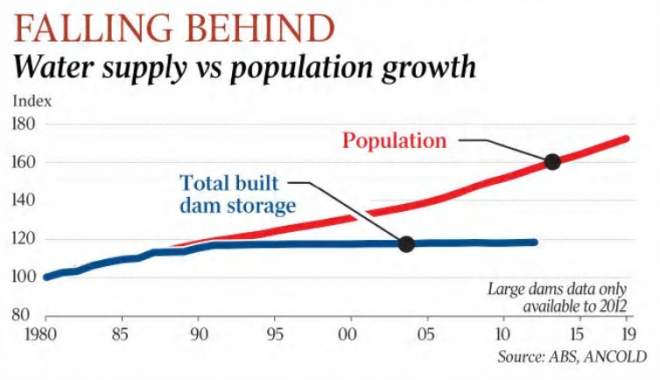 It's the worst drought in generations… But the story goes back much further: a progressive slowdown in construction of dams over the decades has led to a crisis that might have been avoided had governments met promises to keep on building them…
Figures obtained by The Australian from the Australian ­National Committee on Large Dams, an independent association, show that major dam building substantially slowed at the end of the 1970s and stalled around 1990. There has been less than a 3 per cent increase in large dam storage capacity since then.
By contrast, the Australian population has risen by almost half, from 17 million to more than 25 million, sharply reducing the amount of water available to meet demands for household needs, and to provide for ­agriculture…
Federal Water Resources Minister David Littleproud yesterday… released a federal government analysis that found that at current rates, water storage per person in NSW, Victoria and Queensland would fall by more than 30 per cent by 2030 as population grew…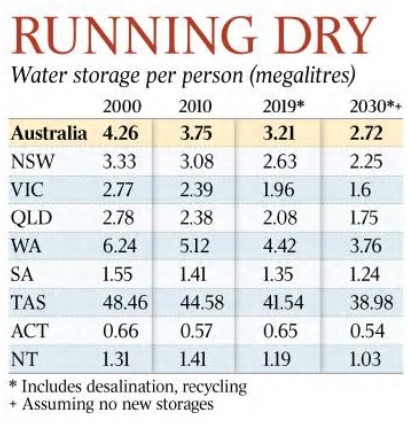 The federal government that has stupidly chosen to run a 'Big Australia' mass immigration policy without any regard for Australia's dryness.
And this has driven a 6.5 million (35%) increase in Australia's population over the past 20 years: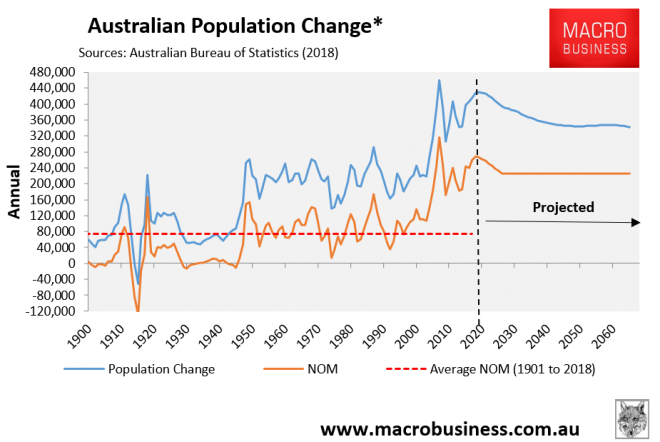 That's a heck of a lot of extra mouths to hydrate.
Moreover, water demand will increase inexorably as Australia's population grows to a projected 43 million over the next 48 years, driven entirely by mass immigration: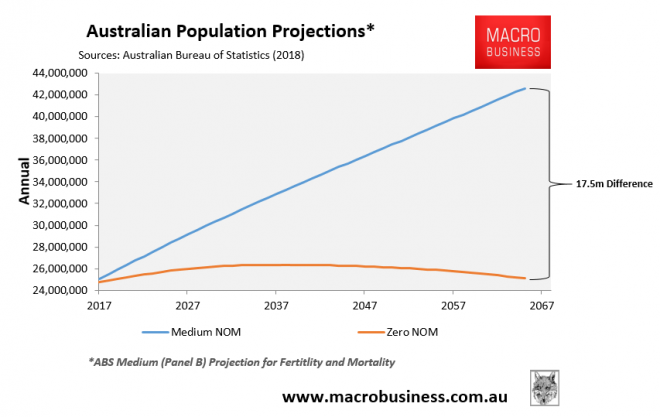 Without positive net overseas migration (NOM), Australia's population would remain steady and there would be 17.5 million fewer mouths to hydrate and feed in 2066.
The federal government and media can bang on all it likes about boosting water supplies, but the fact of the matter is they are the ones pushing the mass immigration policy that is importing many millions of extra water consumers.
Deep water restrictions, desalination plants, and higher water costs will be the inevitable outcome from this policy lunacy.
PHOTO: An empty dam on the Clarke's property near Kempsey. (ABC News: Jerry Rickard)
SOURCE: https://www.macrobusiness.com.au/2019/09/17-5m-more-migrants-to-suck-australias-water-dry/
CAAN FACEBOOK:
https://www.facebook.com/Community-Action-Alliance-for-NSW-744190798994541/?ref=aymt_homepage_panel
WEBSITE:
https://caanhousinginequalitywithaussieslockedout.wordpress.com/