From the comments …
"The only way to deal with this is straight forward. CHINA know that they are doing it, and they also know that we know they are doing it.
They will always outwardly deny it as we would when called on our own spies activities.
So the method to address it, is to actually address it. DFAT need to be educated that while CHINA play tough on trade politics they also only ever buy what they have to, they are never your friend, never have been and always remain completely selfish.
Most nations that are not naive like Australia, are the same. So while CHINA will make noises they still need our goods, or would be sourcing elsewhere, and you can see 'vertical integration' via foreign direct investment is always their aim (check the news today re the Bellamy's buyout, yet another business making money for Oz will soon be foreign owned).
So DFAT need to accept they will keep buying until they can buy out. Thus whatever we say to them will raise their ire, but they will continue to buy.
Then we need to have some straight talk, tell the Chinese we know they are trying to infiltrate our nation, and that it needs to stop, and if not we will need to halt issuing VISAs to the Chinese until it does stop!"
Many of us believe Migration via the backdoor of Visa Manipulation should stop now!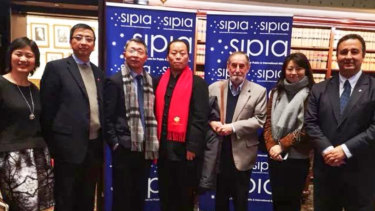 China attacks Australia with impunity
By Houses and Holes in Australian Politics, China American Cold War
September 16, 2019 | 34 comments
Still more fallout from Chinese influence today, this time Labor, at Domain:
A NSW Labor MP, who is linked to pro-China community organisations, hired a staffer who completed a propaganda training course in Beijing run by the Chinese Communist Party.

Upper house MLC Shaoquett Moselmane, who controversially gave a speech last year proclaiming a "new world order" was needed for China to reach its potential, appointed John Zhang to his parliamentary office at the beginning of 2019.

Mr Moselmane has taken nine privately-funded trips to China since entering Parliament in 2009. Disclosure records show his transport and hospitality costs were often met by Chinese government officials or agencies.

Mr Zhang is listed as a vice-chairman of Australia China Economics, Trade and Culture Association (ACETCA) on the organisation's now-defunct website, which some China experts say has become a leading Chinese Communist Party-aligned organisation in Australia.
Come now, he's just getting ahead.
In one way it's started to bite, at The Australian:
Federal MPs have wound back travel to China on state-sponsored junkets amid concerns over foreign­ influence but continue to claim overseas-funded "study tours" paid for by governments includin­g Taiwan, Qatar, Kuwait, Morocco and Azerbaijan.

The Australian can reveal more than 100 MPs and senators have claimed sponsored overseas travel, including flights, accommod­ation, transport and meals, from foreign governments, lobby groups, think tanks and ­companies.

The audit of MPs' sponsored travel between 2016 and this year shows parliamentarians continue to accept internationally funded trips, including airfares and accom­modation for partners, with limited requirements to outline their movements.
But in a more important sense it is worse than ever, via Herald Sun:
Andrew Bolt's slightly incredulous face. Picture: Sky NewsSource:Supplied
Bolt's accusations against China were clearly correct.
Its claims in the South China Sea have been ruled unlawful by the International Court of Arbitration, and Xi Jinping is a dictator in all but name.
So Ms Liu's reluctance to agree with him was troubling. But not because she diverged from the government's position. The real problem is that she didn't.
Read the statement the Prime Minister's Office reportedly helped her craft the next day…That carefully worded statement has one significant thing in common with Ms Liu's answers to Bolt — it steadfastly avoids direct criticism of China.
…Ms Liu's interview was undeniably a trainwreck, and she still has serious questions to answer. Who knows, she may end up losing her job.
But whatever happens to her, long after voters have forgotten her name, the broader issue here will remain.
Our politicians will still be reluctant to speak clearly about China's flaws.
In the long run, that is more important than the fate of one MP.
Gladys Liu went on Andrew Bolt's show on Monday night, and she did not have a good time. Picture: Sky NewsSource:Supplied
Amen to that. Especially since the Chinese Communist Party is attacking the democracy with impunity, via Reuters:
Australian intelligence determined China was responsible for a cyber-attack on its national parliament and three largest political parties before the general election in May, five people with direct knowledge of the matter told Reuters.

Australia's cyber intelligence agency – the Australian Signals Directorate (ASD) – concluded in March that China's Ministry of State Security was responsible for the attack, the five people with direct knowledge of the findings of the investigation told Reuters.

The five sources declined to be identified due to the sensitivity of the issue. Reuters has not reviewed the classified report.

The report, which also included input from the Department of Foreign Affairs, recommended keeping the findings secret in order to avoid disrupting trade relations with Beijing, two of the people said. The Australian government has not disclosed who it believes was behind the attack or any details of the report.

In response to questions posed by Reuters, Prime Minister Scott Morrison's office declined to comment on the attack, the report's findings or whether Australia had privately raised the hack with China. The ASD also declined to comment.

…The report, which also included input from the Department of Foreign Affairs, recommended keeping the findings secret in order to avoid disrupting trade relations with Beijing, two of the people said.
DFAT scum. Time to comment. Time to fight back. Whatever the CCP is going to do to us is coming regardless.
SOURCE: https://www.macrobusiness.com.au/2019/09/china-attacks-australia-with-impunity/
CAAN FACEBOOK:
https://www.facebook.com/Community-Action-Alliance-for-NSW-744190798994541/?ref=aymt_homepage_panel
WEBSITE:
https://caanhousinginequalitywithaussieslockedout.wordpress.com/