Key Points … About Beryl's office suppressing a story in the national media on the eve of the NSW March state election
–Virgin Australia secret partnership with 2 Chinese conglomerates to build a flight training school at a former RAAF facility in Tamworth NSW
–revelations of apparent direct interference in the media by the Liberal NSW Government, to the benefit of a Chinese conglomerate
–Virgin Australia is majority foreign-owned; over 41% held by Chinese entities, including HNA Group, the operator of Hainan airlines
–NSW Government had months earlier committed to provide the project with $100s thousands of taxpayer funds if the project was approved by FIRB
RELATED ARTICLES:
-Voice of Regional Australia:  the Airport, the Pilot School and two Chinese companies
https://caanhousinginequalitywithaussieslockedout.com/2019/08/02/13776/
-Shady Bros:  in pursuit of Virgin Australia's Big Neighbour Pilot-School Partners
https://caanhousinginequalitywithaussieslockedout.com/2019/08/11/shady-bros-in-pursuit-of-virgin-australias-pilot-school-partners/
-Virgin Australia is 'reviewing all routes' – which ones are most likely to go?
https://caanhousinginequalitywithaussieslockedout.com/2019/08/30/virgin-australia-is-reviewing-all-routes-which-ones-are-most-likely-to-go/
Can it be the Libs are up to their eyeballs with the CCP?
How Premier and News Corp muzzled Virgin's secret China flight school story
by Anthony Klan — 12 September 2019 — Featured, Finance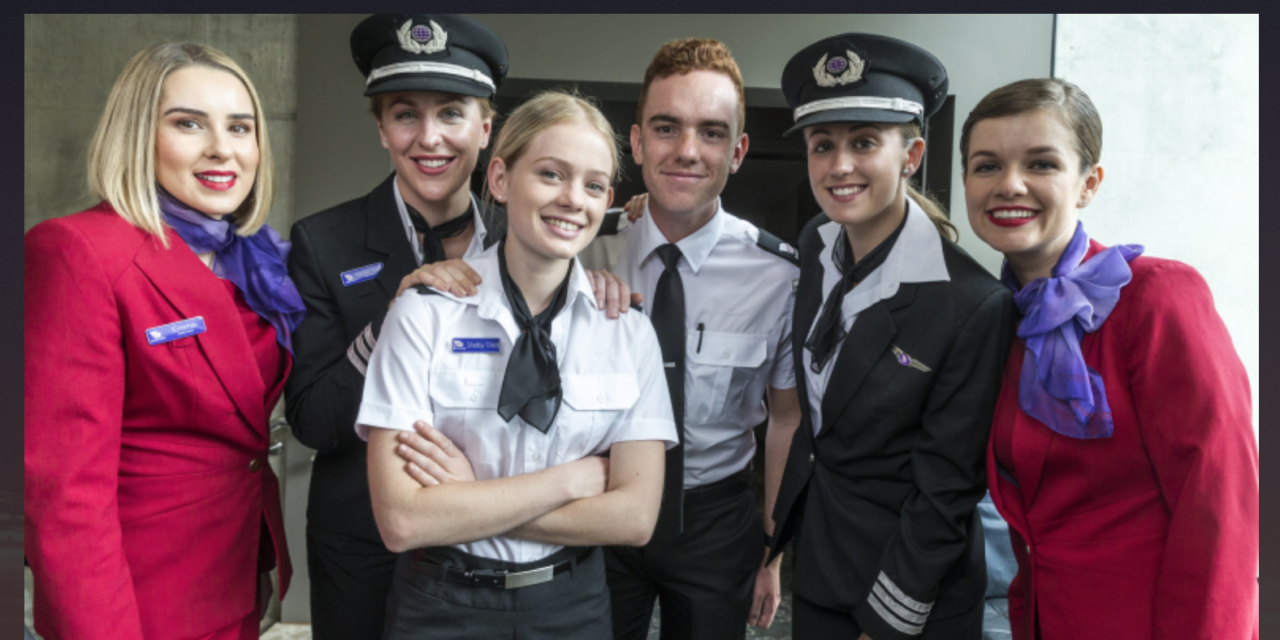 Photo: Virgin PR for pilot project. No mention of Chinese partners
The NSW Government interfered in the media to shut down a story involving a secret pilot training facility backed by powerful Chinese companies. *
It had earlier denied knowledge of the aviation project despite promising to commit taxpayer funds to it. *
Anthony Klan reports.
Premier Gladys Berejiklian's office intervened to suppress a story in the national media on the eve of the NSW March state election.*
The story, about Virgin Australia's plans for a mega flight school to train Chinese pilots near Tamworth, revealed the secret Chinese interests behind the Virgin bid.
The full investigation has since been published here.
On the morning of Friday March 22, The Australian newspaper's website broke the news that Virgin Australia had a secret partnership with two Chinese conglomerates to build a flight training school at a former RAAF facility in Tamworth NSW.
*Virgin's partners included its 19.9 per cent shareholder HNA Group, a company which experts say presents serious national security concerns. The Premier's then media adviser Miles Godfrey, contacted this reporter early that afternoon repudiating the story but refusing to provide any official comment.
Instead of responding to questions, Godfrey said he had earlier "called John Lehmann", the Editor of The Australian newspaper.
Despite the substance of the article,  no further updates to the story appeared in The Australian after Godfrey spoke to Lehmann. The original story remained online but never made it into the newspaper.
This was despite this reporter filing several updates, including a comment by the local MP Barnaby Joyce that he had "no idea" of the Chinese involvement in the proposal and comments from a "gobsmacked" former chairman of the Civil Aviation Safety Administration, Dick Smith.*
The Australian has not published a word on the matter in the five months since.
Revolving doors
One week after the NSW election, Godfrey began in a new role as deputy national chief of staff at The Australian.
The revelations of apparent direct interference in the media by the Liberal NSW Government, to the benefit of a Chinese conglomerate with close ties to the Communist Party, come as the federal Coalition comes under fire amid another CCP-linked scandal.*
This week it was revealed federal MP Gladys Liu had been a member of Chinese Communist Party-linked organisations and had publicly called for Australia's media to soften its coverage in relation to the Chinese government.*
On Sky News on Monday, Ms Liu denied the claims, but under strong pressure the MP was later forced to backtrack.
In a highly unusual move, Prime Minister Scott Morrison's office has taken control of Ms Liu's media communications.*
Ms Berejiklian has consistently refused to comment when repeatedly approached by this reporter over the past five months.
One of her spokesmen, Matthew Sun, repeatedly declined to say when Ms Berejiklian first became aware of the Chinese involvement in the Tamworth mega-project.*
However Sun distanced the NSW government from the project entirely, and said it was a matter for Tamworth Council.
"Tamworth Regional Council independently made an agreement with Virgin Australia regarding the proposed Tamworth flight school," Sun said in a written statement.
"There was no NSW Government involvement in that specific decision."
Virgin Australia is majority foreign-owned with over 41 per cent of the company is held by Chinese entities, including HNA Group, the operator of Hainan airlines.
Other shareholders include Singapore Airlines and Bahrain's Etihad Airlines.
In the week following the election, on 28 March, Godfrey called this reporter to inform of his upcoming new role at The Australian. He was to become one of my bosses. He said he now had a "conflict of interest", so one of his colleagues would deal with queries over the aviation facility in future.
It agreed Godfrey's continuing to handle the matter would be improper. However, after I insisted on obtaining answers to the questions put to Berejiklian, Godfrey responded, rather than any of his colleagues.
Later on the afternoon of March 28, I again indicated by email that he had no intention of dropping the story, Godfrey – and not any of his colleagues – called again to argue points of the story, but refused to provide any comment from Berejiklian or to answer simple questions regarding the story.
On the March 22, NSW election eve, Godfrey had also said Berejiklian could not comment on the Virgin Australia scandal because "this is the first we've heard of it".*
It has since emerged the NSW Government had months earlier committed to provide the project with hundreds of thousands of dollars of taxpayer funds if the project was approved by FIRB.*
As reported earlier, the local council said, when questioned over the deal, it had no knowledge although the official position of the Council later changed to insist it knew all along.
Public support is vital so this website can continue to fund investigations and publish stories which speak truth to power. Please subscribe for the free newsletter, share stories on social media and, if you can afford it, tip in $5 a month
$5 per month$20 per month$100 per month
ABOUT THE AUTHOR
Anthony Klan is an Investigative journalist specialising in corporate malfeasance and corruption. Klan's investigations into the likes of superannuation, Google Australia, financial planning and Pink Batts have informed government policy and brought reform in Australia.
SOURCE: https://www.michaelwest.com.au/how-premier-and-news-corp-muzzled-virgins-secret-china-flight-school-story/?fbclid=IwAR3o4uXMoLLpQC5DBwkAdNT0zP5aha7Eq7-HvIKB8AQfrhi-UhDeoEiniIs
CAAN FACEBOOK:
https://www.facebook.com/Community-Action-Alliance-for-NSW-744190798994541/?ref=aymt_homepage_panel
WEBSITE:
https://caanhousinginequalitywithaussieslockedout.wordpress.com/