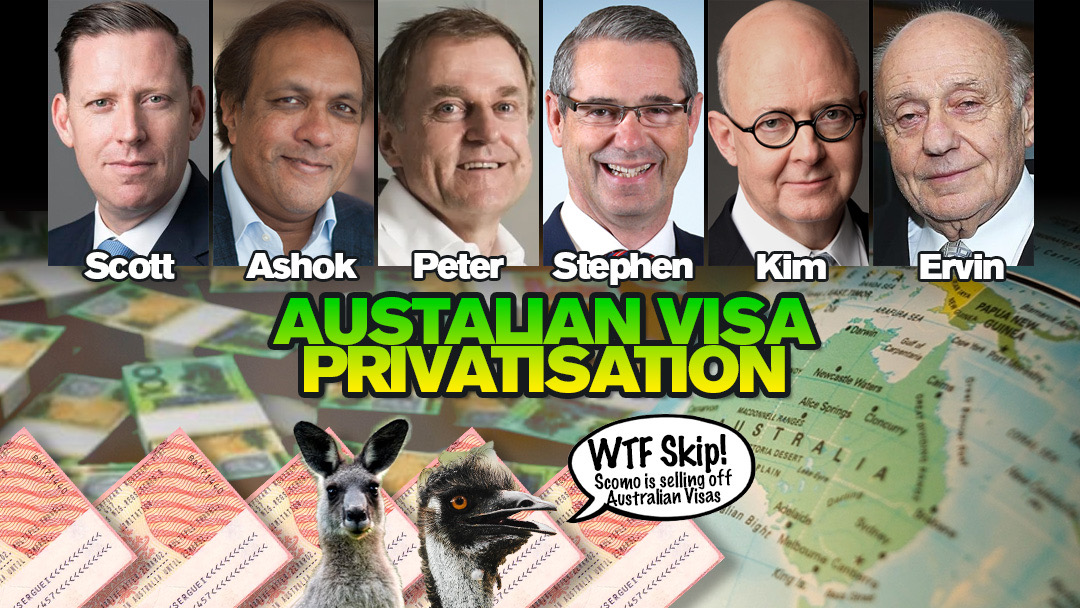 The Unconventional Economist has spelt it out for what it is … no ifs … not buts …
Recommend everyone also view the comments starting with what looks like constructive criticism here …
-Adrian has donated money to 'the party' … therein lies the problem.
Would our founding fathers of the Constitution been ok with pollies being beholden to a foreign power? Through donations?
'The fake left' refuses to get the AEC to adequately fund the political parties thus the corruption continues!
-The extreme carpetbagging, rent seeking mentality of the LNP Right will always be among us … it is the insipid and gormless left … it is only by shutting down mass immigration and restructuring an economy befitting of what the Australian People want (Shorten tried to do that!)
SURELY NOW with what has surfaced from the LNP … and the angry reaction to it … it is time the ALP took charge!!!
Coalition's visa privatisation will torpedo Australia's borders
By Unconventional Economist in Australian Economy
September 13, 2019 | 24 comments
Following his stellar expose last month, investigative journalist, Michael West, has done another excellent job exposing the cabal of vested interests behind the Morrison Government's plans to privatise Australia's visa system:
Flemington market's fruit and vegetable mogul Santo Peter Tripodina and his 38-year old son, property developer Adrian Tripodina, have emerged as mystery power-brokers behind one of the two bids for the Federal Government's $1 billion visa privatisation.
Together with longtime Packer lieutenant Ashok Jacob's Ellerston group of companies, the Tripodinas will be providing the financial grunt behind the Australian Visa Processing Pty Ltd consortium.
The front man for the AVP bidders is Scott Briggs, a friend and political advisor to Prime Minister Scott Morrison.
An investigation by michaelwest.com.au has revealed the Tripodinas are the major shareholders in Pacific Blue Capital. Scott Briggs is chief executive and Adrian Tripodina is executive director…
Final bids for the visa processing contract were submitted to the Department of Home Affairs on June 28 and the government has said it will advise on the outcome in October.
The Tripodina family has been reported as being members of the Liberal party in Scott Morrison's electorate and Adrian has donated money to the Party in the past. It also has investment links to the ultra-wealthy Vidor family, property and hotel moguls from Sydney's eastern suburbs…
CAAN: TOGA GROUP
LVO: Morrison, as well as Immigration Minister David Coleman, who previously worked with Briggs at Nine Entertainment, have recused themselves from the process due to their association with Briggs but until now the deep involvement of the Tripodinas in the tender, and their possible connection with the PM, has not been documented…
While the Government considers the rival bidders, it is interesting to note an increasing push by some parliamentarians to demand transparency from those who bid for government contracts.
The first assistant secretary of the immigration department, Andrew Kefford, recently labelled the privatisation of Australia's visa system as the 
*"most significant reform to the Australian immigration system in more than 30 years", and claimed that it would make the "visa business" profitable by including "premium services for high-value applicants", different access for those able to pay more, as well as "commercial value-added services".
However, the experience of the United Kingdom, which privatised its visa system in 2014, has been far from complimentary. There, the Dubai-based firm that won the government contract has been accused of exploitation and turning the visa system into 'pay-to-win', as documented last month by The Independent:
VFS, which has its headquarters in the UAE but is owned through holding companies in Jersey, the Cayman Islands and Luxembourg, faces claims of "gross maladministration" and "aggressive" selling of optional services since taking the UK government contract in 2014…

People applying through VFS – the majority of whom are from lower-income countries, with a quarter from south Asia – have said they missed flights and were wrongly denied visas due to delays and administrative errors, including apparent failure to scan vital documents.

Others said they had faced a barrage of "optional" services on the VFS website, ranging from document checking for around £5, to a "super priority" visa service costing as much as £1,000, which some said failed to deliver on the fast-tracked service promised. Lawyers said these additional services could exploit vulnerable migrants who may feel pressured to spend more to secure visas.

Meanwhile, VFS has increased its average revenue per applicant by 38 per cent between 2016 and 2018 by selling more premium services, according to an analysis of group accounts filed in Luxembourg.

Prior to the contract, the majority of UK visa applicants could submit their applications in British embassies or consulates, where their documents would be processed and decisions would be made, and where there was no system of offering priority or "added value" services.

But when the service was outsourced in 2014, decision-making was concentrated in larger hubs run by VFS, which the Home Office said at the time would "improve the efficiency and consistency" of decision-making.

Fees have increased since then, with the cost of applying for a standard visit visa – the most popular type – rising by 14 per cent, from £83 in 2014 to £95 in 2019. Applications for settlement have increased from £885 to £1,523, a rise of 72 per cent…

The figures come following widespread concern over the privatisation of the Home Office's in-country visa system, which was outsourced to French firm Sopra Steria in November and has since, according to lawyers, offered a "substandard" service for "inflated" prices.
No matter which way you cut it, it is a staggering decision to outsource Australia's visa processing. Quite apart from the inevitable cost increases as a monopoly supplier loads up their profits, it is about sovereignty. *
Governments must provide these essential services, they must be sacrosanct and marked 'never to be outsourced'.*
The inevitable outcome from visa privatisation will be corruption and 'pay-to-win', with those willing and able to pay extra fees granted priority treatment, as witnessed in the United Kingdom.*
How can the Australian Government control immigration numbers when it adds a profit motive and turns the visa system into a quantity-based business? It cannot.*
We have already seen what happens with the international student market, whereby Australia's universities have destroyed entry and teaching standards in order to pull in as many full fee paying students as possible.
Clearly, privatising Australia's visa system carries enormous risks. It will torpedo Australia's borders, drive private monopoly profits, and place Australian taxpayers on the hook when the inevitable disaster that follows needs to be fixed down the road.
There is no way any independent and comprehensive cost-benefit analysis would have resolved to outsource Australia's visa processing. It is another prime example of Australia's 'Game of Mates'.
SOURCE: https://www.macrobusiness.com.au/2019/09/coalitions-visa-privatisation-will-torpedo-australias-borders/
CAAN FACEBOOK:
https://www.facebook.com/Community-Action-Alliance-for-NSW-744190798994541/?ref=aymt_homepage_panel
WEBSITE:
https://caanhousinginequalitywithaussieslockedout.wordpress.com/