FOLLOWING two evacuations, AND Revelations about deficient waterproofing, fire protections, combustible cladding and more, the Lambert and Shergold Weir Reports, Engineers Australia Report on 85% defective apartments on completion and more … do you suppose this Lobby are desperate to reflate their property bubble?
THERE is a far better solution to Affordable Housing for Australians aspiring to own their own home … and there's no Developer!
View!
https://caanhousinginequalitywithaussieslockedout.com/2019/09/08/re-imagining-the-block-part-one/?fbclid=IwAR29GGr_6XBRlx6aaxvrry1623KIHKbxLrjn2VEcn-H8fcAftyZkm6DC_8g
Developers summon first home buyer patsies
By Unconventional Economist in Australian Property
September 9, 2019 | 16 comments
Desperate to reflate the East Coast property bubble, developers have started offering first home buyers (FHB) vendor financing, with plans to link it with the Federal Government's announced FHB loan subsidy scheme for 10,000 applicants a year:
The family behind the Melbourne-based Simonds, along with a handful of other wealthy building families, have already put $300 million into a scheme, modelled partly on WA's successful Keystart program, to fund 3 per cent of the loan needed for a qualifying purchase, to help buyers who would otherwise struggle to raise the typical 20 per cent needed for a deposit.

The Simonds scheme has not yet started, but its backers have already been talking to Housing Minister Michael Sukkar about linking the two after the federal government scheme, which from January will guarantee qualifying home buyers 15 per cent of the funds needed to raise a deposit, said Simonds Group director Piers O'Brien.
Housing minister, Michael Sukkar, also suggested the Coalition would seek to expand the government's FHB loan subsidy scheme to meet demand:
"We're going to assess what demand is like, see what the reaction of first home buyers is to the guarantee. The Prime Minister has said if it's a wildly successful scheme of course we would look at how to expand it"…
*Both schemes would obviously raise demand and place further upward pressure on house prices – the antithesis of a 'housing affordability' measure.*
Scott Morrison made this point explicit when launching the Coalition's FHB scheme the week prior to the federal election:
"We want to see more first-home buyers in the market, absolutely, and we don't want to see people's house prices go down". *
Given Scott Morrison worked at the Property Council as National Manager of Research and Policy from the age of 21 to 26, and the property lobby runs through his veins, expect the Coalition to throw more support at FHBs and the housing market.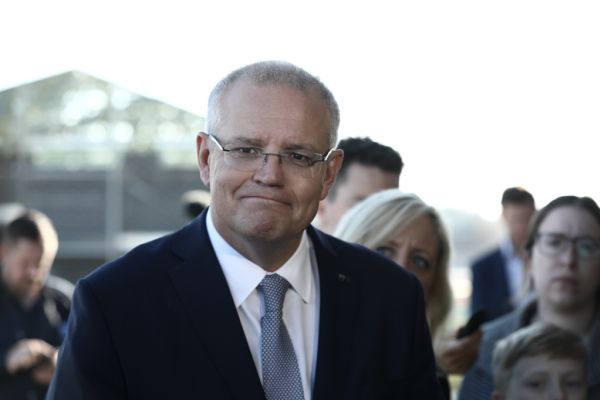 Photo: Domain: Prime Minister Scott Morrison visited a masterplanned community at Caddens in Sydney's west on Monday to discuss his first-home buyer deposit scheme. Photo: Dominic Lorrimer
SOURCE: https://www.macrobusiness.com.au/2019/09/developers-summon-first-home-buyer-patsies/
LIKE CAAN … please share our links with others!
CAAN FACEBOOK:
https://www.facebook.com/Community-Action-Alliance-for-NSW-744190798994541/?ref=aymt_homepage_panel
WEBSITE:
https://caanhousinginequalitywithaussieslockedout.wordpress.com/