THIS redevelopment follows on from the NSW planning department endorsing the CHATSWOOD CBD Planning and Urban Design Strategy in August to turn Chatswood into an even bigger business district.
AND as GeoPolitical Strategist David Lee recently pointed out the Sydney Metro from the northwest leads to Chatswood enabling the Chinese money to capitalise on its access to the Metro and a fast train …
HAS the Planning Department fallen into line with the Chinese investment in supporting even more commercial development in the core areas of this CBD as their diaspora spread across the North Shore and northwestern suburbs?
WHY then did the Planning Department rezone Macquarie Park into a high-rise slumland from a leading Business and IT Park?
PERHAPS the Planning Department should redress this error and restore MACQUARIE PARK for AUSTRALIAN BUSINESS?
Meanwhile this guvmint is pushing for Visa Privatisation … what the *! How vulgar is that?
RELATED ARTICLES …
CLICK onto about 9.5 minutes into the talk and David Lee, a GeoPolitical Strategist hones in on Chatswoo … 15% of the entire GDP of Australia comes from Sydney to Chatswood
David describes Chatswood as the city in the middle of nowhere; being built by the CHINESE COMMUNIST PARTY
All the money has come from China. It's not from Hong Kong people … they speak Mandarin in Chatswood; previously it was Cantonese.
A lot of money comes into Chatswood, and it's effectively the Shenzhen/Hong Kong to Sydney CBD of Australia.
This is the wealthiest couple of kilometres in the entire of Australia! …
This city has happened out of nowhere … massive high-rises … it looks like Hong Kong … it's a city being built ostensibly with China's money …
https://caanhousinginequalitywithaussieslockedout.com/2019/09/01/a-geopolitical-strategist-on-the-mk-hong-kong-the-u-s-and-australia/?fbclid=IwAR10lD12mz0OZPkHTJtR2qjV-9XsPZPg5c8M86-348dp5zLJy9aZZWoOdXQ
FOREIGN INTERFERENCE AS REVEALED ON THE IMPENDING RETIREMENT OF ASIO CHIEF
https://caanhousinginequalitywithaussieslockedout.com/2019/09/05/foreign-interference-more-of-an-existential-threat-to-australia-than-terrorism-asio-chief/?fbclid=IwAR0JHot6_MV8oWxmZQ6Oy5rLwqF54bR0elDiKFrMFGsrS7GfncehQu3JxdQ
SEARCH CAAN Website for more about VISA PRIVATISATION
37-Storey Tower For Chatswood As It Strides Towards A New CBD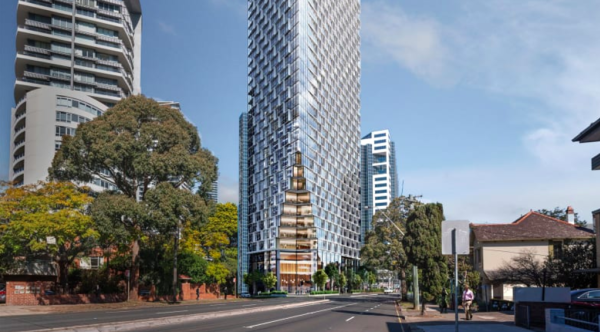 The future tower at 845 Pacific Highway in Chatswood. Photo: Supplied
37-storey tower for Chatswood as it strides towards a new CBD
SU-LIN TANSEP 6, 2019
Private owners are selling the commercial building at 845 Pacific Highway in the growing Chatswood CBD in Sydney with a scheme that will turn the building into a new 37-tower office tower.
It is understood the asking price is about $60 million.
*The offering comes as the NSW planning department endorsed the Chatswood CBD Planning and Urban Design Strategy in August which will turn Chatswood, one of the busiest sub-CBDs in Sydney, into a bigger business district.
*The strategy was launched as a means of capitalising on Chatswood's access to a metro station and a fast train.
*The department says however, while it supports more commercial development, it is not in favour of more residential development in the core areas of the CBD so as to retain the core areas purely for commercial use, especially offices.
*Some mixed-use development will be permitted within parts of the core CBD as long as it supports job growth, the department adds.
Colliers International's Henry Burke who is managing the sale campaign said the location of the island site of 845 Pacific Highway within the core CBD area primes it for future office development.
He is working on the deal with colleagues Joseph Lin and Steam Leung.
When converted into a 37-storey 150-metre tower, 845 Pacific Highway will yield 35,000 square metres of gross floor office area.
The site, which currently has a 3165-square-metre office block with a retail car wash and 55 car spaces, is 320 metres to the train station.
"It has been over 25 years since Chatswood has seen a new commercial building developed in its CBD," Mr Burke said.
"North Sydney and Macquarie Park have supported new developments and with the recent draft zoning changes to the Chatswood CBD and the positive market fundamentals we expect Chatswood's development pipeline to swell as new premium grade buildings take over the skyline."
Mr Lin said the falling total and A-Grade vacancy in Chatswood indicates the centre is ready for more office space, more so with increased employment and foot traffic coming through the new metro.
The Chatswood train interchange was recently also refurbished with a new retail precinct.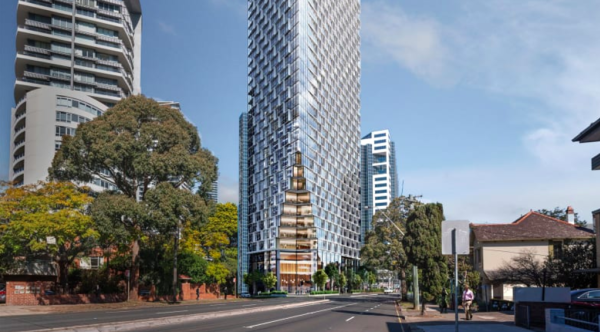 SOURCE: https://www.commercialrealestate.com.au/news/37-storey-tower-for-chatswood-as-it-strides-towards-a-new-cbd-2-877493/
LIKE CAAN to enable us to spread the word!
CAAN FACEBOOK:
https://www.facebook.com/Community-Action-Alliance-for-NSW-744190798994541/?ref=aymt_homepage_panel
WEBSITE:
https://caanhousinginequalitywithaussieslockedout.wordpress.com/