SADLY … Expect lots of pontification on the need for policy band aids like:
'better planning', more infrastructure investment, dense living, congestion pricing, and polycentric cities … as thousands fly in daily …
IN NSW we had numerous Public Housing Estates … but the Libs have sold them off in a pipeline to the Mates, and handed over responsibility of what's left to charities to become 'Social Housing' …
NOW the 'Harbourside Housing Class' are set to capture everyone else (Aussies) to become their lifelong tenants in 'Affordable Housing' … i.e. boarding houses and 'build-to-rent' projects …
SMH Population Summit hijacked by 'Big Australia' mafia
By Unconventional Economist in Australian Economy
September 3, 2019 | 55 comments
On 23 September, The SMH will hold a Population Summit to discuss "where key decision-makers and thought-leaders in government, transport, property, planning, banking, finance, architecture, economics and the law will come together to discuss how we successfully plan for a growing Sydney".
The topics for discussion are:
Towards a coordinated population policy
Congestion costs and congestion busters
*Demography and immigration
*Social and affordable housing
Urban density and avoiding anonymous sprawl
Making infrastructure dollars go further
Western Sydney Airport and Aerotropolis
Towards a polycentric city
Fast rail and a Newcastle-Sydney-Wollongong mega-region
Lessons from some other fast-growing international cities
Jobs, innovation and workplaces of tomorrow
Congestion and road-user charging
Sydney vs Melbourne – Australia's heavyweight title bout
As usual, the speakers list features a grab-bag of 'Big Australia' mafia, with nobody from the opposing side represented:
The Hon Alan Tudge MP Minister for Population, Cities and Urban Infrastructure
The Hon Anthony Albanese The Leader of the Opposition
Lucy Hughes Turnbull AO Chief Commissioner, Greater Sydney Commission
The Hon. Rob Stokes MP Minister for Planning and Public Spaces, NSW
Kiersten Fishburn Chief Executive Officer, Liverpool City Council
Romilly Madew AO CEO, Infrastructure Australia
Kristin Brookfield Chief Executive Industry Policy, Housing Industry Association (HIA)
Lisa Davies Editor, The Sydney Morning Herald
Leilani Frew Chief Executive, Infrastructure and Project Financing Agency (IPFA)
John Brogden AM CEO, Landcom
Lord Mayor Nuatali Nelmes City of Newcastle
Dig Howitt CEO & President, Cochlear
Melissa Widner Managing Director, NAB Ventures, National Australia Bank
Gabriel Metcalf CEO, Committee for Sydney
Professor Attila Brungs Vice-Chancellor and President, UTS
Marion Terrill Transport & Cities Program Director, Grattan Institute
Wendy Hayhurst Chief Executive, Community Housing Industry Association
Jillian Kilby CEO & Civil Engineer, The Infrastructure Collaborative
Gary Barnes Coordinator-General, Regions, Industry, Agriculture and Resources, Department of Planning, Industry & Environment (DPIE)
Craig Blair Co Founder and Managing Partner, AirTree
Scott Langford Chief Executive, St George Community Housing
Professor David Hensher Founding Director, Institute of Transport and Logistics Studies, University of Sydney
Guy Templeton President & CEO, Australia & NZ, WSP and Chair of Business Council of Australia, Infrastructure and Growth Committee
Steve O'Connor Partner, KDC and President, Planning Institute Australia
Adrian Dwyer Chief Executive, Infrastructure Partnerships Australia
Wes Ballantine Group Executive Victoria and Group Strategy, Transurban
Mark McCrindle Principal, McCrindle Research
Chris McNeill Director, Ethos Urban
Paul Plowman GM- Liveable City Solutions, Sydney Water
*Expect lots of pontification on the need for policy band aids like: 'better planning',* more infrastructure investment, dense living, congestion pricing, and polycentric cities.
But don't expect anybody to prosecute the case to * slash immigration back to historical levels: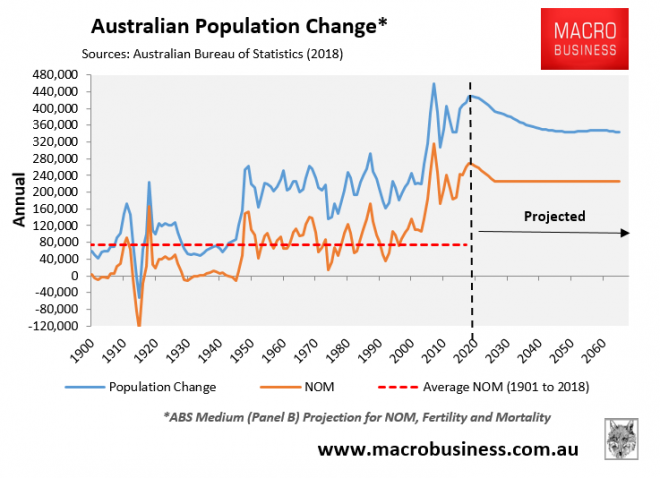 This would prevent Sydney's population from doubling over the next 50 years and avoid the myriad of problems that come alongside this manic growth: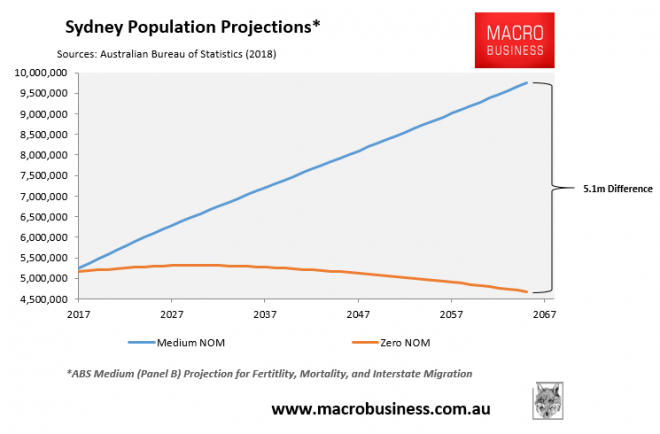 SOURCE: https://www.macrobusiness.com.au/2019/09/smh-population-summit-hijacked-by-big-australia-mafia/
Please share our links with others!
CAAN FACEBOOK:
https://www.facebook.com/Community-Action-Alliance-for-NSW-744190798994541/?ref=aymt_homepage_panel
WEBSITE:
https://caanhousinginequalitywithaussieslockedout.wordpress.com/