From the mysterious … the enigmatic, the impenetrable, those inscrutable
… but perhaps … they are possibly not so mysterious afterall? Look back into history … it began with the Trojan Horse …
THE PEGASUS … the Flying Horse into Sydney and Melbourne …
The Trojan Horse is a story from the Trojan War about the subterfuge that the Greeks used to enter the independent city of Troy and win the war.
THE HERITAGE OF MONGOLIA AND CHINA
Those from the Middle Kingdom are descendants of Mongolia and Han Chinese …
https://en.wikipedia.org/wiki/Mongol_conquest_of_China
With the Mongolian conquest of China through their military genius … they rode on the backs of their fearless, tough Mongol horses, which some military writers have called "the intercontinental ballistic missiles of the 13th century."
AND … now we have arrived at the C21st in Sydney …
OCTOBER 2017 Sydney was met with the arrival of the seventh Chinese Airline … BEIJING CAPITAL AIRLINES with direct flights between Sydney and Qingdao in AIRBUS A330 aircraft … marking a new era for real estate tourism, and the enormous growth in visitors from the World's emerging superpower.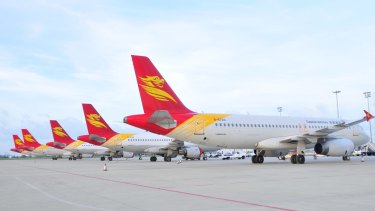 Photo: Beijing Capital Airlines
CHINA has become Australia's largest source of international visitors, finally overtaking New Zealand in May 2017!
And by 2026, the number of visitors from mainland China is expected to have tripled to 3.3 million a year, according to a report by consultancy group LEK.
In 2018 and currently in 2019 at any point in time there are 2.2 Million Visa holders across our land … largely in Sydney and Melbourne.
This influx has not only boosted the coffers of the property development sector, but retail, tourism, privatised road and rail … and the rest, but it has also impacted our society with our schools, hospitals, trains, buses all full-up and our roads congested!
Our housing became unaffordable, and for the first time a whole Cohort of Australians were locked out of Our Domestic Housing Market outbid at auctions by a wave of foreign buyers and their Proxies … having to resort to the rental market … among them young professionals!
IS this what we need? Is this about current values?
AFTERALL we are talking about people who have supported 'a Dictatorship'!
Photo: Qantas resumed flights to Beijing
NOW in the C21st they are flying into Australia especially Sydney and Melbourne on the AIRBUS and other large liners!
Tourism Australia chief executive John O'Sullivan said:
"You can now fly direct to Australia from no less than 18 different cities in mainland China.
Many of these new flights are from China's secondary cities such as Kunming, Hangzhou, Wuhan and now Qingdao, effectively opening up parts of China that are, as yet, largely untapped."
WT *!
https://www.smh.com.au/national/nsw/arrival-of-seventh-chinese-airline-to-sydney-marks-new-era-for-tourism-20171027-gz9cy4.html
PERHAPS this explains why the Chinese have superseded New Zealanders?
AND perhaps with the Foreign Investment Review Board (FIRB) ruling in 2008/09 allowing the property development sector to sell 100% of 'new homes' to overseas buyers? Ah … Sh.t …
IN NSW in 2011 when the O'Farrell Liberal Government gained power they changed the planning laws to allow for Sydney to grow with high-rise precincts … just like those in Beijing, Shanghai, Chengdu …. and the rest!
THERE IS NO MYSTERY … this is the modern day Trojan Horse … THE PEGASUS … with the Harbourside Housing Class having pulled off this STING!
.
LIKE CAAN FACEBOOK and consider sharing our links with others … to let 'em know what's goin' on!
CAAN FACEBOOK:
https://www.facebook.com/Community-Action-Alliance-for-NSW-744190798994541/?ref=aymt_homepage_panel
WEBSITE:
https://caanhousinginequalitywithaussieslockedout.wordpress.com/