Much of Sydney's sewerage system is more than 100 years old …
Currently it is being taxed like never before …. experts have warned of the large underground canals in the lower north shore not coping …
CAAN was advised in 2012 the Sydney sewage system was designed and built for a population of 3 million people … Sydney's population now exceeds 5 million people.
As reported in the Daily Telegraph earlier and by the ABC:
'Earlier, there were reports the water could have flushed into the sewerage pipes inside residents' homes, prompting fears hazardous waste made its way into the flood waters.
Hazmat crews were on scene and had cleared the water for any contamination.'
Message from Sydney Water …
Did you know that we manage 22,000 kilometres of water pipes – that's enough to stretch almost halfway across the world! 🌏
Changing weather, ground conditions, tree roots and 'construction work' can all contribute to breaks in our pipes.
Residents forced to leave flooded homes after water main bursts in Sydney's west
By Sarah Muller
August 31, 2019
Up to 60 homes have been affected by flooding after a burst pipe sent litres of water down residential streets in western Sydney on Saturday.
The water main burst around 7.15am on Saturday on Bringelly Road in Kingswood, near Penrith.
Up to 60 houses were affected by the water and internal damage has been confirmed at several houses, according to Sydney Water.
A number of residents on ground-level properties were forced to leave their houses due to the water, according to police.
A small number of residents were evacuated "as a precaution", a Sydney Water spokesman said in a statement on Saturday.
Emergency services have sandbagged dozens of homes, as water continues to flow through the area.
Water is being pumped from the streets into a nearby retention basin "to minimise the damage to properties", according to Western Sydney NSW SES.
Parts of the street have been seriously damaged, and several ruptures in the road have been taped off by emergency services.
Footage taken at the scene on Saturday morning shows water bubbling up in the middle of the road and rushing through the streets, at times reaching partway up the tyres of cars parked in the street.
Emergency services will work to return the evacuated residents to their houses tonight, but the spokesman for Sydney Water said it will depend on whether power can be safely restored to the area.
Anyone unable to return to their houses will be provided with temporary accomodation.
Water supply was cut off to several thousand houses in the Kingswood area, including two local hospitals, before being restored late on Saturday afternoon.
However, other properties will be without water for the duration of the repairs to the area, and will have to receive "alternative supply", according to Sydney Water.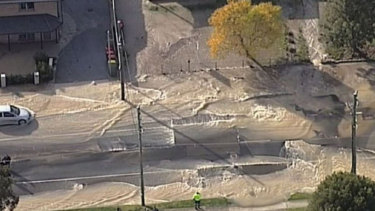 The spokesman for Sydney Water said it is "too early to know how long repairs will take".
The cause of the rupture remains unknown at this stage, but Sydney Water says, recent weather conditions may have been a factor.
"Periods of prolonged hot and dry weather like we've been experiencing are known to cause pipe expansion and joint movement, resulting in increased water main breaks and leaks," the spokesman said.
Cars are being diverted from the area, and Bringelly Road remains closed.
Police said they expected the road would be closed for an "extended period of time", and have advised motorists to avoid the area.
A Sydney Water spokesman said in a statement: "Sydney Water sincerely apologises to affected customers and thanks them for their patience."
SOURCE: https://www.smh.com.au/national/nsw/residents-forced-to-leave-flooded-homes-after-water-main-bursts-in-sydney-s-west-20190831-p52mod.html
CAAN FACEBOOK:
https://www.facebook.com/Community-Action-Alliance-for-NSW-744190798994541/?ref=aymt_homepage_panel
WEBSITE:https://caanhousinginequalitywithaussieslockedout.wordpress.com/