Is the property market rebounding?
By Unconventional Economist in Australian Property
August 28, 2019 | 15 comments
ABC 7.30 Report aired an interesting segment on the property market, which featured several 'experts' pontificating over whether the market will return to its former boom time glory. Here as the key highlights:
ELIZA OWEN, RESEARCH ANALYST, DOMAIN: There is a turnaround in sentiment in Sydney and Melbourne markets. Prices have even started to increase again.

LOUIS CHRISTOPHER, SQM RESEARCH: Last weekend, we effectively had an auction clearance rate of about 77 per cent in Sydney, and in Melbourne, we had something which looked like about 80 per cent, which are very strong results.

PETER MCCUTCHEON: Data provided exclusively to 7.30 shows the green shoots for a property market recovery.

A month after the federal election, which many were hoping would be the catalyst for a rebound, there were small price rises in the two largest cities…

Recovery within Sydney and Melbourne was strongest at the high end of the housing market over the past quarter while equivalent properties in other cities fell by up to 3 per cent.

ELIZA OWEN: It's always generally been seen that the high end of the market moves first, particularly in Sydney and Melbourne.

It doesn't hold across all the cities but generally, we expect that the high end of the market leads and provides an indication for what other markets could do in the future…

ELIZA OWEN: What we're likely to see is the high end of the market is starting to move now.

It could be another six months or another year before that upswing is realised in areas further from the CBD and on the fringe of the metropolitan.

LOUIS CHRISTOPHER: We're seeing some evidence of higher auction clearance rates in Brisbane, in Adelaide, and Canberra.

So, this seems to be very much a national event.

So far, Darwin and Perth are being left out. We still think prices are falling there…

ELIZA OWEN: I think if you're looking to sell, you might be getting a better price for your property than you did at the beginning of 2019.

PETER MCCUTCHEON: The question is whether this tentative rebound has momentum and ultimately, that will require a stronger growing national economy.

ELIZA OWEN: So, the fact that we have sluggish income growth, sluggish economic growth expected, this means it's going to temper the nature of this upswing.

LOUIS CHRISTOPHER: Housing is still unaffordable for a lot of people and is fundamentally overvalued, particularly in Sydney and Melbourne right now.
This seems like a fair assessment. Prices are clearly rebounding, led by Sydney and Melbourne: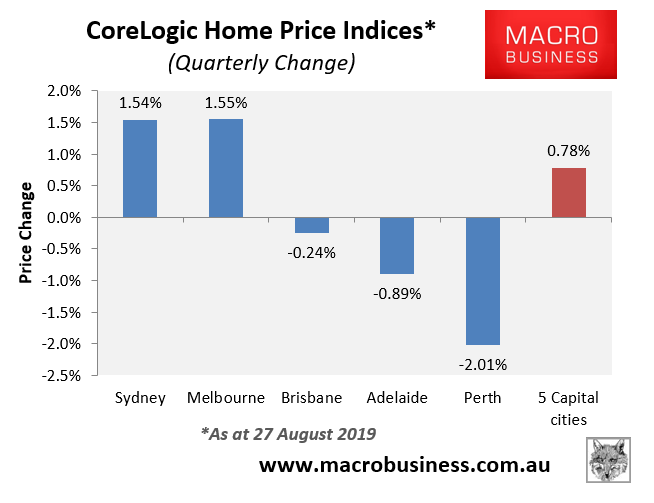 Whereas auction clearances rates are booming: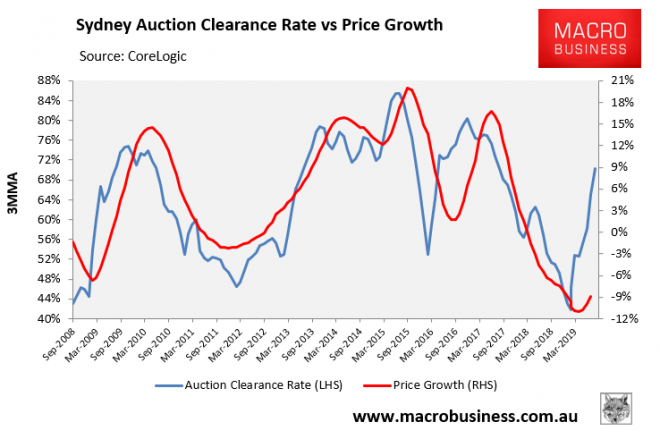 That said, auction and sales volumes are way down: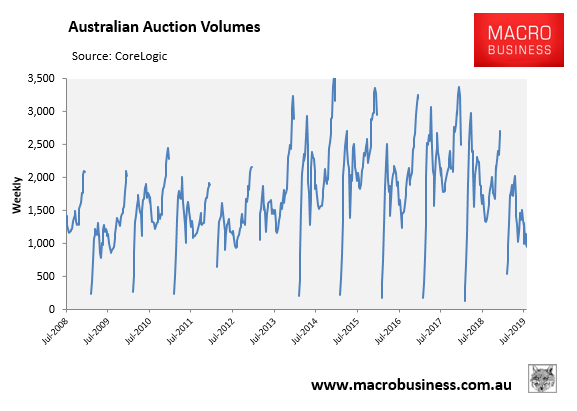 Thus, the price rebound remains tentative and far more muted than prior recoveries.
Moreover, with labour market and wages growth remaining lackluster, and mortgage standards unlikely to return to their former deplorable glory (despite some easing), the recovery is likely to remain gradual.
SOURCE: https://www.macrobusiness.com.au/2019/08/is-the-property-market-rebounding/
Please share our links with others!
CAAN FACEBOOK:
https://www.facebook.com/Community-Action-Alliance-for-NSW-744190798994541/?ref=aymt_homepage_panel
WEBSITE:
https://caanhousinginequalitywithaussieslockedout.wordpress.com/