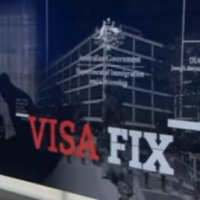 From the comments …
-a maximally Australian worker-friendly migration policy would encompass *only* permanent migration (plus tourists and non-working students) ….
AND not the vast range of Visas available with many enabling 'permanent residency' … the backdoor to migration …
-as explained in so many articles the employer exploitation of the visa worker has led to the lowest wages growth for 60 years, high youth unemployment and underemployment
-enticing visa holders to buy our real estate to gain 'permanent residency'
COALITION to deliver more fake migrant visa cuts
By Unconventional Economist in Australian Economy
August 26, 2019 | 16 comments
Earlier this year, the Morrison Government cut Australia's non-humanitarian permanent migrant intake by 30,000 to 160,000, in order to "relieve congestion in the cities".
CAAN: The cut happened a year or so earlier!
Now, 'experts' believe the Government is readying to cut Australia's permanent migrant intake by another 10,000 people this year. From ABC News:
*The regional and global talent visas represent almost 30,000 permanent visas in the Department of Home Affairs' planning levels.
*But according to two prominent migration experts — both former immigration officials — the Government might struggle to get to even 20,000 visa grants within these schemes.
John Hourigan, the national president of the Migration Institute of Australia, said the employer-sponsored stream in the regional visa posed the biggest concern.
"The program is currently set for 9,000; we probably believe they'd be lucky to get to 2,000 out of those places."
He said the global talent scheme, set for 5,000 places, was also "very adventurous", leaving permanent visa grants likely to fall significantly short of the planning level.
Migration researcher Henry Sherrell said given significant changes to policy, "it will be difficult" to fill 160,000 places.
"More likely is a figure somewhere between 140,000 and 150,000, representing a return to the level last seen about 15 years ago," he said…
If Mr Hourigan and Mr Sherrell are accurate, the figure for 2019-10 could be 150,000 or even lower.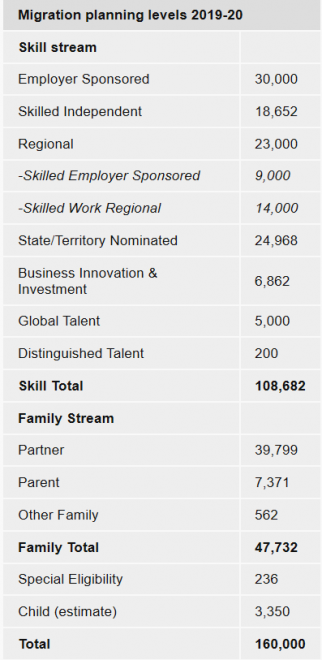 *Permanent migrant visas returning "to the level last seen about 15 years ago" needs to be put into perspective.
*It still represents an incredibly high intake that would be more than double pre-2000 levels: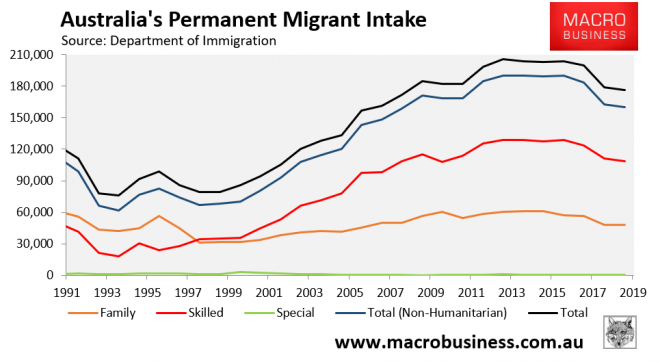 *At the turn-of-the-century, the skilled intake was 35,000. Today it is 109,000 following the Coalition's latest cuts.
*Moreover, while the permanent migrant intake has been cut, actual net overseas migration (NOM) has been rising, as illustrated by the latest immigration data from the Australian Bureau of Statistics (ABS):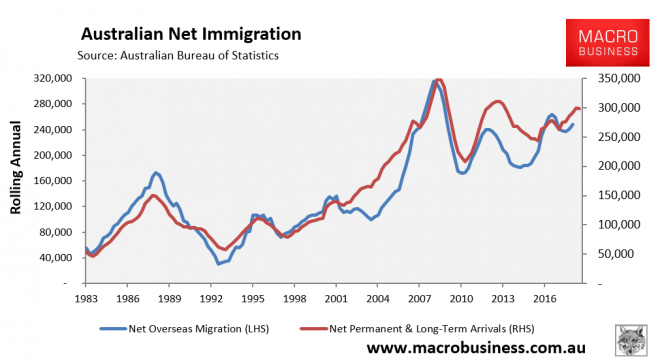 Indeed, the April Federal Budget projected that NOM would increase over the forward estimates:

It also projected extreme population growth for both New South Wales (read Sydney) and Victoria (read Melbourne):

*The reason why Australia's immigration intake continues to rise in the face of lower permanent migration is because of the large increase in temporary migrants, whose visas on issue have grown by around 540,000 since the Coalition was elected in 2013: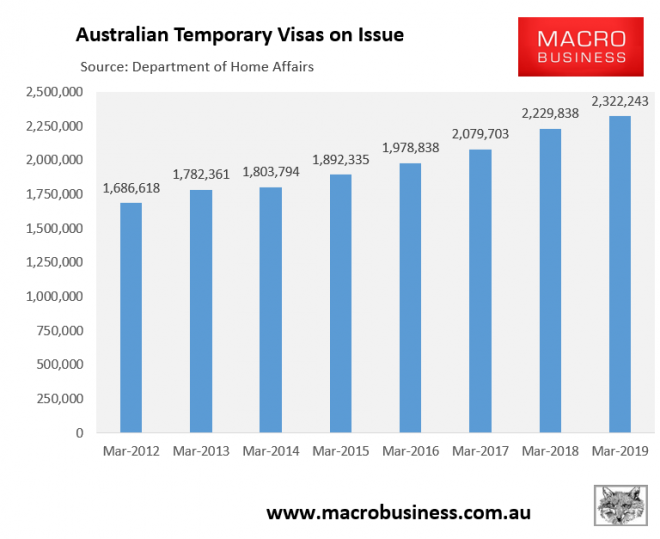 *The key driver of this temporary visa surge are, first, the explosion of student visas, whose numbers have ballooned by around 280,000 since 2013: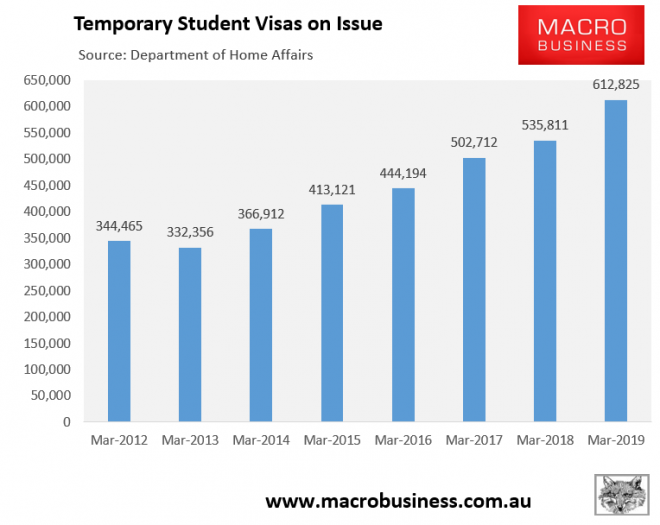 *Second, temporary bridging visas on issue – which are usually given to migrants awaiting claims for permanent residency – have ballooned by around 110,000 since 2013: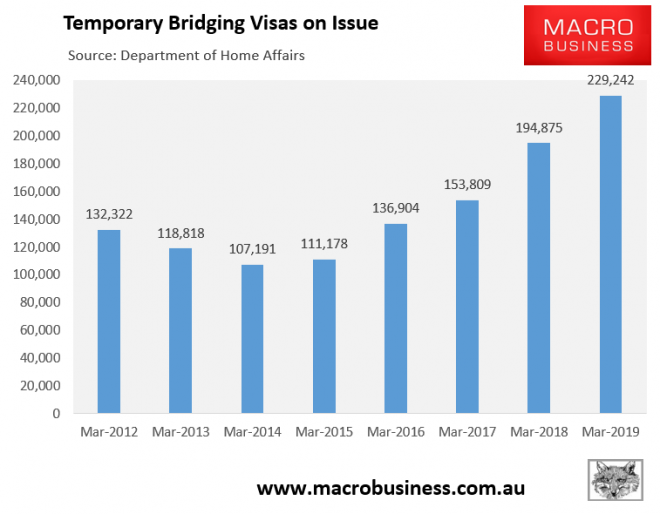 Therefore, in the short-to-medium term at least, the Coalition's migrant cuts are a ruse, given actual NOM is projected to increase.
However, over the longer-term, NOM into Australia should fall. Temporary migrants are by definition temporary. So, unless they can convert to permanent residency, they will eventually have to leave.
*Furthermore, many migrants come to Australia on temporary visas with the hope of transitioning to a 'skilled' permanent visa.
So, as Australia removes the carrot of permanent residency by lowering the 'skilled' intake, it should necessarily reduce the flow of temporary migrants.
*Ironically, because of Labor's and The Greens' open borders extremism, the Morrison Government is the default 'lower immigration' major party, even though it too supports a 'Big Australia'.
*This helps to explain why it won the recent federal election.
SOURCE: https://www.macrobusiness.com.au/2019/08/coalition-deliver-fake-migrant-visa-cuts/
Please share our links with others!
CAAN FACEBOOK:
https://www.facebook.com/Community-Action-Alliance-for-NSW-744190798994541/?ref=aymt_homepage_panel
WEBSITE:
https://caanhousinginequalitywithaussieslockedout.wordpress.com/