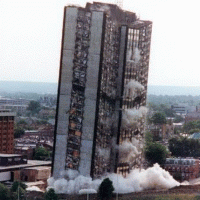 Key Points …
–new apartment listings views have taken a dive; buyers more cautious; unprecedented defects found
-Sydney Olympic Park sales fallen 85 per cent
-buyers asking more specific questions
–question marks; the extent of flammable cladding; who will pay for rectification
-a flood of apartment completions hitting the market
Contagion spreads across high-rise apartment market
By Unconventional Economist in Australian Property
August 26, 2019 | 12 comments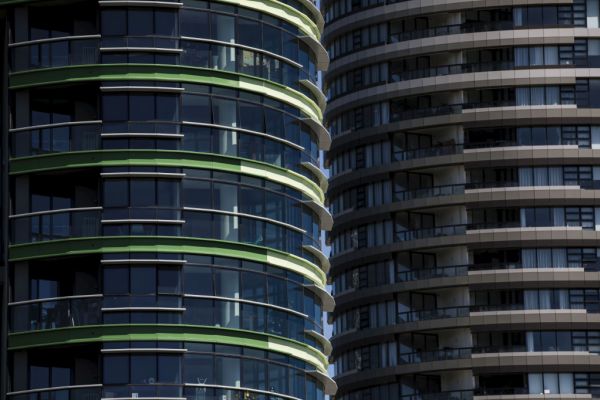 Photo: Domain
Regular reports of structural faults and flammable cladding are taking a massive toll on Sydney's broader apartment market, with buyer confidence and viewings plunging. From Domain:
Apartment sales have tumbled and new apartment listings views have taken a dive as buyers become more cautious than ever before in the wake of unprecedented defects found in residential buildings across Sydney.

Since the revelation of structural defects in Opal Tower at Sydney Olympic Park late last year, apartment sales in the suburb have fallen away, dropping 85 per cent in the six months to June compared to the same time last year, new Domain data shows.

Across Sydney, buyers' appetite for new apartments has slipped, with views per listing for new apartments down 9.2 per cent in the first half of 2019, Domain data shows. Views per listing on established apartments increased 2.7 per cent in the same period.

Experts previously tipped buyers would become increasingly wary of new builds, but agents now report that the saga had undoubtedly taken a toll on buyers' perception…

McGrath Lower North Shore principal and selling agent John McManus, who is selling an apartment in Sydney Olympic Park, said buyers were skeptical about new builds…

He added while many vendors had reduced their asking price, buyers were asking more specific questions about the builder and the building…

Property Council NSW director Jane Fitzgerald said building defects were front of mind for consumers when buying a new apartment.
Seriously, who can blame them? Prospective buyers have just witnessed residents of Opal and Mascot Towers left homeless and slugged millions of dollars in repair builds.
Meanwhile, there remain huge question marks over the extent of flammable cladding and who will ultimately pick up the rectification bills.
Buying a high-rise apartment has become a game of financial Russian Roulette, so why would buyers take the chance?
The problem is, there's a flood of apartment completions hitting the market right now, so the evaporation of demand has come at precicely the worst time for developers: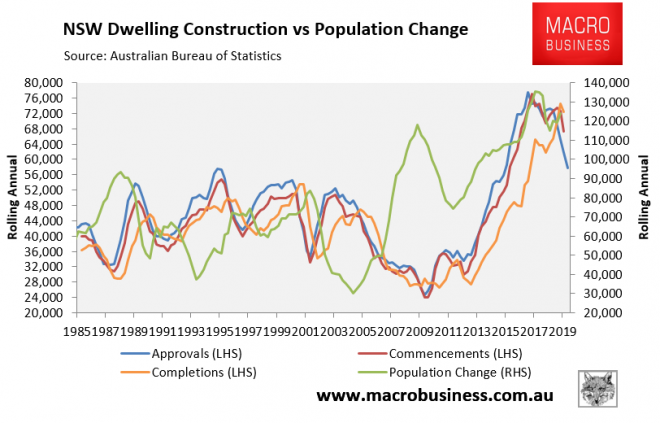 *Expect a wave of developer bankruptcies as more faults come to light and buyer confidence fades even further.
This has 'doom loop' written all over it.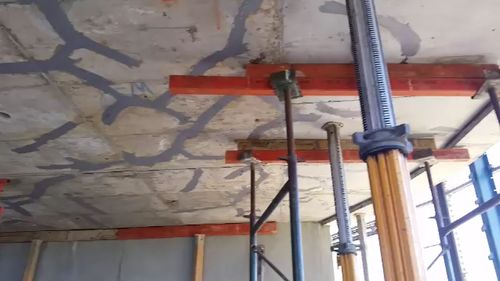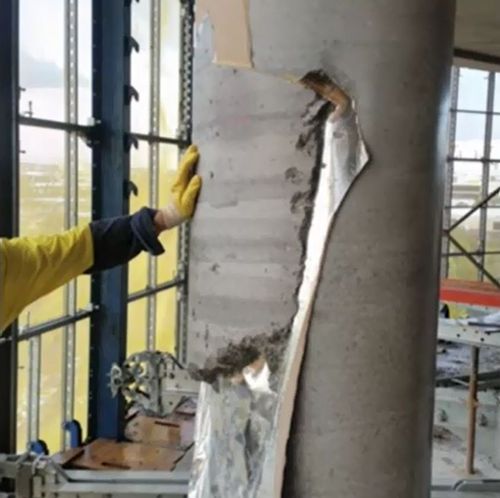 Part of a pillar was jackhammered away. (A Current Affair)
SOURCE: https://www.macrobusiness.com.au/2019/08/contagion-spreads-across-high-rise-apartment-market/
Please share our links with others!
CAAN FACEBOOK:
https://www.facebook.com/Community-Action-Alliance-for-NSW-744190798994541/?ref=aymt_homepage_panel
WEBSITE:https://caanhousinginequalitywithaussieslockedout.wordpress.com/