Some Key Points …
-Unis should act now to mitigate a sudden revenue collapse by raising admissions standards and reducing international student enrolments
-education department officials, national security and cybersecurity experts to thrash out guidelines governing collaborative research, amid government concerns over growing Chinese encroachment
-the government was especially concerned with collaboration in artificial intelligence, quantum physics and some engineering disciplines
-and the access China has secured to the sector may have enabled the massive data breach at the Australian National University in late 2018, and only discovered in June
.this resulted in two decades of student and staff data being accessed
Are Chinese international students morphing into insurgents?
By Houses and Holes in China American Cold War
August 21, 2019 | 40 comments
From Communist Party of China's foreign ministry late yesterday:
"It is totally understandable and reasonable for Chinese students and other Chinese citizens overseas to express indignation and opposition against such words and deeds that attempt to separate China and smear its image'"

"Second, we also hope overseas Chinese can express their patriotism and protect themselves from harm."

"Third, the Chinese government asks overseas Chinese to observe local laws and regulations. In the meantime, we hope relevant countries can understand and respect their legal activities and protect their lawful rights and interests."
This after two CPC consulate-generals egged on violent local protestors in Australian cities recent weeks. Double standards anyone? On Monday the CPC ambassador blurted out:
"Foreign governments and entities should strictly abide by international law and basic norms governing international relations, not support violent radicals, not interfere in Hong Kong's affairs and China's internal affairs in whatever form."

"Any attempt to mess up Hong Kong is doomed to fail. A prosperous and stable Hong Kong serves the interests of international community including Australia."

"We sincerely hope that people from all walks of life in Australia will see the real picture of situation in Hong Kong, act in the interests of Hong Kong's prosperity, stability and rule of law."
So, it's fine for Chinese students to suppress Hong Kong voices wherever they like but forbidden for anyone to support Hong Kong. 
The CPC appears determined to morph its student diaspora into a kind of anti-intellectual, anti-democratic insurgency worldwide.
Yet it is vital that we remember that these kids are neither intrinsically anti-democratic not anti-intellectual, they are the brainwashed subjects of the CPC, at The Australian:
An online community of young Chinese living around the world has morphed from a group set up to ridicule a Chinese soccer player to a Chinese communist party-backed movement targeting Hong Kong protesters.
The group called Di Bar, or D8, has joined forces with "Fan Girls" — who promote their celebrity idols in the online world — to hit back at Hong Kong protesters by flooding overseas social media platforms such as Facebook and Instagram and posting eye-catching memes, slogans and posters in both Chinese and English.
China's CCTV nightly news, the most watched news program in China and one of the favoured mediums for the state to promote government policy, on Sunday night praised the patriotism of Di Bar. Several other state media outlets echoed the praise.
Black is white. Up is down. Cold is hot. China has sovereignty. You do not.
Meanwhile, push back in the university sphere continues. Via The Australian:
Universities are "taking massive fin­ancial risks" through over­exposure to the Chinese student market that will prove costly if China has a financial crisis, a University of Sydney academic says.
In a paper for the Centre for Independent Studies, China scholar Salvatore Babones also accused universities of compromising Eng­lish language standards to boost international student enrolments. He said seven top universities — Melbourne, ANU, Sydney, UNSW, UTS, Adelaide and Queensland — relied heavily on international students for revenue and revenue growth and seemed to have "extraordinary levels of exposure to the Chinese market".
The most China-reliant is the University of Sydney, which earned more than $500 million in Chinese student tuition fees in 2017, 23 per cent of its revenue, the report estimated. Others with high China exposure include UNSW (22 per cent of revenue) and UTS (19 per cent).
"They should act now to mitigate the risk of a sudden revenue collapse by raising admissions standards and reducing international student enrolments," said the report.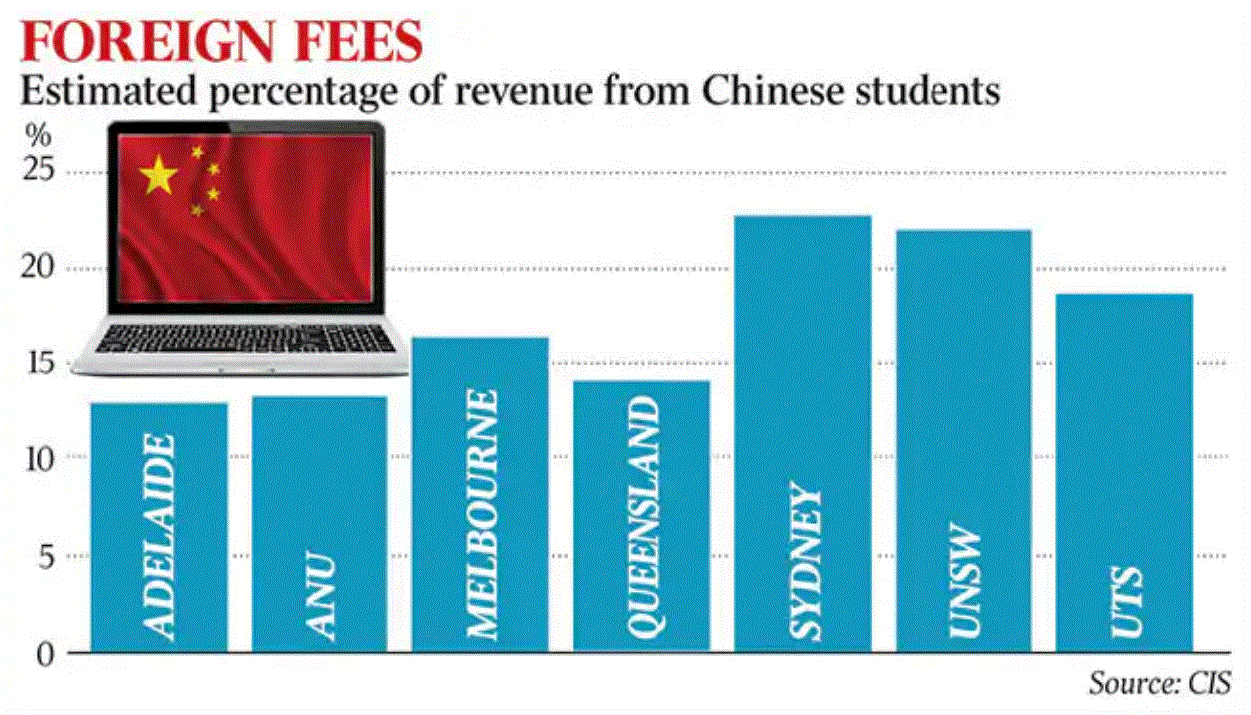 One can only marvel at the elasticity of the CIS which has spent the past forty years privatising everything not bolted down. Still, bravo!
Government is listening, at the AFR:
*Education department officials as well as national security and cybersecurity experts will meet university representatives on Wednesday to thrash out guidelines governing collaborative research, amid government concerns over growing Chinese encroachment.

*Senior sources said the government was especially concerned with collaboration in such areas as artificial intelligence, quantum physics and some engineering disciplines.

*In addition, the government worries that the access China has secured to the sector may have enabled the massive data breach at the Australian National University in late 2018, and only discovered in June, which resulted in two decades of student and staff data being accessed.
Slash immigration or, if you must, impose discriminatory immigration to resolve the issue once and for all.
Welcome to life under the world's greatest tyranny.
SOURCE: https://www.macrobusiness.com.au/2019/08/are-chinese-international-students-morphing-into-insurgents/
CAAN FACEBOOK:
https://www.facebook.com/Community-Action-Alliance-for-NSW-744190798994541/?ref=aymt_homepage_panel
WEBSITE:
https://caanhousinginequalitywithaussieslockedout.wordpress.com/