HOW is high-rise, higher density going to solve the issue of providing enough inner-city services when we started from behind?
QUESTION for Infrastructure Australia and our political leaders … why persist with this to cope with the surging population? When the elephant in the room is the Housing Ponzi to meet the demand of high immigration and visa manipulation …
HOW can planting more trees prevent the devastation from overdevelopment … where can trees be planted on such tiny lots?
-with lot sizes reduced to as little as 200M2 X 6M wide (Greenfields Housing Code)
-the Medium-Density Housing Code allowing for as many as 10 terraces on a 600M2 lot
Why do we really need to accommodate a larger population? Cough … cough …
Where will the water supply come from?
-Australian continent; the driest continent on Earth; it is almost as large as that of the U.S. but has few rivers crossing it; the Murray Darling has been sucked dry by irrigators
-we are currently continuing to experience water restrictions; our gardens are shrivelling up
-where will the water come from to quench the thirst and shower millions more people; 10 MILLION people in Sydney by mid Century … 2066?
-desalination is prohibitively expensive; plants can only operate on the coast
Have you noticed how our working conditions and wages have decreased with the competition for jobs from high immigration and Visa manipulation?
That despite this population growth our retailers are struggling?
WHY not once again become a 'clever country'?
THE END OF THE SUBURBAN SPRAWL
August 13, 2019
Infrastructure Australia has declared the end of the suburban sprawl across Australia's east coast and warned the biggest challenge facing government will be providing enough inner-city services to cope with the surging population.
The chief executive of the infrastructure regulator, Romilly Madew, said "the 70-year dominance of our urban fringe has ended" and a wave of investment and reform was needed to maintain quality of life.
Speaking ahead of the release of Infrastructure Australia's four-year audit into the country's transport, road and service needs on Tuesday, Ms Madew said Sydney and Melbourne had shifted from growing new suburbs to building up existing areas over the last two years.
"We are definitely transitioning into inner-urban [areas]," she said. "It's quite clear."
RELATED ARTICLE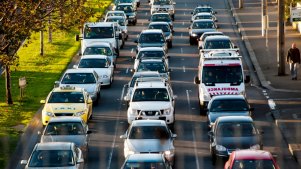 Infrastructure Australia's executive director of policy and research, Peter Colacino, said the audit was "the first time we have really called out that type of growth as the holistic challenge facing cities".
He identified inner-Melbourne and Green Square in Sydney as areas that faced unprecedented levels of growth, as families looked to move closer to services and away from congested travel arteries to and from the outer suburbs.
The audit found that shift was likely to accelerate as commuters grew increasingly frustrated with gridlock on our road and rail networks, which is forecast to cost $38.8 billion in lost productivity over the next 12 years.
Mr Colacino said population forecasts, which relied on past estimates, were "not hitting the mark".
"Population growth occurring at a higher rate or lower rate means that investment is not well targeted," he said.
The audit found many hospitals and schools had reached capacity or were showing signs of age, requiring the construction of expensive new and upgraded facilities, especially in inner-urban areas.
Why are Sydney's western suburbs heating up so much? We explore the the Urban Heat Island Effect.
VIEW SOURCE LINK TO VIEW VIDEO!
Compounding the challenge was the lack of green space, turning some concrete-bound city suburbs into "urban heat islands".
The report found some suburbs had temperatures up to 6 degrees higher than elsewhere because of the "heat island" effect.
RELATED ARTICLE
"This is because the heat of the sun is absorbed and not reflected by urban surfaces such as buildings, car parks and roads. Human activities, such as traffic and the use of air conditioning, also increase the waste heat generated."
The effect was particularly noticeable in the outer suburbs of Sydney and Melbourne, where urbanisation had reduced tree cover.
"The proportion of [Melbourne's] cover located in outer suburbs is stark, indicating the majority of canopy cover is privately owned (in private residential backyards)," the report said.
It warned green canopy cover was increasingly hard to provide in cities as backyards decreased in size and more people moved into urban areas.
RELATED ARTICLE
The report added that public green spaces and recreation infrastructure was already overused and the high cost of land made it difficult to fund the delivery and maintenance of this type of service in these cities.
"Our fast-growing cities risk not having adequate high-quality, accessible green and recreation infrastructure as they grow and densify, particularly in inner-urban areas."
Eryk Bagshaw is an economics correspondent for The Sydney Morning Herald and The Age.
Shane is a senior economics correspondent for The Age and The Sydney Morning Herald.
SOURCE: https://www.smh.com.au/politics/federal/the-end-of-the-suburban-sprawl-20190812-p52gad.html?fbclid=IwAR1_3XNEdNEBBKtPJUYgqaHHFQ0sKe5-3lbO6MgpJ2mSzaGrIDjjUrSF8IQ
CAAN FACEBOOK:
https://www.facebook.com/Community-Action-Alliance-for-NSW-744190798994541/?ref=aymt_homepage_panel
WEBSITE:
https://caanhousinginequalitywithaussieslockedout.wordpress.com/