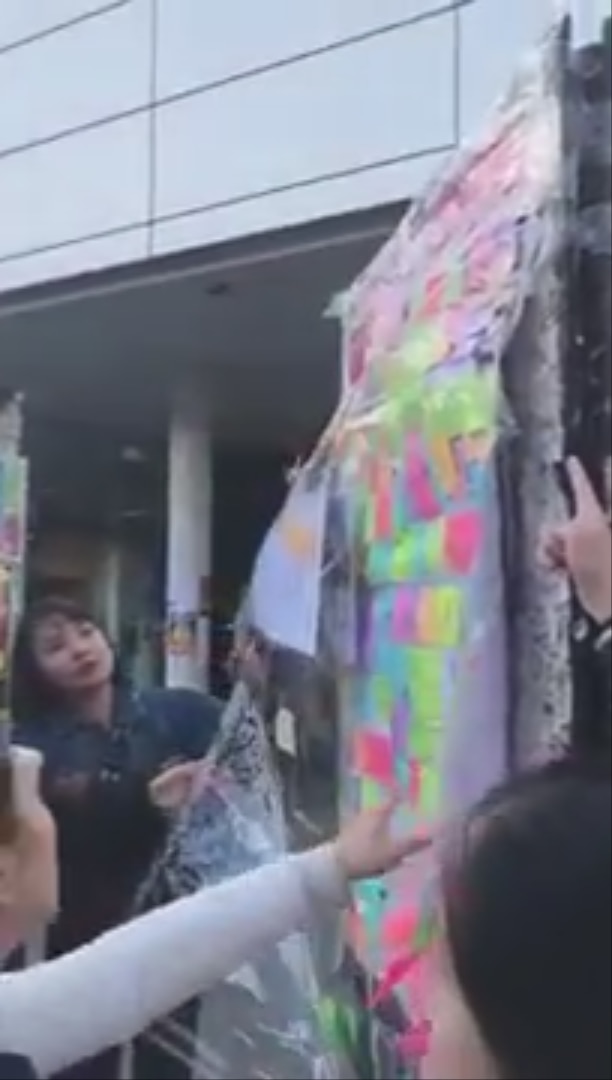 Photo: SBS: Protesters tear down a pro-Hong Kong 'Lennon wall' at the University of Sydney.Honi Soit
CAAN is sharing with you what appears to us to be a thorough assessment … written as a comment in response to the Chinese Student Strongarm tactics at the University of Tasmania
From Macro Business 9 August 2019
https://caanhousinginequalitywithaussieslockedout.com/2019/08/10/international-students-from-the-mk-strongarm-universities/?fbclid=IwAR0ttjJgoQZ_PiYcl1MwlWtQZjBSUtHt61h8s6fQolZ4eYhG4QZeoDi72sE
THE 'FOREIGN STUDENT INDUSTRY' IS NOT $34 BILLION AS AN 'EXPORT'
Also view: MACRO BUSINESS: 'Are International Students Really a $32B Export Industry?'
https://caanhousinginequalitywithaussieslockedout.com/2019/03/27/9686/


IT's $34 billion of estimated 'economic activity onshore'
712,000 foreign students & partners


$36k ($700 a week) to $43.7k ($900 a week) Treasury Estimate in their 'economic activity' each (under half the Australian GDP per Capita average lowering that for all Australia by 6.8%) – plus a laughable $8 billion added on as a 'human capital contribution' when they get the PR. (Permanent Residency Visa)
(Refer to the Deloitte Access Economics propaganda piece paid for by the Australian Education Department)
But …

The entire TR intake – all of them, only bring in $2.4 billion in self-declared or easily frauded 'funds' each year. (ABF / DHA TR Funding & Pathways Report)
They only pay $8.3 billion in fees in total yearly.
(Deloitte)
So their fee money (past the 1st semester paid for by the agent procurer loan) all that money was earned here…


So even their 'fee income' is not 'an export'.
Earned here.
75% of the 712,000 then work illegally in visa breach (Sydney University & UTS Study)
– so that's 534,000 foreign students in visa breach – displacing at least half a million Australiana into being unemployed.


(We have 1.5 million unemployed now and 1.1 million seeking work)


So those half million Australians jobs the foreign students directly stole – that alone costs the Australian taxpayer $9.6 billion in Newstart.


More than their entire foreign student 'fees' of $8.3 billion – again which was paid from money earned here.
And the foreign students then destroy wages for millions of other Australians – costing tens of billions more.
They send back over $9 billion in remittances or agent procurer loan debt repayments – more than their fees. Again all that is from money earned here.


So not an export.


Negative GDP


Negative cash flow out
-/-


Even at the most basic level – the entire foreign student is economically negative and socially destructive.
Not to mention

-Mass conversion of established modest Australian housing in migrant only cash in hand subletting
-degradation of our education 10 places globally
-vice, crime, squalor (CAAN: with reference to gambling, money laundering, prostitution, Triads)
-job & wages destruction
-cheating, bribery, corruption
-congestion and infrastructure overload
-environmental and social / political security issues


AND all the other impacts that cost Australians tens of billions
-> Not an 'export industry' ever.
Just blatant mass scale third world adult unskilled migrant guestworker trafficking using pretext visa alibis.
PHOTO: Australia is a highly popular university destination for Asian students. (AAP: Julian Smith, file photo) ; https://www.abc.net.au/news/2018-03-22/chinese-students-angered-by-visa-processing-delays/9574838
CAAN FACEBOOK:
https://www.facebook.com/Community-Action-Alliance-for-NSW-744190798994541/?ref=aymt_homepage_panel
WEBSITE:
https://caanhousinginequalitywithaussieslockedout.wordpress.com/