Qantas inked a freight deal with alleged associates of Chinese Triads in 2017. The airline clearly didn't check the bona fides of its business partners, which they could have googled in one-minute flat.  …
Qantas and the Man with the Dragon Tattoo … and his "Uncle"
Aug 4, 2019 | Featured, Finance, Markets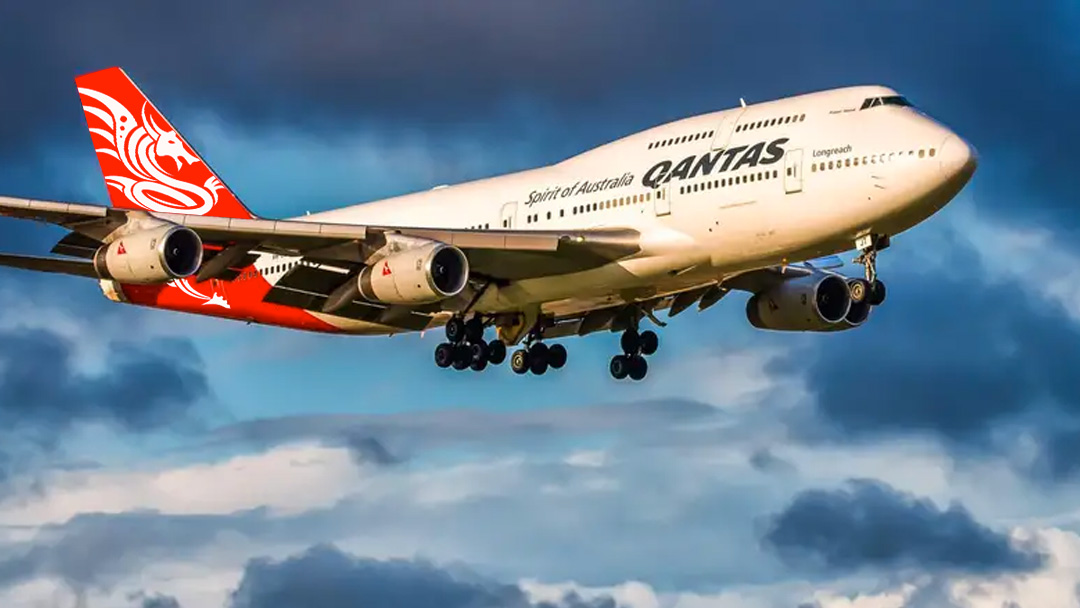 image: Dean
Qantas inked a freight deal with alleged associates of Chinese Triads in 2017. The airline clearly didn't check the bona fides of its business partners, which they could have googled in one-minute flat. Michael Sainsbury and Michael West report on Reuben Milne, the man behind the deal.
Reuben Milne's life journey took him from a quiet childhood in suburban Auckland to the cockpit of a Sikorsky S-76 executive helicopter as personal pilot for one of Asia's most powerful billionaires, the Macau casino tsar, Stanley Ho.
The New Zealand-Australian dual national spent 13 years as chief pilot of Ho's fleet of executive helicopters, ferrying Ho, his immediate family members and a host of international dignitaries, celebrities and high rollers to the world's biggest gambling mecca, the peninsula of Macau.
Milne was clearing almost triple the money he could have expected to make as a helicopter pilot in Australia. He was paid around $US200,000 a year with an effective tax rate of around 10 per cent. On top of his salary, he enjoyed a generous expat living allowance. But it appears that wasn't enough.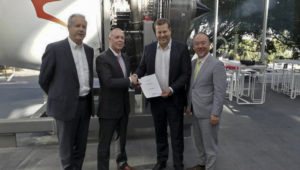 Sydney Airport, October 2017, Qantas and JetFast Macau executives with their freshly minted $14.7 million charter agreement. (Left to Right) Nick McGlynn (Qantas Freight COO), Reuben Milne (JetFast CEO and founder), Peter Cheng (JetFast Director), Paul Jones (Qantas Freight EGM)
The 50-year old former pilot wanted to be a big player in the booming gambling hub, so he came up with the idea to build an air freight empire under the banner of JetFast Macau.
The plan was to run a weekly air cargo service between Sydney and Macau sending Australian produce to Macau's five star hotels and casinos, and bringing Chinese e-commerce goods back to Australia on the return leg.
He convinced a handful of private investors and Australia's flagship airline, an apparently unwitting Qantas, to sign a deal that would reputedly cost both parties a collective $18 million. We say "unwittingly" because it soon emerged that there appears to have been Triad money behind the deal.
The pilot vanishes
Milne now seems to be on the run, although he lists his parent's home in the exclusive Sydney eastern suburb of Bellevue Hill as his main residence, he has not been seen or heard of since December of 2018. Calls and emails to Milne's parents failed to shakeout any contact details.
A few days before Christmas last year, he deleted all of his social media accounts, those of his Hong Kong-born wife Mei Mei and his two daughters. This included their Facebook, Instagram, LinkedIn and WhatsApp accounts as well as the Chinese messaging app WeChat. His previous Australian mobile number has been disconnected.
Prior to his disappearance he was living in Sydney with a long-time friend, Marcus Rubenstein, who does freelance promotional work for Chinese events in Australia.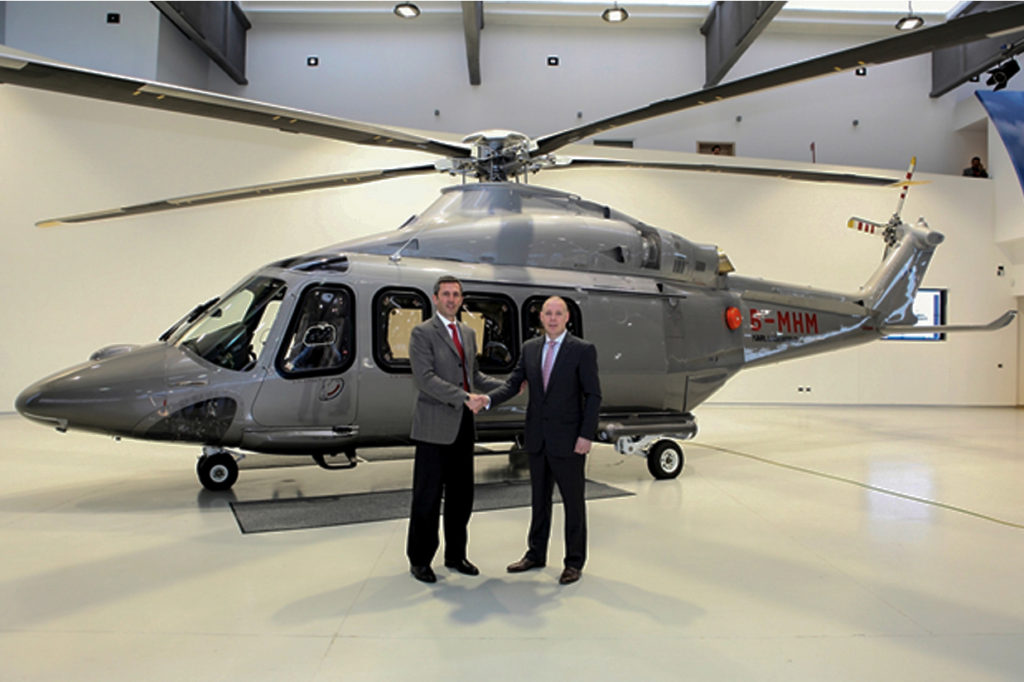 Reuben Milne, then Flight Operations manager for Crown Melco Macau, in Italy taking delivery of an AgustaWestland AW139 executive helicopter on behalf of the the then James Packer/Lawrence Ho-controlled casino venture.
"Milne literally walked out the door, said I'll call you later and I thought nothing of it. That afternoon I walked past his room, everything was gone and it was the last I ever heard from him. This is someone I'd known for 32 years," Rubenstein says.
At 11:34pm on Christmas night, Rubenstein received a text message from one of Milne's Macau business associates, asking him if he knew Milne's whereabouts. Suspicious, he responded 'no', which was true.
In the first week of January the same Macau associate, who Rubenstein will not identify, rang alleging Milne had fled Macau having lost his associates $HK30 million on his failed deal to launch JetFast and its plan for weekly flights with Qantas freight division to and from Macau.
They left no doubt that they wanted him found. Milne had returned to Australia in August 2018 and despite telling Rubenstein he would be staying in Sydney his apartment for just two weeks, he ended up staying nearly four months.
"It was immediately obvious", says Rubenstein, "that he was not looking for a job as he'd told me, there were no interviews, no meetings, no phone calls".
The mark of the Triad
"Then one day he walked into the living room with his shirt off and I was shocked to see a dragon tattooed across his back. It's a common mark of Triad gang members and it dawned on me his story about his business funding coming from legitimate sources was almost certainly a lie."
The realisation came too late for Rubenstein, who'd also lost money thanks to Milne. In April 2018, he wired $12,000 to Milne's wife Mei Mei in Hong Kong, to help pay the family's living expenses. In addition, he says he'd given Milne cash loans totalling another $20,000, including the payment of his children's private school fees.
Some months earlier, in March 2018, Milne asked Rubenstein to consult on the marketing of JetFast. Its flights with Qantas had begun and the two companies were planning a launch in Macau on March 28. It would never happen and, as Rubenstein later discovered, at the very same time Milne was getting him to work on the project, he was also briefing lawyers in Macau – asking them if JetFast could walk away from a $14.7 million Qantas charter deal the company had signed five months earlier. Rubenstein was never paid.
A dissolute life turned around
Early in his adolescence Reuben James Milne appeared to be going off the rails. His family moved to Sydney's eastern suburbs from Auckland in 1983 and enrolled their son in Vaucluse High School, where it took them months to discover he never actually showed up.
As a teenager he was arrested and appeared in Sydney's Waverley Local Court, where he was found guilty on petty theft charges. Around the same time, he was caught by the Department of Social Security claiming unemployment benefits under three different names. He paid back the money he'd falsely claimed, in order to avoid a criminal prosecution.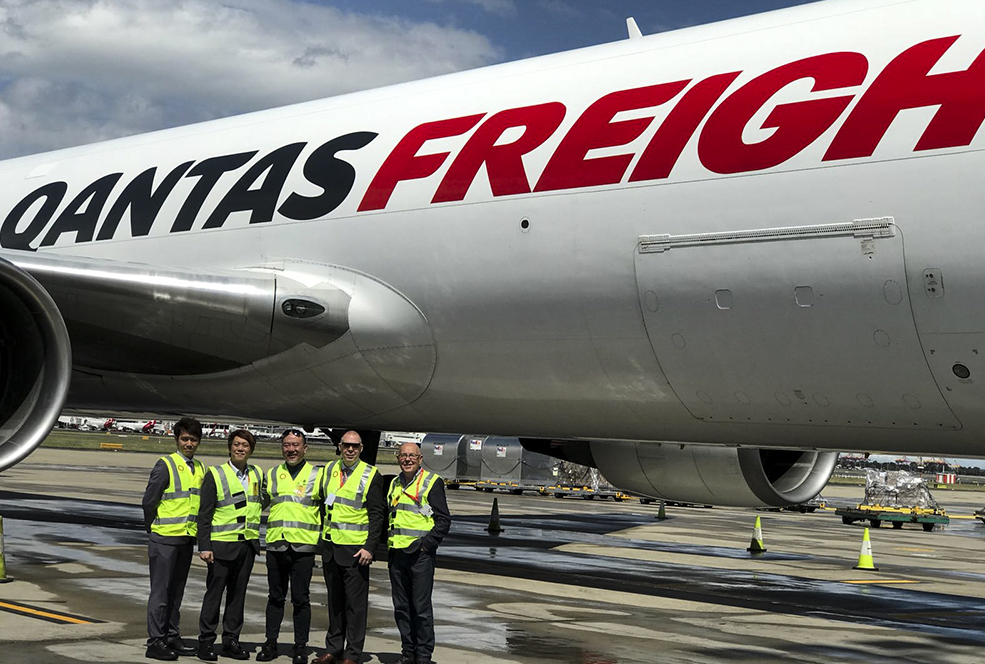 JetFast Macau executive team on Sydney Airport tarmac, Lai Pak Leng aka Parry Lai (second from left), Reuben Milne (second from right), Richard Milne (far right).
In 1990 Milne turned his life around, enrolling in TAFE to complete the theoretical course to become a helicopter pilot. He joined well-regarded Australian company, Professional Helicopter Services in Melbourne, as a pilot flying charter work. In 1996 he began flying the Sikorsky S-76 helicopter, taking offshore oil rig crews from Sale in Victoria to the Bass Straight.
By chance, the following year Stanley Ho's company, which then had a monopoly licence for Macau's casinos, had brought the first Sikorsky helicopters to Macau and had no pilots rated to fly them.
Milne was among the first pilots the group hired. A good, hard-working pilot, with an unblemished flying record, he gained the trust of Stanley Ho, who had Milne fly all his immediate family members and VIP guests. Milne also came to know all of Ho's children.
When Stanley Ho's oldest son Lawrence Ho who had founded the Melco casino group in 2004 was looking for a pilot he personally brought Milne. He become the group's Flight Operations Manager for its private jets and VIP helicopters. Milne became a division head within the Crown Melco group – a joint venture between Ho's Melco and James Packer's Australian listed company then known as Crown Casinos – now Crown Resorts.
He organised the delivery of an Italian-built AW319 executive helicopter, which was used to ferry VIP gamblers and the bosses of the Packer-Ho casino empire.
The man called Uncle
Along the way, Milne had squandered much of the money he earned. He opened a retail shop selling French kitchenware; a convenience store and another selling antiques and collectibles. All of these businesses failed.
There was nothing in Milne's past to suggest he had the skills to run a business of any size, let alone an international airfreight company. There was another, darker, side to Milne's life in Macau.
The family of his wife Mei Mei Yeung whose uncle is a casino junket operator – a business that specialises in getting high roller gamblers for major casinos, wining dining and entertaining them so they will spend the maximum amount of money in the company's exclusive high roller gambling rooms.
(Left to Right) Reuben Milne (JetFast CEO and founder), Peter Cheng (JetFast Director), Paul Jones (Qantas Freight EGM) sign the $14.7 million charter agreement between Qantas and, the failed Macau airfreight business, JetFast.
A range of studies have shown than junket operators have links to Hong Kong and Macau Triads and recent revelations by the Nine media group have alleged that junkets who bring players to Crown Resorts have those same links. "He (Milne) was always very flippant about his wife's family, headed up by a man he only ever referred to as "Uncle".
"He dismissed Uncle as someone who organised group visits to casinos and was involved in small time loan sharking," says Rubenstein. "Now I believe his business is somewhat more sinister."
The man known as Uncle lives in a part of Macau known as Taipa, in a small enclave along the Estrada Nordeste da Taipa which reputedly is home to a number of Triad bosses. His luxury apartment is several stories below the penthouse of Milne's JetFast business partner, Lai Pak Lang, whose father Lai Tong Sang is reputedly one of Macau's biggest Triad kingpins.
For years until his business failed, Milne lived across the road in the Pearl On The Lough building, where one of his neighbours was the convicted Triad boss Wan Kuok "Broken Tooth" Koi, the most feared of all Macau's organised crime bosses in the 1990s.
Now it appears as though only Milne's immediate family members know his exact whereabouts but Michaelwest.com.au has learned that he has touted a resume around aviation circles in the past months, listing his address as Howick in suburban Auckland.
While he details his work with Stanley Ho and Crown Melco, notably there is no mention of JetFast or Qantas on his current resume. It's something Milne would be keen to forget but not likely forgotten by those who lost millions on a deal for which he was the principal architect.
——–
Editor's Note: from an aviation and security perspective the interesting thing about this story is not that Qantas would do a deal with an entrepreneur, it is that Qantas would do a deal – an international freight deal – without checking out the background of its partners, their connections and the provence of their capital. In responding to questions, the airline chose its words carefully. This week, in a follow-up to the story below, we examine the deal.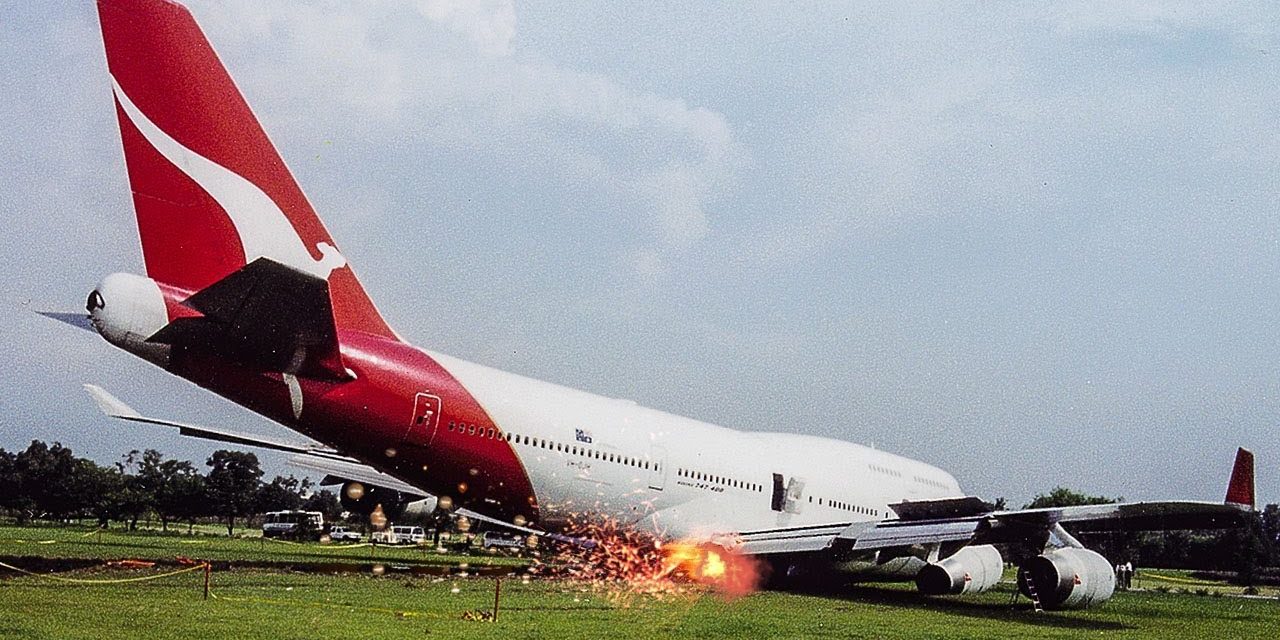 Revealed: Qantas venture with Triads skids off runway
Qantas has an unblemished record when it comes to safety. Unfortunately the same can't be said when it comes to doing deals with international crime gangs. Michael Sainsbury reports.Michael West
Public support is vital so this website can continue to fund investigations and publish stories which speak truth to power. Please subscribe for the free newsletter, share stories on social media and, if you can afford it, tip in $5 a month.$5 per month$20 per month$100 per month
SOURCE: https://www.michaelwest.com.au/qantas-and-the-man-with-the-dragon-tattoo-and-his-uncle/
CAAN FACEBOOK:
https://www.facebook.com/Community-Action-Alliance-for-NSW-744190798994541/?ref=aymt_homepage_panel
WEBSITE:
https://caanhousinginequalitywithaussieslockedout.wordpress.com/