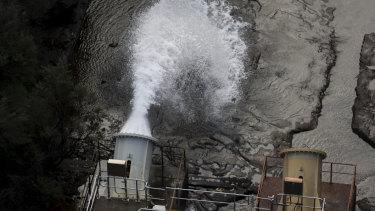 Water security for major Australian cities including Melbourne and Sydney is likely to become more of a challenge under climate change, scientists say.CREDIT:BROOK MITCHELL
The Cataract Dam to Sydney's south is less than a third full, among the lowest levels for reservoirs serving the Greater Sydney region … impacted by climate change …
What will happen when Sydney's population … through immigration … doubles to around 10 million people by mid century?
OR will our families perish long before then? Having become …
-unemployed
-homeless
P.S. View the comments of others …
"Quite scary": Melbourne, Sydney water security tumbles
By Unconventional Economist in Australian Economy
August 6, 2019 | 22 comments
New scientific research reported by Fairfax warns that Melbourne and Sydney are facing chronic water shortages in the future:
A paper published by Environment Research Letters shows a "substantially" amplified risk for Melbourne's water availability if global temperatures rise 2 degrees above pre-industrial levels rather than the 1.5-degree target set by the Paris climate agreement.

Separate research by the University of NSW into future rainfall and temperatures for some 222 catchments across Australia – some of which serve Sydney – found a marked increase in vulnerability of supply.

"It's quite scary actually," Ashish Sharma, a professor in UNSW's School of Civil and Environmental Engineering, said. "The implications for water security for this region are not good."

Warmer temperatures lift evaporation rates and dry out catchments… "It is a double whammy," he said. "You're having a reduced access to water and increased water demand…

Benjamin Henley – who studies water resource impacts from climate change at the University of Melbourne and the lead author of the research paper – said a warming world pointed to reduced rainfall in southern states.

"In the south, we're likely to face a long-term drying trend under climate change, and it has almost certainly started," Dr Henley said.
What is conveniently left out, as usual, is that both cities' populations have increased enormously due to immigration-fuelled population growth, which is projected to continue indefinitely:
It took Sydney roughly 210 years to reach a population of 3.9 million in 2001. Yet the official medium projection by the ABS has Sydney having roughly 2.5 times that number of people in only 65 years to 9.7 million people.
It took Melbourne nearly 170 years to reach a population of 3.3 million in 2001. However, the official medium ABS projection has Melbourne's population tripling that number in only 65 years to 10.2 million people.
*So, what happens when Sydney's and Melbourne's populations double to around 10 million people in the next half a century, driven almost solely by immigration, at the same time as droughts become more common because of climate change?
*Water scarcity remains the unspoken 'elephant in the room' of the population debate, and the key issue Australia's mass immigration 'Big Australia' boosters deliberately choose to ignore.
The first best policy response to alleviating Melbourne's and Sydney's water woes is to not make the situation worse by force-feeding many millions of new migrants. It's bleedingly obvious.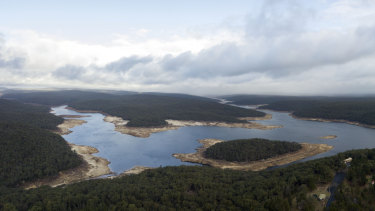 The Cataract Dam to Sydney's south is less than a third full, among the lowest levels for reservoirs serving the Greater Sydney region.CREDIT:BROOK MITCHELL
SOURCE: https://www.macrobusiness.com.au/2019/08/quite-scary-melbourne-sydneys-water-security-tumbles/
CAAN FACEBOOK:
https://www.facebook.com/Community-Action-Alliance-for-NSW-744190798994541/?ref=aymt_homepage_panel
WEBSITE:
https://caanhousinginequalitywithaussieslockedout.wordpress.com/