NSW footy stadium farce leaves giant crater
By Unconventional Economist in Australian budget
August 5, 2019 | 13 comments
We argued previously that the NSW State Government had hit 'peak stupid' in deciding to spend $2.5 billion to demolish and rebuild the Olympic Stadium and the Sydney Football Stadium, both of which are underutilised.
These stadiums were assessed to deliver zero net economic benefits for the state, according to analysis by hired gun KPMG. Moreover, these stadiums are to be paid for by selling-off the lease to the state's monopoly land titles registry – a move that will very likely see end-users being gouged by the new monopoly owners, with the NSW State Government also losing a reliable income stream.
In March, Premier Gladys Berejiklian compromised somewhat on the projects, announcing that "Allianz Stadium will be knocked down and rebuilt but ANZ Stadium will undergo a "major renovation" – as opposed to the full $1.25 billion for a knockdown and rebuild" – a move that would save some $500 million and reduce the total cost of the projects down to $2 billion.
Last week it was reported that the Sydney Football Stadium rebuild is in chaos with construction contractor Lendlease leaving project, along with a giant crater post demolition. And on Friday, another major construction company ruled itself out from the rebuild:
A W Edwards' business development manager John Devlin said the company – which built the Victor Trumper and Don Bradman stands at the Sydney Cricket Ground – had decided against making an offer…
"We decided to advise Infrastructure NSW that we will not be submitting a bid for the new stadium. It would be a large project and we decided not to pursue it"…
Premier Gladys Berejiklian on Friday morning said the government had "until November" to secure another company to build the stadium.
With the pool of potential construction companies shrinking, the NSW Government will likely have to pay over the odds to get the project completed.
With widespread infrastructure bottlenecks across Sydney, and concerns over a 'Big Australia' and over-development at fever pitch, blowing $2 billion on this dud project makes as much sense as punching yourself in the face.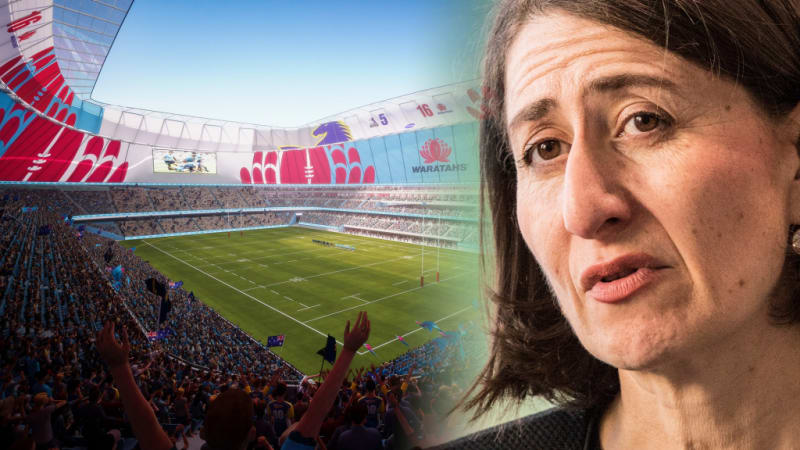 Photo: AFR Gladys Berejiklian's Stadium Dilemna
SOURCE: https://www.macrobusiness.com.au/2019/08/nsw-footy-stadium-farce-leaves-giant-crater/
CAAN FACEBOOK:
https://www.facebook.com/Community-Action-Alliance-for-NSW-744190798994541/?ref=aymt_homepage_panel
WEBSITE:
https://caanhousinginequalitywithaussieslockedout.wordpress.com/