LOOKS like prosperous berry farmers claim for more migrant workers with a dedicated Agriculture Visa is questionable … when they have multiple avenues to employ migrant workers …
-they can access workers from the Pacific via:
.the Seasonal Worker Program (SWP) and
.the Pacific Labour Scheme (PLS)
Farm visa clamour grows despite worsening migrant exploitation
By Unconventional Economist in Australian Economy
August 5, 2019 | 7 comments
Last week I posted a detailed report on the systemic exploitation of migrant farm workers, which has been exposed repeatedly by a variety of studies.
Despite this rampant exploitation, the Morrison Government has announced plans to grant farmers even more migrant workers through the expansion of the backpacker visa scheme to 13 additional countries, which comes on top of recent changes extending the duration of these visas to three years from two years previously.
https://www.abc.net.au/news/2019-07-31/working-holiday-maker-backpacker-visa-expansion/11366976
Later in the week, farm lobby groups claimed that the Government's expansion of the backpacker visa scheme didn't go far enough and instead demanded a dedicated agricultural visa that would give farmers guaranteed access to even more cheap migrant labour.
Over the weekend, the farming lobby stepped-up the pressure, which was met with additional evidence of systemic exploitation. From The New Daily:
https://caanhousinginequalitywithaussieslockedout.com/2019/08/05/govt-program-to-send-newstart-people-to-farms-branded-a-complete-failure-why/?fbclid=IwAR2YRadFGDIV3XpGVA3WAnMjhtKbmxHjg4kVdc7gFw3eCI80XIyIKbsnBOM
…influential lobbying groups are calling on the government to create a dedicated agricultural visa to fix the growing labour crisis in the industry.
Mr Mahar said the industry relied on backpackers, as well as migrants from the Pacific Islands.
"While the backpacker visa is designed for cultural exchange, they're coming here for a working holiday," he said.
"Same with the seasonal workers, that's almost an aid program. They work and take the money back to their country. It's not designed to address the specific needs."
The shortage is having disastrous effects on the industry, with many growers leaving fruit on the trees, or planting less, Mr Mahar said…
Rampant exploitation
The industry is also grappling with a crisis around the treatment of migrant workers.
Joanna Howe, associate professor in law at the University of Adelaide who wrote a report on migrants within the horticulture sector earlier this year, said she spoke to people who were paid as little as $1 an hour during her research.
"We had almost universal stories of underpayment. The worst was $1 an hour, but between $3 to $5 an hour was normal."
Not only are they underpaid, but the conditions are often horrible, she said.
"Two young workers from South-East Asia, they experienced really terrible sexual harassment," Associate Professor Howe said…
"One British backpacker had never been so depressed or contemplated self-harm, but through the farm work, he had thought about it," she said.
"There were rats in his hostel, eight mattresses crammed into one room."
As I noted last week, the federal government's latest Enterprise Bargaining Agreement (EBA) data shows that wage growth was lowest for agricultural workers: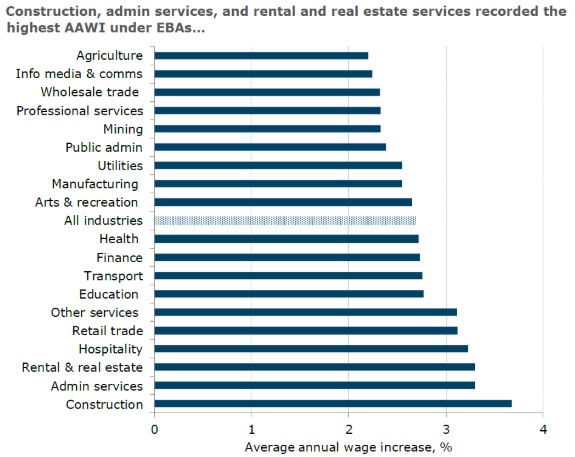 If labour shortages were so widespread, then wouldn't wages have risen strongly?
Of course, there is no need to lift wages when farmers can simply exploit cheap migrant labour en masse, which would be made even worse under the requested agricultural visa.
Remember, farmers already have multiple avenues to employ migrant workers. In addition to the expanded backpacker visa scheme, farmers can access workers from the Pacific via: (1) the Seasonal Worker Program (SWP); and (2) the Pacific Labour Scheme (PLS).
The SWP, which has grown some 40% per year, allows workers from the Pacific or Timor Leste to pick fruit and vegetables for up to six months: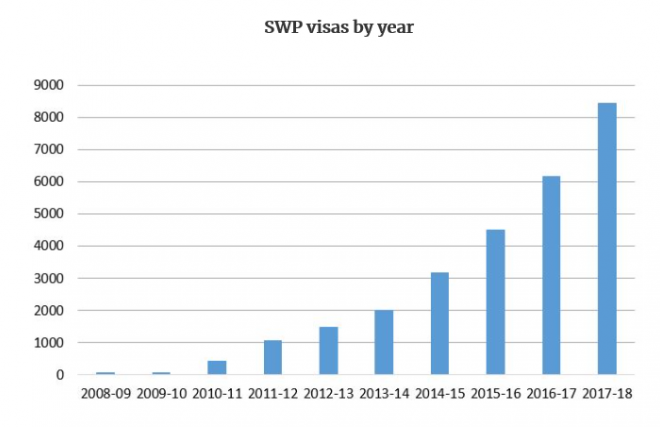 Whereas the PLS, which has operated for around two years, allows Pacific Islanders to work in regional Australia in any sector for up to three years.
Given farmers can already hire SWP workers to meet their short-term needs (up to six months) and PLS workers for their long-term needs (up to three years), there is little rationale in also granting them access to a dedicated agricultural visa, especially given these proposed visas are being touted as being "more flexible" (read more open to exploitation).
Migrants are already being exploited en masse across Australia's farms, crushing wages and working conditions. So, the last thing policy makers should do is make the situation even worse by granting easier access to cheap foreign workers.
Amandeep Singh Sidhu (left) at his blueberry farm on the Coffs Coast
SOURCE: https://www.macrobusiness.com.au/2019/08/farm-visa-clamour-grows-despite-worsening-migrant-exploitation/
CAAN FACEBOOK:
https://www.facebook.com/Community-Action-Alliance-for-NSW-744190798994541/?ref=aymt_homepage_panel
WEBSITE:
https://caanhousinginequalitywithaussieslockedout.wordpress.com/