Australia is vulnerable to any downturn in global markets due to a Chinese economic slump. But being dumped as a supplier by China is a different matter./Getty Images
COULD Professor James Laurenceson's view
–that Australia's economic reliance on China is increasing
BE based on a vested interest … afterall he is the Acting Director of the Australia-China Relations Institute (ACRI) ?
Researchers from Victoria University's Centre of Policy Studies (CoPS) have countered this view that Australia's economic dependence on China is not as great as commonly believed!
A little background on Prof Laurenceson: Articles previously shared on CAAN Facebook:
https://www.smh.com.au/opinion/sydneys-skyrocketing-house-prices-are-worrying-but-chinese-buyers-arent-to-blame-20150529-ghcgjt.html
https://www.abc.net.au/news/rural/2016-08-09/firb-review-lambie/7703888?fbclid=IwAR3pMCqfHfQJZbaTTqoMEbnPBTHxBzO4pov2D7X1TC8UwqDrxiYeIW5S4PM#.V6nC3LQh_k0.facebook
https://www.theaustralian.com.au/business/aussies-accepting-farm-sales-to-china/news-story/60c00c83c4b137f6e775809e82e7dc04
+
Australia's economic dependence on China overblown
By Unconventional Economist in Australian Economy, China Economy
August 5, 2019 | 6 comments
Today, Acting Director of the Australia-China Relations Institute (ACRI) – James Laurenceson – warned that Australia's economic reliance on China is increasing from already extreme levels:
https://www.canberratimes.com.au/story/6308833/aust-reliance-on-china-likely-to-increase/
'The May export figures paint a stark picture of just how reliant Australia's economy is on the Chinese boom.
The money involved means if the Asian nation were ever to cut off an industry or two – as it has done to other countries at times – it could severely damage Australia's economy and wipe out the predicted federal budget surplus.
It also opens up Australia's politicians to fears of economic coercion, particularly as China faces international pressure for putting Muslims in internment camps and cracking down on protests in Hong Kong.
Experts say the complex economic situation Australia finds itself in won't change soon.
"Even though we may conclude we're quite dependent on China now, the reality is for many Australian industries they're actually going to become more dependent," University of Technology Sydney Professor James Laurenceson told AAP.
"When you're talking goods like iron ore, China is the indispensable source of demand, it's not going to come from anywhere else. So if we're going to sell iron ore it's got to be to China"…
"Out to 2030, China is going to add more new purchasing power than India, Indonesia, the US and Japan combined," Prof Laurenceson said.
*HOWEVER, researchers from Victoria University's Centre of Policy Studies (CoPS) has countered this view, released interesting research showing that Australia's economic dependence on China is not as great as commonly believed.
( https://www.copsmodels.com/elecpapr/g-294.htm )
*They make the point that, since the bulk of Australia's exports to China are undifferentiated primary products sold into a global market, and foreign ownership of the companies producing these products is high, the impact on Australian living standards of China sanctioning our exports is likely to be lower than many fear.
This has obvious implications for policy makers attempting to balance Australia's economic and security interests.
The Conversation provides a useful summary of this research:
https://theconversation.com/australia-depends-less-on-chinese-trade-than-some-might-think-120423
China now buys almost a third of Australia's exports… It's a situation that sparks fears of a Chinese economic slowdown, or a backlash if we offend China's government in some way…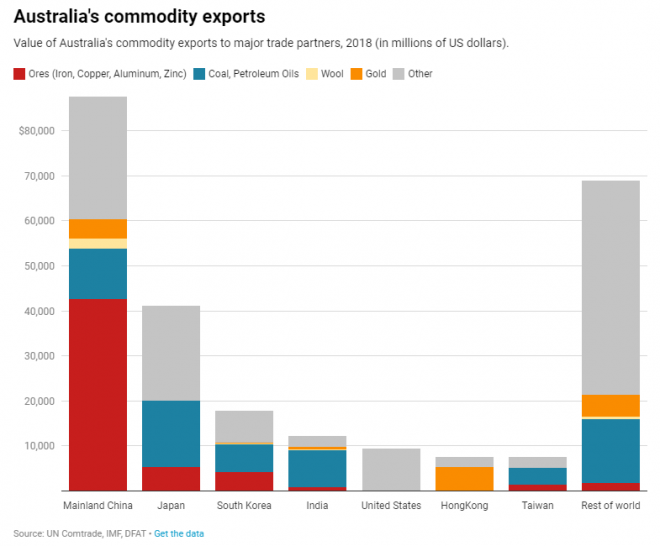 *
As a commodity exporter, Australia is vulnerable to any downturn in global markets due to a Chinese economic slump. This makes the fallout from the US-China trade conflict concerning.
But being penalised as a supplier by China for some perceived diplomatic slight is a different matter.
Using a global economic model ( https://www.copsmodels.com/elecpapr/g-290.htm )
with many commodities and countries, we modelled ( https://www.copsmodels.com/elecpapr/g-294.htm )
the effect of Beijing permanently cutting China's imports of Australian coal by 25%.
Australia's coal exports to China in 2018 were worth about A$15 billion – or about 1% of what the nation spends on private and public consumption in a year.
One might think losing a quarter of coal exports to China will knock about 0.25% off our spending capacity.
In economic terms that's a big number. Our results, however, point to a much smaller loss – just 1/6th the impact, or about 0.04% lower national consumption. That equates to every person having $24 less to spend in a year…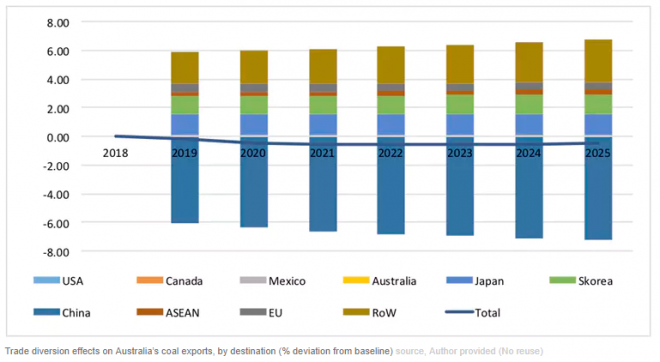 *The paper explains four factors that mitigate the impact on Australia from assumed Chinese economic sanctions on Australia's exports;
The capacity to redirect exports to other markets; albeit at reduced prices.
How easily resources can switch from coal production to other activities.
*The level of foreign ownership. More foreign ownership means more profits go overseas. This dampens any impact of lower profitability on Australian living standards.
Taxation effects.
It then concludes with the following statement:
*With all these factors in play, our modelling suggests there is less to fear from the Chinese government throwing its economic weight around than some think.

We think our conclusions probably hold for many of Australia's exports to China, but acknowledge our investigation is preliminary.

For example, what would happen if the Chinese government decided to restrict the number of Chinese students studying in Australia? Finding new markets for education services might be tougher than for primary products. Resource redeployment might be easier, however…

Perhaps no price should be put on upholding and expressing our liberal democratic and human rights values, and protecting our security interests, but the cost of economic sanction might well be less than many fear.
The full paper can be downloaded here.
( https://www.copsmodels.com/ftp/workpapr/g-294.pdf )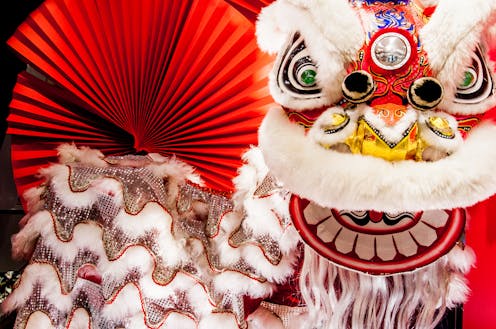 SOURCE: https://www.macrobusiness.com.au/2019/08/australias-economic-dependence-china-overblown/
CAAN FACEBOOK:
https://www.facebook.com/Community-Action-Alliance-for-NSW-744190798994541/?ref=aymt_homepage_panel
WEBSITE:
https://caanhousinginequalitywithaussieslockedout.wordpress.com/