PHOTO: Net overseas migration makes up the majority of Australia's population growth. (AAP: Paul Miller)
IT is all part of the Ponzi Scheme … the origins of which date back to the 457 Visa being introduced after John Howard took office …
Search CAAN Website 'Visa Manipulation' Category to learn more …
From 'The Comments' …
-the real question no-one has answered is how many of these "new" migrant jobs are as a result of Australians' jobs disappearing? What's the net net? I've little doubt the job creation figures would look a whole lot less rosy…
-good on them. These cheap workers are providing a valuable service to Australia – enabling business owners employing them to steal their wages (simply pay them less than a local and keep the difference for themselves) to raise their own wages and take on more debt to grow the economy with!
-now I know why Melbourne has 25% youth unemployment
-how many of those jobs are Real Estate agents? How many are baristas? How many are other "service" or BS jobs?
-what jobs have been created vs which jobs have been destroyed I wonder? If wages growth is super low, it can't be highly skilled jobs they are creating / taking surely? How many are uber drivers?
-the government is going with the path of least resistance – building up a service economy, which can be done by simply importing more consumers and low-wage workers
-building a productive economy, where we build products that the world wants, is too hard
-22 year-old son, recent graduate, could not get any form of job for several months after graduation. Finally secured a job by doing his security licence … 
… HIGH IMMIGRATION 'instead of providing jobs, it is undercutting wages, crush-loading our cities, and forcing people to live in smaller and more expensive housing'
Professor: Migrants take three-quarters of Australian jobs
By Unconventional Economist in Australian Economy
July 31, 2019 | 29 comments
Last year, the Australian Treasury released a propaganda report, entitled Shaping a Nation, which admitted that the lion's share of Australian jobs growth has gone to migrants:
*Recent migrants accounted for two-thirds (64.5 per cent) of the approximately 850,000 net jobs created in the past five years.
*For full-time employment, the impact is even more pronounced, with recent migrants accounting for 72.4 per cent of new jobs created.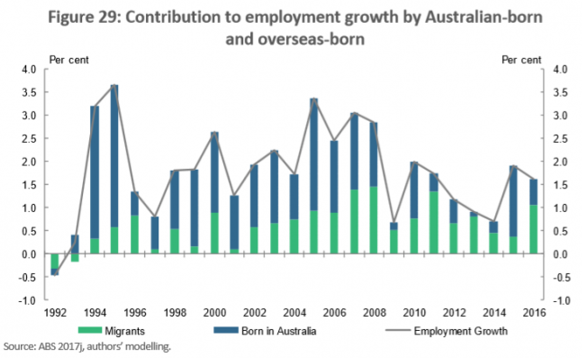 Then at a Senate Estimates hearing in May, the Department of Home Affairs confirmed that migrants have taken the majority of new jobs:
Assistant secretary in the Home Affairs statistics and information branch, Jason Russo, said it was likely that "more than 50%" of the 1 million jobs created in five years were a result of immigration.

Home affairs secretary Michael Pezzullo clarified that this was likely because immigration's contribution to population growth in Australia was running higher than 50%…

*In Estimates, officials could not definitively break down the number of permanent and temporary migrants that made up the total figure, but said that the 457 temporary skilled visa program accounted for around approximately 500,000 of the 850,000 of the jobs created in the time the report examined (which ended in 2016, well before the government reached 1 million jobs created).
Today, we have received further confirmation that migrants have taken most Australian jobs via Melbourne University demographer, Professor Peter McDonald:
"In recent times, about 75 per cent of employment growth in Australia can be attributed to recent immigrants".

*A 2017 research paper by Professor McDonald published in the Australian Population Studies Journal examined the impact of immigration on Australia's employment growth after the Global Financial Crisis (July 2011 to July 2016).

*It found that in the five-year period, employment in Australia increased by 738,800, with immigrants accounting for 613,400 of these jobs.

"Research indicates that immigration provides major benefits to the Australian economy," his report concluded.
*Here is more evidence that the mass immigration 'Big Australia' policy is failing to benefit the incumbent population.
Instead of providing jobs, it is undercutting wages, crush-loading our cities, and forcing people to live in smaller and more expensive housing.
SOURCE: https://www.macrobusiness.com.au/2019/07/professor-migrants-take-three-quarters-australian-jobs/
CAAN FACEBOOK:
https://www.facebook.com/Community-Action-Alliance-for-NSW-744190798994541/?ref=aymt_homepage_panel
WEBSITE:
https://caanhousinginequalitywithaussieslockedout.wordpress.com/