IMAGE: (HUGH PETERSWALD/PACIFIC PRESS/LIGHTROCKET VIA GETTY IMAGES)
MORE expensive per kilometre than the Chanel Tunnel …
'AS developers are belatedly realising, the market is a shaky edifice built entirely on public trust' … now well and truly broken …
https://caanhousinginequalitywithaussieslockedout.com/2019/07/26/sydneys-stupidest-building-boom-was-born-in-a-bonfire-of-regulation/?fbclid=IwAR0GdPnPwmlq-9fi-GCQSGnIb2SqymV3CRcFCOakjOF5hY6nYAaplU1ny2I
'At the heart of it all … government refusal to govern.'
AND if it were not for the Growth Agenda of the Big End of Town … Sydney's homes and businesses would not be cracking up either from great heights, or from tunnelling underneath?
LET alone being gouged for 'SYDNEY is growing' …
WestConnex gouges NSW taxpayers again
Unconventional Economist in Australian Economy
July 25, 2019 | 4 comments
MB has frequently questioned the efficacy of Sydney's WestConnex toll road and tunnel project – the $17 billion 33 kilometre motorway under construction that is more expensive per kilometre than the Chanel Tunnel.
This hideously expensive project will see existing free public roads like the state-owned M4 (that have already been paid off) being tolled to help fund the project, with tolls to rise by 4% a year until 2038, with tolls to continue to rise at the rate of inflation for another 20 years. Moreover, the M5 toll to Sydney's south-west was due to be abolished, but has now been extended to 2060.
So basically, WestConnex's new 51% owner, Transurban, which already owns seven of Sydney's toll roads, will make like bandits, while Sydneysiders are gouged.
*Earlier this year, satellite images revealed that tunnelling for WestConnex could damage thousands of Sydney's inner-west homes, potentially leading to hefty taxpayer compensation:
The images, taken every 11 days for three years up to January, include data on 25,000 buildings directly above the WestConnex roads and tunnels as well as buildings several hundred metres away.
Otus claims ground is sinking up to 100 millimetres – well beyond approved levels…
NSW Greens MP Jamie Parker said the Otus data showed that not just the 4500 homes located within 50 metres of the third stage of WestConnex may be at risk from damage from the project, but "tens of thousands".
"This data now opens the floodgates in terms of potential cost to government but also the contractors and insurers," Mr Parker said.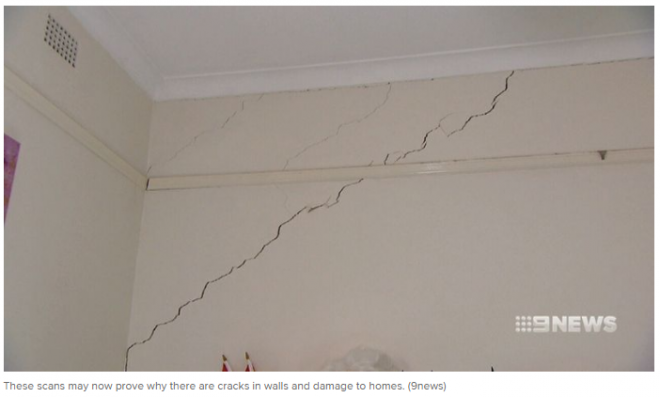 And last week, a Sydney court has ordered the NSW government to pay more than $50 million compensation to the former owners of a tip site that it acquired to build the WestConnex spaghetti junction at St Peters:
The NSW government has been ordered to pay more than $50 million compensation to the former owners of a tip site that it acquired for WestConnex.CREDIT:SYDNEY MOTORWAY CORP
Alexandria Landfill purchased a 15.7-hectare site at St Peters – just south of Sydney Park – for $21 million from the City of Sydney council in 2001…
The state government compulsorily acquired the land from Mr Malouf's company a month later. But the company disputed the valuer-general's estimate…
Nick Brunton from Norton Rose Fulbright, who represented Roads and Maritime Services in the matter, said this week the case was "so far as I'm aware the largest ever claim for compensation for the acquisition of land for public purposes".
In a decision on Thursday, Justice Terence Sheahan ordered the state government to pay Alexandria Landfill $50.087 million in compensation…
Whether through private taxes like tolls or costly compensation for damaged property, NSW residents are facing a reaming.
Construction work on the WestConnex.CREDIT:AAP
SOURCE: https://www.macrobusiness.com.au/2019/07/westconnex-gouges-nsw-taxpayers/
CAAN FACEBOOK:
https://www.facebook.com/Community-Action-Alliance-for-NSW-744190798994541/?ref=aymt_homepage_panel
WEBSITE:
https://caanhousinginequalitywithaussieslockedout.wordpress.com/