What will the outgoing secretary be doing afterwards … will there be a lobbying position there … like there has been for so many former pollies?
Thanks a bunch …
Key Points …
mass immigration has led to overdevelopment, congestion, prohibitive investment in infrastructure due to tunnelling and land buy-backs
energy policy esp. LNG exports with power prices through the roof; has made our industry uncompetitive
Australia's tax system encourages speculation and investment in non-productive housing; with bias for bank lending towards housing over business
Australia's economy is ruled by oligopolies and rent-seekers
Outgoing Parko warns on Australia's productivity crisis
By Unconventional Economist in Australian Economy
July 25, 2019 | 5 comments
The Department of Prime Minister & Cabinet's outgoing secretary Martin Parkinson says Australia's productivity growth has fallen below global standards. He warns that growth in Australia's living standards will decline over the next decade unless action is taken to boost productivity. Parkinson adds that political instability and policy uncertainty may have contributed to the fall in productivity over the last decade. From The Australian:
VIEW CAAN Website for a copy: https://caanhousinginequalitywithaussieslockedout.com/2019/07/25/outgoing-mandarin-martin-parkinson-warns-on-threat-to-living-standards/
"We have fallen behind in global productivity," Dr Parkinson told The Australian. "For whatever reason, our productivity performance is not keeping up.

"Over the next decade, our living standard growth is going to fall; it has fallen, and will continue to fall partly as a consequence of the inevitable ageing of the population and the fact we are not getting the same boost to participation.

"But it's also productivity performance"…

"I think (instability) has been quite debilitating for the development of good policy," he said… "And you just can't have that sort of instability and think the political class is going to be able to concentrate on the big issues ahead…

"When you get through such long periods of economic growth, communities can lose sight of what is required to generate growth and higher living standards.
Australia's productivity slump is illustrated below, via the Productivity Commission: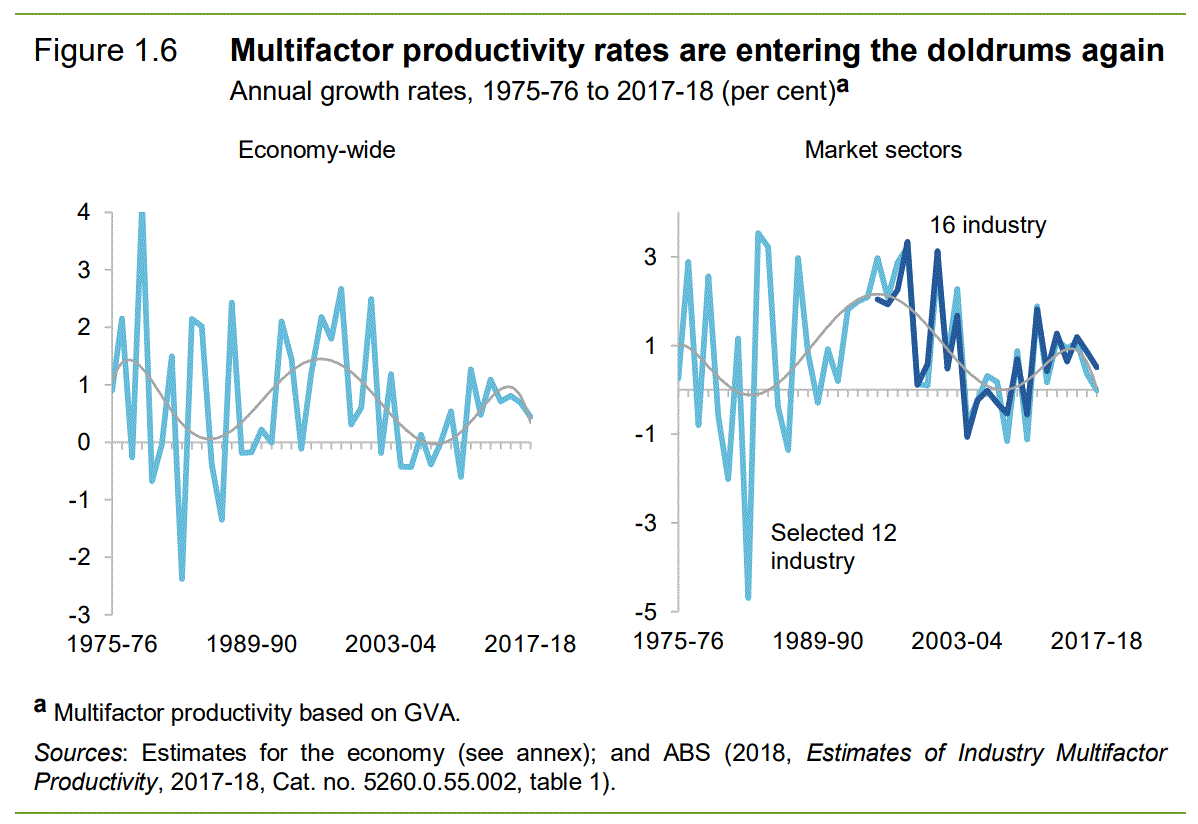 *The reasons behind Australia's slow productivity growth are obvious.
*First, Australia's mass immigration model is crush-loading our major cities, stifling productivity through rising congestion costs, as well as encouraging growth in low productivity people-servicing industries and debt creation, rather than higher productivity tradables.
*The infrastructure investment required to keep pace with population growth is also much higher cost than in the past, due to diseconomies of scale (e.g. tunnelling and land buy-backs), alongside government corruption in infrastructure selection.
Allowing employers to pluck cheap migrants in lieu of granting wage rises to local workers also discourages companies from innovating and adopting labour saving technologies, while also preventing creative destruction by enabling low productivity companies to remain in business.
*Second, Australia's ghastly energy policy (especially around LNG exports) has sent Australian power prices through the roof, raising input costs, making Australian industry uncompetitive, and forcing higher productivity firms in tradable industries to close.
*Third, Australia's tax system encourages speculation and investment into non-productive housing, and has also helped bias bank lending towards housing over businesses.
*Fourth, Australia's economy is ruled by oligopolies and rent-seekers, whom bend the political decision-making process at their whim.
Indeed, Parko is part of this problem – two days ago he defended Christopher Pyne and Julie Bishop for taking consulting positions just after leaving their ministries.
And on it goes leading to fat cats taking the cream as labour works its arse off for no gains: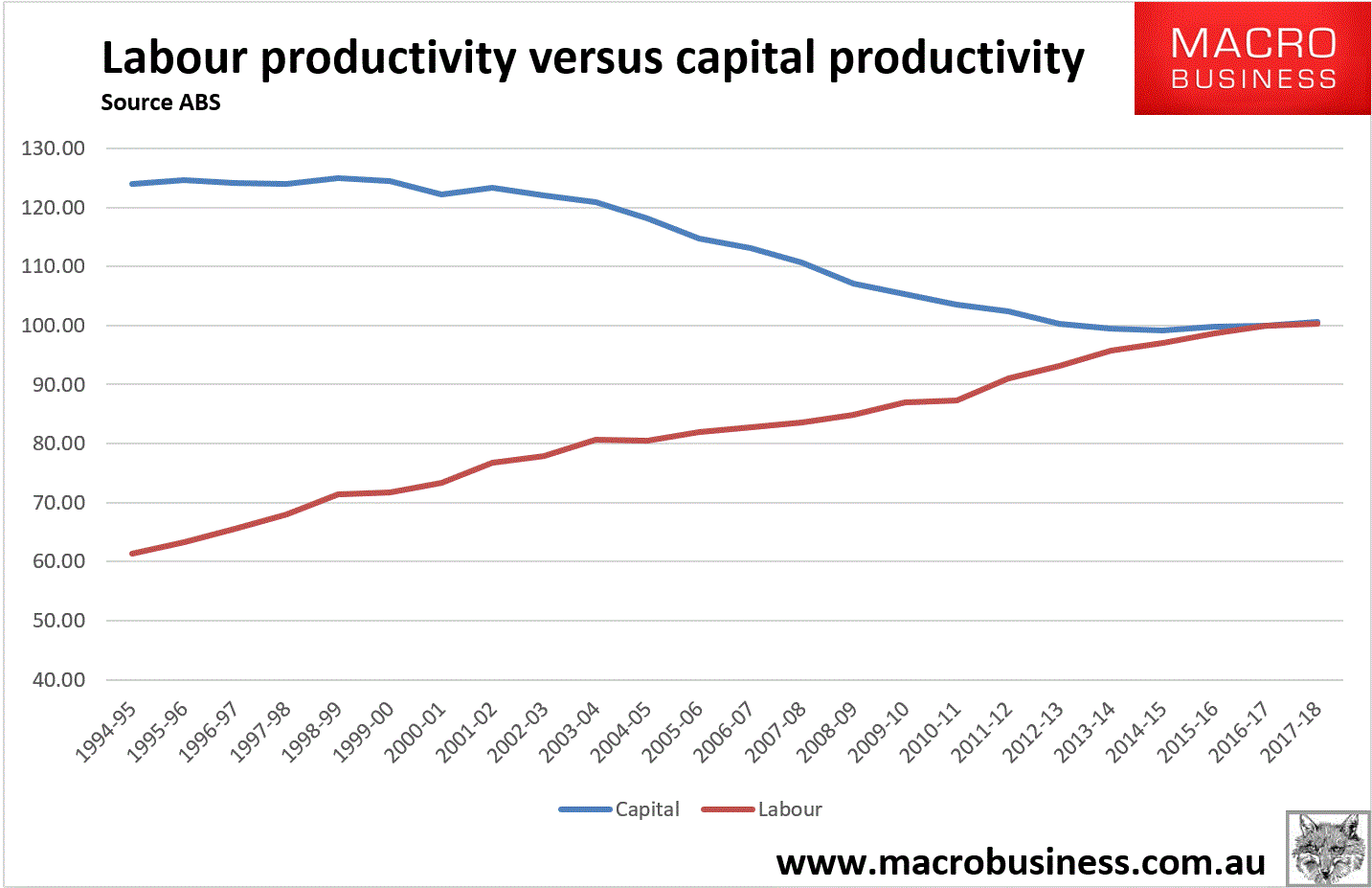 Given Parko – as head of the Treasury and PM&C – was partly behind Australia's low productivity model, voicing his concerns as he heads into retirement is akin to shutting the gate long after the horse has bolted.
 Secretary of the Department of Prime Minister and Cabinet Martin Parkinson will leave in August. AAP
SOURCE: https://www.macrobusiness.com.au/2019/07/outgoing-parko-warns-productivity-crisis/
CAAN FACEBOOK:
https://www.facebook.com/Community-Action-Alliance-for-NSW-744190798994541/?ref=aymt_homepage_panel
WEBSITE:
https://caanhousinginequalitywithaussieslockedout.wordpress.com/