Our hopes have been raised … but the decision is still in the hands of the Planning Department …
ISN't the current building crisis of 85% defective builds what should be at the front and centre of the Planning Department's consideration? 
AND that Sydneysiders are over Overdevelopment … and not only the loss of amenity but their communities!
The Regs are not yet there back in place to prevent more dodgy builds!
A commentator noted that the same valid reasons for not developing Zetland and Green Square were put forward … but that it appears after 'donations' were made to the appropriate parties … and promises made (but not kept) that huge precinct overdevelopment went ahead anyway ….
Zetland and Green Square are now overcrowded with inadequate transport infrastructure … and have become a bleak and windswept eyesore …
ALERT!
When deve-lopers coming knocking at your door $1M – $1.5M buys an 'ordinary' cottage in Sydney's midde ring; prices are down from what they were … benefiting deve-lopers …
The home owner has to find alternative accommodation as deve-lopers landbank all over Sydney.
THIS is a WT * moment in time.
BECAUSE the deve-lopers can build not only high-rise but as many as 10 terraces on a 600M2 Lot selling for say $1M each or more!
And these developments can still be sold 100% to foreign buyers … (May 2017 Budget Reg for housing projects of 49 dwellings or less) …
Also View:
Planning proposal for the St Leonards South Residential Precinct
https://www.ipcn.nsw.gov.au/projects/2018/11/planning-proposal-for-the-st-leonards-south-residential-precinct?fbclid=IwAR3VG3Qe93ir_qwn8s9fhwZ623znbRb3GEroawmzN5lW0Ym64WhEElVQGOk
AND from 2015 … St Leonards Superlot of Nine Houses Reaps $66M
https://caanhousinginequalitywithaussieslockedout.com/2019/07/26/2015-st-leonards-superlot-of-nine-houses-reaps-66m/
'Excessive': Council and developers dealt a blow over multimillion-dollar plan

*Developers who have spent half a billion dollars buying suburban blocks on Sydney's lower north shore have been dealt a blow, after an independent panel found plans to build high-rise apartments at the site were at odds with the area's character and amounted to "overdevelopment".
Over the past seven years, developers have spent hundreds of millions of dollars acquiring about 90 suburban lots to the south of St Leonards station and the Pacific Highway, in anticipation those lots would be rezoned for a "St Leonards South" residential precinct put forward by Lane Cove Council.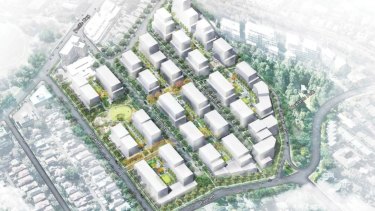 Residents have been angered by the proposal, which would lead to the construction of about 2400 apartments in towers up to 19 storeys high spread across five streets.
Among the criticisms levelled at the scheme, which has been supported by the council as a way of delivering housing demanded by the state government, are concerns that it includes little open space, is poorly designed, and would over-stretch inadequate transport and social infrastructure.
Those concerns were largely echoed by the Independent Planning Commission, which says the proposal represents an "overdevelopment" in its advice on the proposal to the state government.
The advice to Planning Minister Rob Stokes, published on Wednesday, also says that rezoning the parcel of land to allow high-rise development is not necessary to meet the housing targets set by the Greater Sydney Commission.
Lane Cove mayor Pam Palmer was "happy to take advice" on the proposal but said the council needed to plan for population growth.
"We still think St Leonards is a good place to grow our population … but if that plan isn't successful we'll take that on board," she said.
In its advice, the commission said the design and scale of residential development put forward in the planning proposal did not "respect or enhance the existing local character of the area".
RELATED ARTICLE
Commission members (Ind. Planning Commission) Illona Miller, Russell Miller and Peter Cochrane raised concerns the amount of public open space was not enough for "estimated ten-fold increase in population".
They also feared taller buildings clustered in one part of the site would create a "monolithic street wall effect".
Supporters had argued the proposal would allow "an appropriate scale of development" in an area that is undergoing a "significant transition towards high density development and taller buildings".
But opponents condemned the scale of the planning proposal as "vastly excessive" and warned it would place "unacceptable pressure" on roads, schools and Royal North Shore Hospital.
"The scale of residential development proposed under the planning proposal would be out of character with the remainder of the St Leonards South Precinct and surrounding neighbourhoods," the commission advised.
RELATED ARTICLE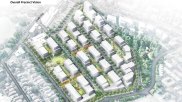 The panel said that the Lane Cove area was on track to surpass the Greater Sydney Commission's target of 1900 extra dwellings by 2021, and no further housing targets had been set.
"The [panel] considers that no rezoning of the site is required to meet the current GSC's housing targets under its north district plan as the housing targets are currently likely to be exceeded without the proposed delivery of a further 2400 dwellings," the panel advised.
A spokeswoman for the Department of Planning, Industry and Environment said the government would consider the commission's advice as it prepared the final plan for St Leonards and Crows Nest.
Lane Cove Council would have an opportunity to consider its position on the planning proposal in light of the commission's advice, the spokeswoman said.
"The department respects the differing views within the community and will continue to listen and work with all to ensure ongoing consultation."
Megan Gorrey is the Urban Affairs reporter at the Sydney Morning Herald.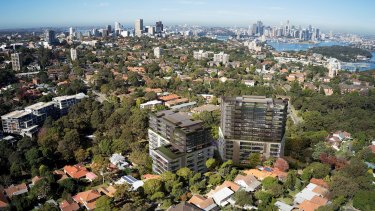 Photo from 2015 best illustrates why this proposal for high-rise apartments from a Hong Kong-based developer at the site was at odds with the area's character and amounted to "overdevelopment".
AND why Sydney Communities are 'over Overdevelopment' … in this case the developer managed to bribe 9 home-owners but what of those neighbouring left robbed of their amenity and community?
SOURCE:
https://www.smh.com.au/national/nsw/excessive-council-and-developers-dealt-a-blow-over-multi-million-dollar-plan-20190723-p52a28.html#comments
CAAN FACEBOOK:
https://www.facebook.com/Community-Action-Alliance-for-NSW-744190798994541/?ref=aymt_homepage_panel
WEBSITE:
https://caanhousinginequalitywithaussieslockedout.wordpress.com/