Australian Government shuts door on migrant visa scammers
By Unconventional Economist in Australian Economy
July 25, 2019 | 30 comments
One of the reasons why net overseas migration (NOM) into Australia continues to trend higher despite the Morrison Government's 20,000 cut to the permanent migrant intake is because the number of bridging visas – granted to migrants awaiting decisions on visa applications – have ballooned by 123,000 since 2014: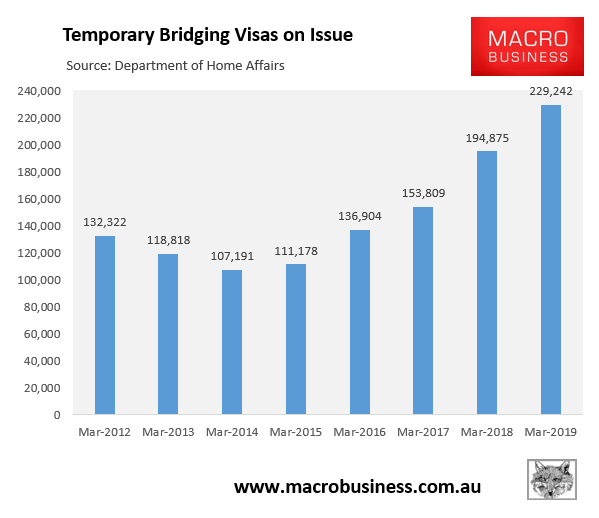 The Daily Mail: Mr Apis along with 15 of his Malaysian housemates applied for protection through the same agent
These bridging visas have been dominated by migrant scammers from Asia, who arrive in Australia on tourism visas only to then pay $100 to apply for a humanitarian or protection visa to extend their stays:
An immigrant has lifted the lid on how foreigners are exploiting protection visas to stay longer in Australia and make more money.

Malaysian man Nazuan Apis said he was approached with the proposition while working at Robinvale, in north-west Victoria, in 2016.

He had initially arrived in Australia on a three-month online tourist visa and picked up seasonal farm work, The Australian reported.

Mr Apis knew he was likely to overstay his visa as he wanted to make more money.

So when a Malaysian work agent approached him offering him a protection visa, he seized the opportunity…

'He told me that if I wanted to stay in Australia I should apply for a protection visa. He said he could arrange it all for me for $100,' he said…

Mr Apis along with 15 of his Malaysian housemates applied for protection through the same agent.

All he had to do was fill in the form and have local police authorise it…

A parliamentary committee this year described the trend of taking out protection visas to extend visa stays as an 'organised scam'.

It found Malaysians were the highest number of visa overstayers and the second-highest number of protection visa applicants.

A February report revealed that authorities spent almost $50 million processing 26,247 protection visa applications from Malaysians between 2016-17.

Despite the staggering figure, only 168 were successful.
Thankfully, a 196-page review of the Administrative Appeals Tribunal (AAT) is seeking to close the door on migrant visa scammers:
The Australian: Migration, social security appeals face crackdown in wake of Callinan report
In a bid to restrict migration appeals, the report said the government should consider legislation for a "new information rule" which would give the AAT discretion to receive or refuse evidence not before the original decision maker.
Mr Callinan said "almost everyone" with experience in migration affairs had told him there were applicants "not small in number", and some of their representatives, who "game the system, well knowing there is an automatic entitlement to a bridging visa".
By making applications to the AAT and the courts they were able to prolong their stay in Australia, he said.
The report said the migration review division should have an "immediate" injection of more full-time members to deal with its backlog of cases…
Mr Callinan said a "strong case" had been made to limit the "often-changing material" on which migration applicants could rely…
The AAT now handles about 59,000 lodgements a year. More than half (52 per cent) are migration and refugee cases…
Mr Callinan said Australia's avenues to challenge migration decisions were "no less, and probably more" generous than other countries — with opportunities to take a case to the Department, the AAT, the Federal Circuit Court, the Federal Court, and in some instances, the High Court…
The tribunal's caseload of migration and refugee matters doubled in the two years to June 30 last year. And it was only able to finalise 18,000 of the 38,000 migration and refugee cases filed in the 2017-18 financial year.
This is a small step in the right direction. But given the fundamental holes in Australia's visa system, and the widespread rorting taking place, systemic reform is clearly necessary.
SOURCE: https://www.macrobusiness.com.au/2019/07/australian-government-shuts-door-migrant-visa-scammers/
CAAN FACEBOOK:
https://www.facebook.com/Community-Action-Alliance-for-NSW-744190798994541/?ref=aymt_homepage_panel
WEBSITE:
https://caanhousinginequalitywithaussieslockedout.wordpress.com/