NOT only has the system been skewed to benefit employers (business) with the lowest wages growth
… competition for jobs from overseas workers
… and now to add salt to the wound
… as found by a number of reviews that a compulsory superannuation increase to 12% will be paid for via lower wage growth!
JOIN A PROTEST FOR A PAY RISE!
Photo: The New Daily; Pollies 15% Super … hm … EXTRACT from TND:
'The calls were particularly galling coming from politicians who "are some of the best-paid people in the community and receive higher superannuation payments than the average worker", Mr Jones said.
Politicians receive among the highest superannuation payments and will still receive more than the average worker if the SG does rise to 12 per cent by 2025.'
New Daily talks its master's book on compulsory super lift
By Unconventional Economist in Australian Economy, Superannuation
July 23, 2019 | 2 comments
The New Daily is owned by Industry Super Holdings, so one should expect it to wholeheartedly support lifting Australia's superannuation guarantee (SG: compulsory superannuation) to 12%, given this would deliver its owners more funds under management to clip the ticket on.
This helps to explain why Your Super Editor of the New Daily, Rod Myer, has penned a spurious article claiming "there is no evidence that halting superannuation rises will boost wages":
Claims by a group of Liberal party MPs that the superannuation guarantee (SG) should be held at 9.5 per cent to allow workers to get a pay rise "fly in the face of all available evidence", the opposition say.
Opposition spokesman for financial services Stephen Jones said there was nothing to show that a freezing of the SG rise would flow through to increased wages.
"There has been no increase in the SG since 2014 and, despite that, we have seen the flattest period of wage growth in our recent history…
For the vast majority of workers who get the legislated super guarantee of 9.5 per cent of their salary, the results of holding back the SG at current levels would be expensive.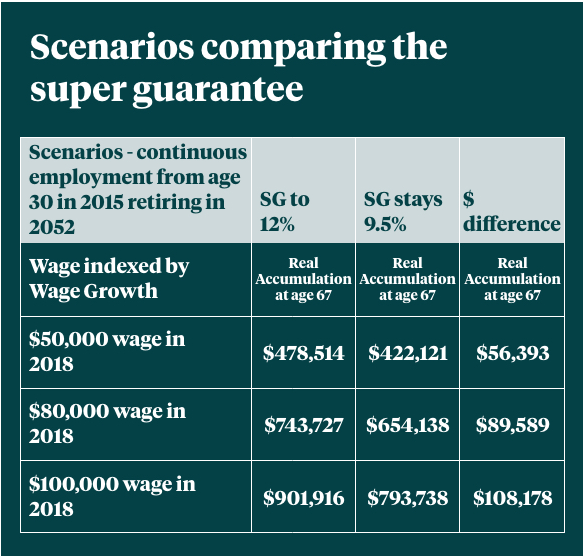 Their retirements at the age of 67 would be between $56,393 and $108,178 for younger people, according to calculations by Industry Super Australia.
One wonders why Rod Myer omitted to mention that the Henry Tax Review explicitly warned that compulsory superannuation is paid for via lower wage growth and reducing one's standard of living pre-retirement:
Although employers are required to make superannuation guarantee contributions, employees bear the cost of these contributions through lower wage growth. This means the increase in the employee's retirement income is achieved by reducing their standard of living before retirement.
Accordingly, the Henry Tax Review explicitly recommended against raising the superannuation guarantee because of its adverse impact on lower-income workers (which Labor is failing to represent):
The retirement income report recommended that the superannuation guarantee rate remain at 9 per cent. In coming to this recommendation the Review took into the account the effect that the superannuation guarantee has on the pre-retirement income of low-income earners.
The Parliamentary Budget Office came to a similar conclusion in April:
The increase in the superannuation guarantee to 12 per cent will likely lead to lower wage increases, shifting a greater proportion of earnings into the superannuation system.
As did former Labor leader, Bill Shorten, who explicitly acknowledged that compulsory superannuation is paid for via lower wage growth:
Because it's wages, not profits, that will fund super increases in the next few years. Wages are the seedbed of the whole operation. An increase in super is not, absolutely not, a tax on business. Essentially, both employers and employees would consider the Superannuation Guarantee increases to be a different way of receiving a wage increase.
As has former Labor Prime Minister Paul Keating:
 The cost of superannuation was never borne by employers. It was absorbed into the overall wage cost… In other words, had employers not paid nine percentage points of wages as superannuation contributions to employee superannuation accounts, they would have paid it in cash as wages.
And finally the Grattan Institute, which estimates raising the superannuation guarantee to 12% will cost workers $20 billion in foregone wages: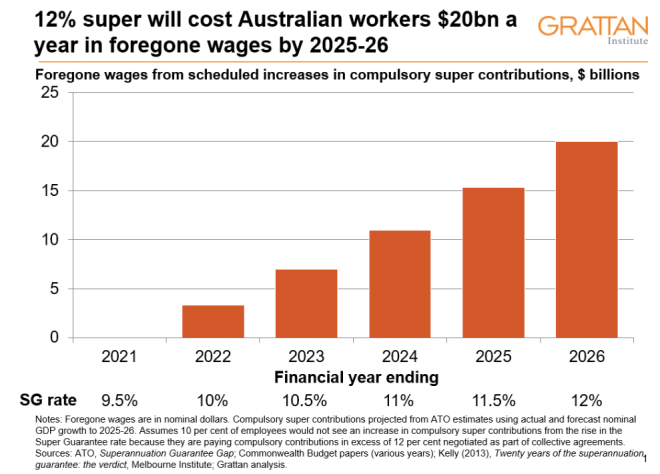 Even slower wage growth will be the result of increasing compulsory superannuation contributions from 9.5 per cent to 12 per cent…
*If compulsory super contributions go up, wages will be lower than they otherwise. And the cut to wages from raising compulsory super is big. Really big. By the time it's fully implemented in 2025-26, a 12 per cent Super Guarantee will strip up to $20 billion from workers' wages each year, or nearly 1 per cent of GDP…
The evidence is irrefutable that raising the superannuation guarantee will lower workers' take home pay. Moreover, it would worsen the federal budget, as noted explicitly by the Henry Tax Review:
An increase in the superannuation guarantee would … have a net cost to government revenue even over the long term (that is, the loss of income tax revenue would not be replaced fully by an increase in superannuation tax collections or a reduction in Age Pension costs).
And the Grattan Institute:
*Lifting compulsory super to 12 per cent of wages would cost taxpayers an extra $2 billion to $2.5 billion each year in super tax breaks, overwhelmingly to high-income earners. And those super tax breaks would dwarf any budget savings on the age pension until about 2060… both the short and long term, superannuation tax breaks cost the budget more than they save in pension payments: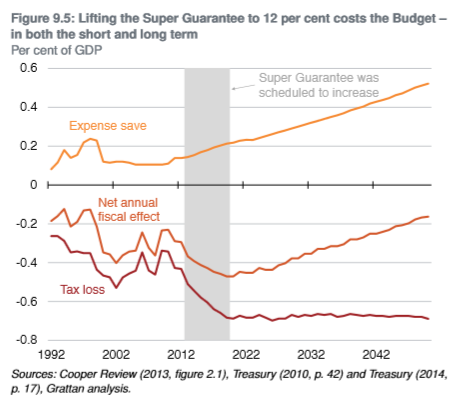 Finally, raising the superannuation guarantee would also worsen equity, since the tax benefits are overwhelmingly skewed towards higher income earners. The ABS illustrates the point clearly: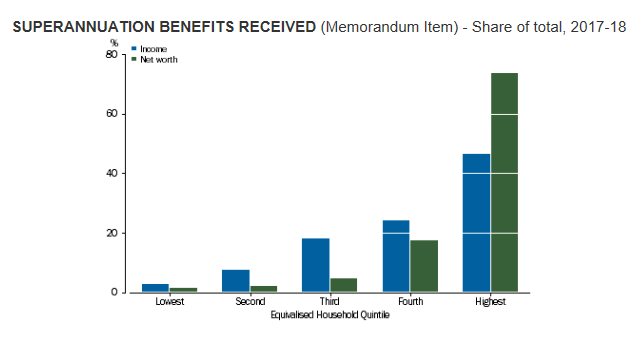 In 2017-18, total household superannuation benefits received was $112,009m. Households in the highest income and net worth quintile received 47% and 74% of total household superannuation benefits, by comparison households in the lowest income and net worth quintile received 3% and 2% of total household superannuation benefits.
*There was an increase in the share of total household superannuation benefits received by households in each quintile from the lowest to the highest for both income and net worth quintiles, with the increase being particularly steep from the fourth to the highest net worth quintiles.
The ratio of the value of the highest to lowest quintiles was 15.5 and 45.7 for income and net worth quintiles for superannuation benefits received.
Blind Freddy can see that raising the superannuation guarantee is dud policy that would cost both workers and the federal budget dearly, while lining the pockets of the rent-seeking superannuation industry.
SOURCE: https://www.macrobusiness.com.au/2019/07/new-daily-talks-masters-book-compulsory-super-lift/
CAAN FACEBOOK:
https://www.facebook.com/Community-Action-Alliance-for-NSW-744190798994541/?ref=aymt_homepage_panel
WEBSITE:
https://caanhousinginequalitywithaussieslockedout.wordpress.com/