Skilled visa rort worsens as wage theft chefs given more migrant slaves
By Unconventional Economist in Australian Economy
at 12:10 am on July 23, 2019 | 43 comments
The latest high profile case of wage theft at celebrity chef George Calombaris' restaurants – alongside similar cases at Neil Perry's Rockpool and Heston Blumenthal's Dinner by Heston – has once again highlighted that Australia's hospitality industry is ground zero for migrant exploitation.
The Fair Work Ombudsman (FWO) in 2017 revealed that migrant workers are involved in more than three-quarters of legal cases initiated by the FWO against unscrupulous employers. And last year, nearly three-quarters of businesses in the hospitality industry audited by the FWO across Melbourne, Sydney and Brisbane had breached workplace laws.
According to the FWO's 2017-18 annual report:
The hospitality industry is a key focus of the FWO's compliance operations. Our operational data has consistently indicated this industry is over-represented in non-compliance with workplace laws. Despite it only making up around 7% of Australia's workforce, the hospitality industry accounted for the highest number of disputes the FWO assisted with both in 2016-17 (17%) and 2017-18 (18%). We also made over $4.8 million in recoveries from this sector – 19% of all our recoveries… Thirty-seven per cent of all anonymous reports received were in relation to the hospitality industry.
With this sordid background in mind, it is disturbing to read that Australia's restauranteurs have demanded the government relax so-called "restrictive and inefficient visa regulations" to enable easier employment of migrant workers:
Chef and restaurateur Luke Mangan said a shortage of chefs and waitstaff in the hospitality industry made businesses such as his reliant on foreign workers… a quarter of the staff at the flagship Glass Brasserie [are] on a temporary work visa…

Mr Mangan said delays in the processing of temporary work visas under the present system were at odds with the rapid pace of his work. "When we need staff, we need them now"…

The restaurateur is among several industry leaders who have welcomed the government's pledge to cut bureaucratic red tape…
"Cook", "Chef" and "Café or Restaurant Manager" are already the top three occupations for temporary skilled visas: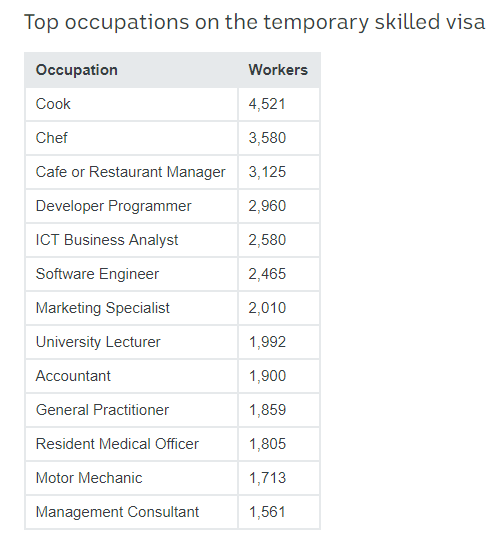 So to describe visa regulations as "restrictive and inefficient" does not pass the laugh test, and will only lead to more migrant wage theft and lower wages across the Australian economy, as noted by Maurice Blackburn principal Josh Bornstein in relation to Rockpool:
Maurice Blackburn principal Josh Bornstein said the law firm was seeking compensation for Mr Karki along with "significant penalties" for serious contraventions of the Fair Work Act…

"What he describes is straight out of the pages of a Charles Dickens novel and an organisation completely out of control where a chef is working up to 80 hours a week," Mr Bornstein said.

He said cases such as Mr Karki's highlight "part of the reason we have wage stagnation in parts of the labour market".

"We are bringing in workers on false pretences so they can be abused and underpaid and suppress the wages in the sector in which they work."
Amazingly, despite the systemic exploitation and the already easy access to migrant labour, the NSW Government has just prioritised cooks and chefs in its skilled visa nomination program:
The new migration program year kicked in from July 1, 2019, and one of the most sought after Australian state for migration purpose, New South Wales has introduced new changes to their skilled nominated (190) program for 2019-20…

The new NSW 190 Priority Skilled Occupation List is good news for chefs, cooks and motor mechanics, [Migration expert Rohit Mohan] says.

"These occupations have high availability and no additional requirement of having lived and worked in NSW…
This is farcical stuff and will ensure that wage theft and low wage growth are key and enduring features of Australia's migrant slave economy.