According to the Australian Bureau of Statistics (the ABS) definition, a person who has worked for one hour or more for payment … is considered employed …
that is how the Guvmnt unemployment figure appears to be kept low … at 5.1% …
Roy Morgan unemployment 9.2% in June
By Unconventional Economist in Australian Economy
July 19, 2019 | 2 comments
The latest Roy Morgan Research (RMR) unemployment estimate for June fell 1.1% to 9.2%, but was up 0.5% year-on-year: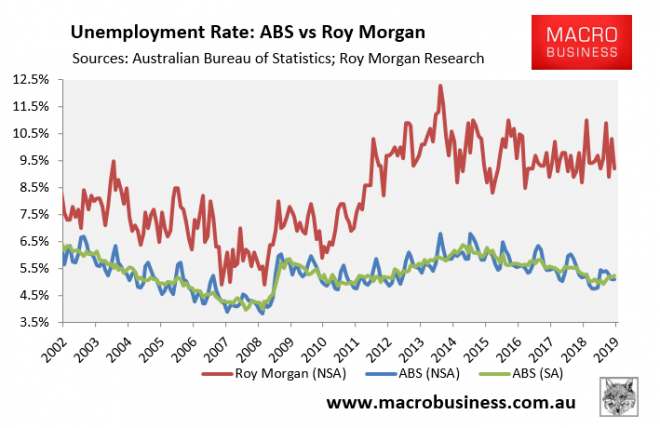 Labour underutilisation also fell to 18.6%, down 0.3% year-on-year: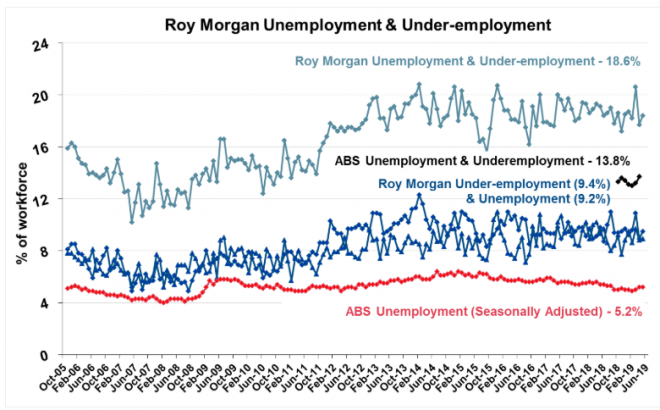 Below are the key points from the release:
In June 1.25 million Australians were unemployed (9.2% of the workforce) with an additional 1.28 million (9.4%) now under-employed.
The workforce, which comprises employed Australians and those who are unemployed and looking for work, has increased year-on-year by 201,000 to 13,617,000. The increasing workforce was driven by an increase in both the numbers of employed people and unemployed people.
Employment was up 118,000 to 12,363,000 in June 2019 and the rise in employment was driven by a significant increase in full-time employment of 479,000 to 8,279,000. However, over the past year part-time employment has declined by 361,000 to 4,084,000.
*Unemployment was up 83,000 on a year ago to 1,254,000 Australians (9.2% of the workforce) The unemployment rate is up by 0.5% to 9.2%.
An additional 1,275,000 Australians (9.4% of the workforce) are under-employed, working part-time and looking for more work, a decrease of 27,000 in a year (down 0.3%).
As explained each month, RMR measures employment differently from the ABS:
According to the ABS definition, a person who has worked for one hour or more for payment or someone who has worked without pay in a family business, is considered employed regardless of whether they consider themselves employed or not.

The ABS definition also details that if a respondent is not actively looking for work (ie: applying for work, answering job advertisements, being registered with Centre-link or tendering for work), they are not considered to be unemployed.

The Roy Morgan survey, in contrast, defines any respondent who is not employed full or part-time and who is looking for paid employment as being unemployed…

Since Roy Morgan uses a broader definition of unemployment than the ABS, it necessarily reports a higher unemployment figure. In addition, Roy Morgan's measure tends to be far more volatile, owing to the fact that it draws on a smaller sample than the ABS and is not seasonally adjusted.
The difference between the ABS unemployment rate (5.1% NSA in June) and the unofficial RMR measure has narrowed to 4.1%: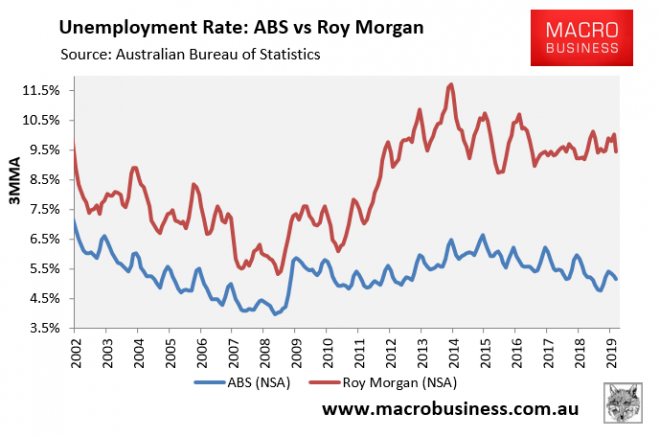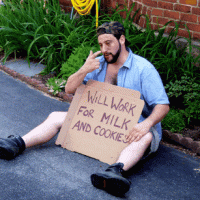 SOURCE: https://www.macrobusiness.com.au/2019/07/roy-morgan-unemployment-9-2-june/
CAAN FACEBOOK:
https://www.facebook.com/Community-Action-Alliance-for-NSW-744190798994541/?ref=aymt_homepage_panel
WEBSITE:
https://caanhousinginequalitywithaussieslockedout.wordpress.com/