YET … the jobs market is turning down … not up!
-55,000 jobseekers (who have no home or cusp of homelessness) had their welfare payments suspended despite the guvmnt saying it would include protections for the most vulnerable
SCOMO … raising Newstart is a no-brainer for both equity and the economy.
Related Article: https://caanhousinginequalitywithaussieslockedout.com/2019/07/22/roy-morgan-estimate-unemployment-9-2-in-june/?fbclid=IwAR1_kBC4QT5LG5ZTQ40Qiz_gKMCKRxxEngiyoaEiK0G3KG0UlRPeNFhkJ1g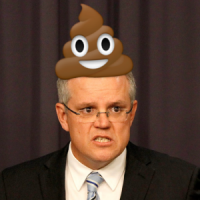 .
Cruel ScoMo rejects Newstart lift
By Houses and Holes in Australian budget, Australian Economy
July 19, 2019 | 58 comments
When it comes to cruelty against the unemployed, it's hard to top the Morrison Government. Listen to lousy ScoMo today on a Newstart rise:
"The government has no plans to do that," he said. "We will continue to increase Newstart every six months as has always been the practice.

"More importantly, for those who are on Newstart, it is about well over 90 per cent, about 99 per cent, of people who are on Newstart are actually on other forms of payments as well.

"It's about getting people into jobs. The latest jobs figures show 20,000 additional full-time jobs.

"That's good news, that's great news, more jobs. How good are jobs?"
As the Budget heads back towards surplus, and with the Government pledging tens-of-billions of dollars for tax cuts, it refuses to lift Australia's Newstart Allowance, which is about to fall to 30% below the poverty line:
The jobs market is turning down not up.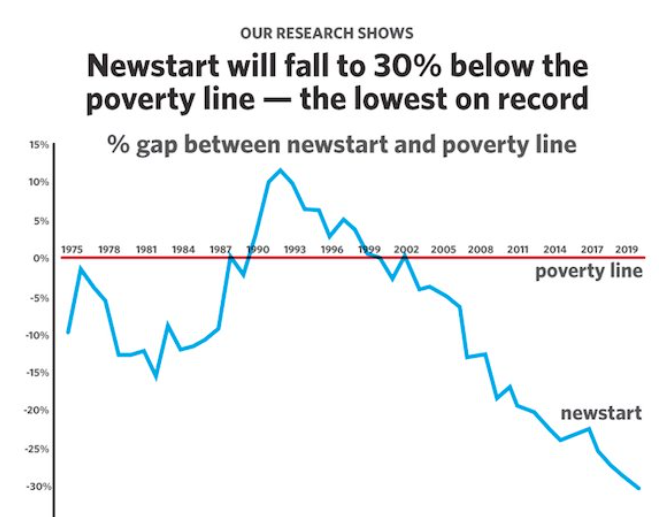 When asked in September about raising the Newstart Allowance, Prime Minister Scott Morrison argued that the Budget simply couldn't afford it:
"I don't think you can all of a sudden go 'oh, let's make whoopee'," he told ABC radio on Wednesday.

"It is a very expensive undertaking and there is not the room in the budget at this point to do that."
Then in December, Morrison said that pensioners deserve a welfare increase ahead of the unemployed:
"We're for jobs. Labor's just for welfare. I heard the other day that they are thinking of increasing the Newstart payment. Well I've gotta tell you. If I thought I had the money to do that, I recon I'd do that for pensioners first".
In April, social services minister, Paul Fletcher, again dismissed calls to raise Newstart, claiming the government's current policy is "appropriate":
Asked if he viewed an increase to the unemployment benefit as inevitable, Fletcher told the breakfast organised by the Australian Council of Social Service (Acoss) that the payment was already indexed to the consumer price index, adding: "That's the policy framework we have and I think it's the appropriate policy framework"…

According to Acoss, Australia's unemployment benefit is the lowest among OECD countries…
Meanwhile, the Morrison Government stopped welfare payments to 55,000 homeless or at-risk jobseekers in the six months to December 2018:
About 55,000 jobseekers who were without a home or on the cusp of homelessness have had their welfare payments temporarily suspended under the government's new compliance regime, despite the Coalition saying it would include "protections for the most vulnerable".

Updated Senate estimates figures show 55,714 homeless or at-risk people who get payments such as Newstart received a suspension between July 2018, when the system came into effect, and December 2018…

The Department of Jobs and Small Business also revealed 50,843 job seekers who had a mental illness had their payment suspended, and 48,022 single-parent job seekers received a payment suspension.
Despite claiming there was inadequate Budget room for raising Newstart, the April Budget still managed to find space for additional personal tax cuts alongside spending $75 million to allow wealthy older-Australians to make voluntary superannuation contributions without having to pass the work test, thus opening further pathways for tax minimisation: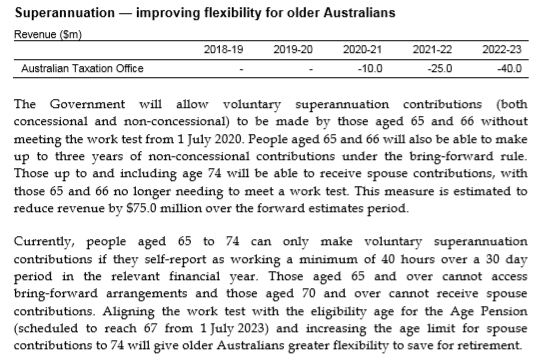 As we keep noting, the Newstart Allowance has not increased in real terms (i.e. above the Consumer Price Index) since 1994, whereas the Pension has received significant increases: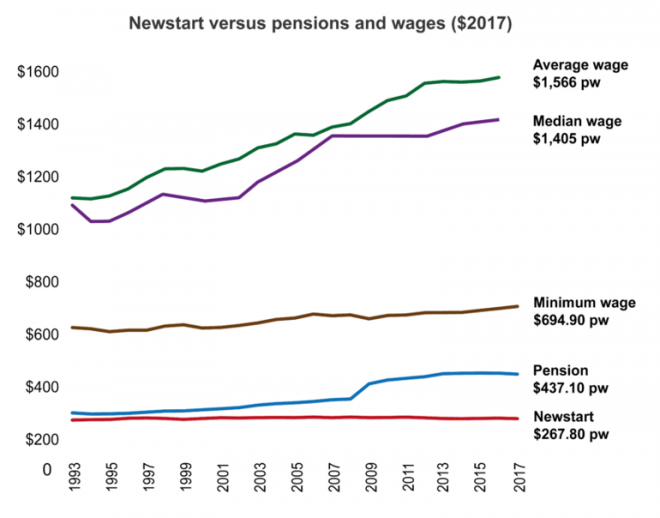 Virtually all cross-sections of society have demanded the federal government lift Newstart, including:
Deloitte Access Economics senior partner Chris Richardson;
the Business Council of Australia;
Former Treasury Secretary, Ken Henry;
Professor Peter Saunders from UNSW;
Former Liberal leader, John Hewson;
Former Prime Minister, John Howard
Former Deputy Prime Minister, Barnaby Joyce;
Liberal senator Arthur Sinodinos;
Business lobbyist, Heather Ridout;
independent senators Tim Storer and Derryn Hinch;
The Australian Council of Social Service (ACOSS);
The Salvation Army;
South Australian Council of Social Service (SACOSS); and
The Australian Green.
And last week, Reserve Bank governor Phil Lowe acknowledged that raising Newstart would be "good for the economy":
Speaking at an event in Adelaide, Philip Lowe said "very low" household income growth was the reason the economy had "softened", which has prompted the RBA to reduce interest rates to a record low of 1.25%.

Asked for his view on the role of income support levels, Lowe suggested an increase to the $277.85-a-week payment would help stimulate the economy, though it was "a matter for the government".

"Anything at the moment that can boost income growth is good for the economy," he said…

Acoss's proposal to lift the payment by $75 a week would cost the federal budget $3.3bn a year, while boosting consumer spending, Deloitte said last year.

Melinda Cilento, the CEDA chief executive, said Lowe's presentation suggested "now is as good a time as ever" for an increase to Newstart.
If boosting consumer spending is the goal, then spending $3.3 billion a year on raising Newstart by $75 a week would deliver far more 'bang for the buck' then gifting many billions of dollars to high income earners.
The unemployed would spend nearly every dollar they receive, whereas a significant chunk of high income tax cuts would be saved.
Raising Newstart is a no-brainer for both equity and the economy.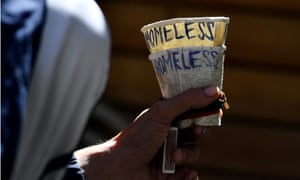 Photo: The Guardian
SOURCE: https://www.macrobusiness.com.au/2019/07/cruel-scomo-rejects-newstart-lift/
CAAN FACEBOOK:
https://www.facebook.com/Community-Action-Alliance-for-NSW-744190798994541/?ref=aymt_homepage_panel
WEBSITE:
https://caanhousinginequalitywithaussieslockedout.wordpress.com/