A warts-and-all royal commission is desperately needed
THE AFR reports that Opal Tower owners are 'caught in a financial nightmare … now presented with a $2M Bill for building insurance … 20 times more than last year's premium'
A similar story for the Zetland apartments … developers have offered owners about $200,000 each – cents in the dollar – to offload their apartments!
… Buyers Beware!
Sydney apartment faults trap owners in "financial nightmare"
By Unconventional Economist in Australian Property
July 15, 2019 | 18 comments
Owners are facing potential financial ruin after a series of high profile structural faults were discovered at major Sydney apartment complexes, which comes on top of the widespread use of flammable cladding.
Today, The AFR reports that owners at the newly built 36-storey Opal Tower, which was evacuated on Christmas eve amid severe structural cracking, are "caught in a financial nightmare… presented with a $2 million bill for building insurance, 20 times more than last year's premium":
Seven months on, Ivy's apartment, which is an investment property, is still unoccupied… She has tried to get new tenants but there have been no takers. In the meantime, she is financially destitute…

"We have been misled. From the very beginning, we were told that Icon's insurance company, Proclaim, would be able to help us with claims. That never happened," she said…

"We hope that the government can come to our rescue"…
It's a similar story at the 10-year old inner Sydney Zetland apartment building, which was abandoned after water and fire safety defects were discovered. Here, The AFR reports that developers have offered owners about $200,000 each – cents in the dollar – to offload their apartments:
While the price – about $7 million for the lot – may represent a huge loss for those who bought the units for between $400,000 and $500,000 10 years ago, the properties are now worth zero, developers say…

Importantly, it is likely to be more than the total cost of repairs for the building plagued with water damage, faulty fire systems, leaking roofs, falling plaster, mould and wet carpet, which has amounted to more than $5 million so far, strata documents show.

At present, the owners, with nothing left in the bank, will not be able to pay this bill, sources said.
Expect cases like these to proliferate across Sydney.
The city has just experienced the biggest high-rise apartment boom in its history (see below chart), which has left Sydney with potentially thousands of defective buildings and billions of dollars of potential rectification costs.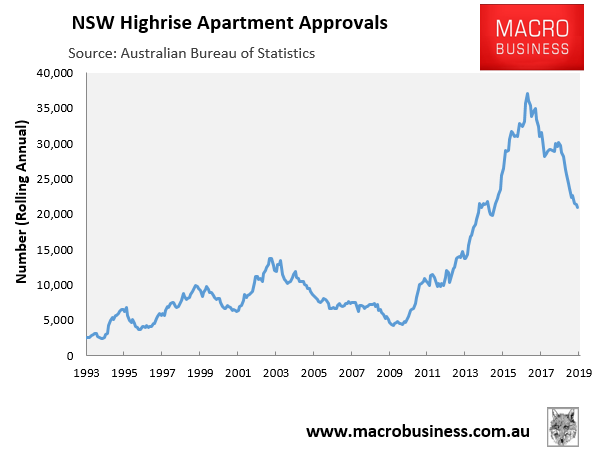 A warts-and-all royal commission is desperately needed in order to finger those responsible, recommend reforms, and prevent a recurrence in the future.
unconventionaleconomist@hotmail.com
SOURCE: https://www.macrobusiness.com.au/2019/07/sydney-apartment-faults-trap-owners-financial-nightmare/
CAAN FACEBOOK:
https://www.facebook.com/Community-Action-Alliance-for-NSW-744190798994541/?ref=aymt_homepage_panel
WEBSITE:
https://caanhousinginequalitywithaussieslockedout.wordpress.com/