Related Article:
https://www.smh.com.au/politics/federal/rba-research-shows-climbing-debt-is-hitting-household-spending-20190711-p526ar.html
Photo: Shane Wright report on RBA Report: Josh Frydenberg with RBA governor Philip Lowe after a two-hour meeting on the state of the economy CREDIT:DAVID GERAGHTY
Lunatic RBA: High household debt curbing spending
By Unconventional Economist in Australian budget
July 11, 2019 | 30 comments
It's always funny to read the RBA – which is partly responsible for Australia's record household debt load – lamenting that high household debt is curbing spending. Via a new RBA research paper:
We explore the relationship between owner-occupier mortgage debt and spending using detailed panel data on Australian households. We find evidence consistent with a 'debt overhang effect' – households cut back on their spending when they have higher levels of outstanding mortgage debt.
This overhang effect holds even when households' net housing wealth remains constant, implying that households reduce their spending when the gross value of both their debt and assets increases… 
We find evidence that indebted households reduce their spending by more than other households during adverse macroeconomic shocks, such as the global financial crisis, but the negative effect of debt is also pervasive at other times…
The household debt-to-income ratio has risen to record levels in Australia in recent years, while household spending has been relatively weak (Figure 1)…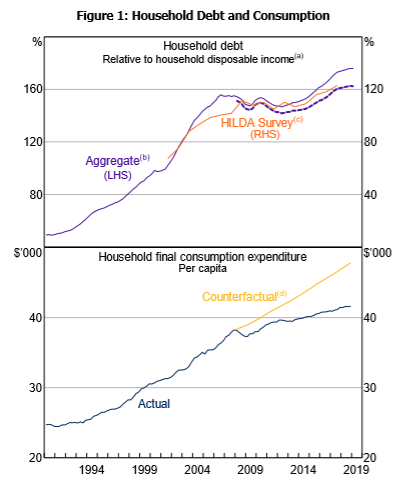 Australia has seen a strong increase in household debt and weak spending over recent years despite a persistently stable banking system and reasonable economic growth even during the GFC.
This suggests that a high level of household debt may weigh on spending even when the economy is in a more 'normal' phase of the business cycle…
Conclusion
Consistent with international research, we find evidence that high levels of owner-occupier mortgage debt reduce household spending. Higher mortgage debt is associated with less spending even when we control for changes to net housing wealth and cash flow (adjusted for mortgage repayments).
This implies that a deepening of both sides of the household balance sheet is associated with weaker spending, and that debt matters for spending over and above its effect on net wealth…
Overall, the negative effect of debt on spending is pervasive across households with owner occupier mortgage debt.
Thank you Captain Obvious.
SOURCE: https://www.macrobusiness.com.au/2019/07/lunatic-rba-high-household-debt-curbing-spending/
CAAN FACEBOOK:
https://www.facebook.com/Community-Action-Alliance-for-NSW-744190798994541/?ref=aymt_homepage_panel
WEBSITE:
https://caanhousinginequalitywithaussieslockedout.wordpress.com/