WHAT has this sector got going for it?
WILL the 'same players' move across to the next boom ….
of low-rise medium density housing?
+
Negative mortgage equity spreads across Australia's apartment market
By Unconventional Economist in Australian Property
July 9, 2019 | 43 comments
CoreLogic's has released its latest Pain & Gain Report, which shows that more than one-in-five recent apartment buyers across Australia's capital cities sold at a loss in the March quarter of 2019 – roughly double the level of three years ago: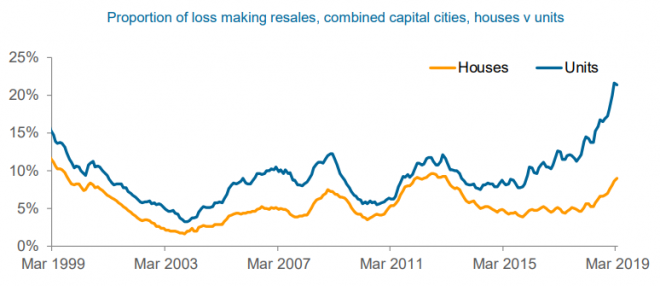 As shown in the below table, all mainland capitals experienced double-digit loss-making apartment sales in March, with Darwin (-58.2%) and Perth (-49.2%) faring worst and Sydney (-11.0%) faring best: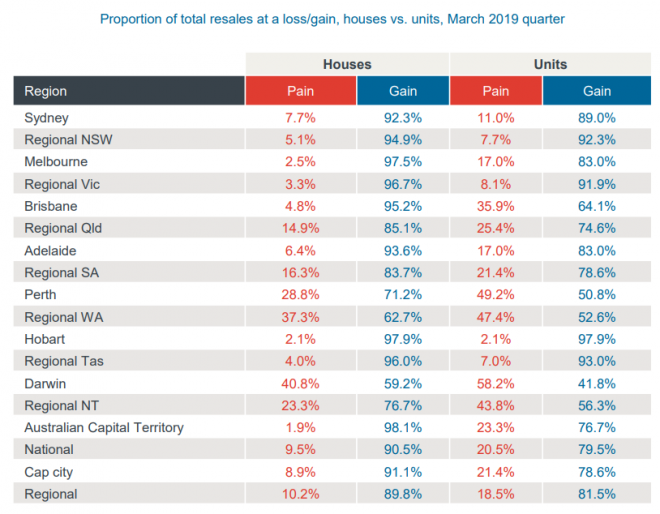 According to CoreLogic:
For capital city units, 78.6% resold at a profit over the quarter with the share down from 81.8% the previous quarter and 85.7% a year earlier.

The 78.6% of units resold at a profit was slightly higher than the previous month, but prior to that, it was the lowest share since the 3 months to June 1997. With housing market conditions continuing to weaken since March 2019, we would expect the share of capital city houses and units reselling for a loss to continue rising…

Units sold at a loss over the quarter were typically held by their owners for 6.3 years.
Not surprisingly, given their larger representation in the apartment market, investors experienced sharper losses than owner-occupiers – 17.0% versus 10.5% across the combined capitals in the March quarter: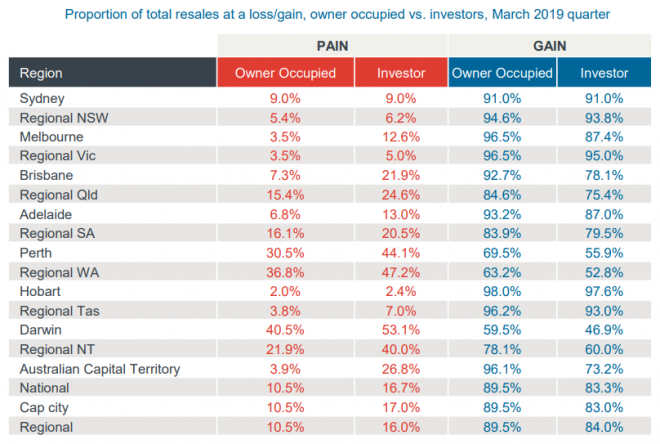 With concerns around high-rise flammable cladding and structural defects proliferating, the poison of negative equity will likely spread across Australia's apartment market.
CAAN Photo: Water leaks like a water fall; when it is not raining the walls are permanently stained!
CAAN Photo: Concrete cancer? Paint bubbling; water leaks?
Photo: A dam built into the living room of an apartment to collect the water!
Avoid this segment like the plague.
unconventionaleconomist@hotmail.com
SOURCE: https://www.macrobusiness.com.au/2019/07/negative-mortgage-equity-spreads-across-australias-apartment-market/#comments
CAAN FACEBOOK:
https://www.facebook.com/Community-Action-Alliance-for-NSW-744190798994541/?ref=aymt_homepage_panel
WEBSITE:
https://caanhousinginequalitywithaussieslockedout.wordpress.com/