CUT 'RED TAPE' … and now the consequences appear!
Photo: The Daily Mail: The cracks appear to be metres long in the Clemton Park Village apartment block, in Campsie, which is only three-years-old
Another high-rise tower experiences major cracking
By Unconventional Economist in Australian Property
July 8, 2019
On Christmas Eve, all residents at Sydney's 392-apartment Opal Tower were evacuated after serious cracking was discovered. And six months later, around half of the complex remains unoccupied with engineers still undertaking remediation works.
Last month, residents of a 12 year-old, 10-storey high-rise apartment complex in Mascot were evacuated after cracks were discovered in the transfer slab beam supporting the building's primary corner.
Now a 3 year-old residential apartment complex in Campsie has experienced major cracking, according to 7News Sydney:
After the Opal and Mascot tower disasters, 7NEWS can reveal yet another cracking building. Major splits have appeared on two levels of a car park directly under a Campsie residential block. The developer insists the cracks are not structural, but residents are worried. #7NEWS576:20 PM – Jul 5, 201943 people are talking about thisTwitter Ads info and privacy
Back in February, Bronwyn Weir – the construction lawyer who last year co-authored a key industry report – said "Opal is the manifestation of a system in trouble" and "the tip of the iceberg of what's potentially going on in buildings", with more building failures similar to the cracks that impacted Sydney's Opal Tower inevitable.
Around the same time, Michael Lambert – the former secretary of NSW Treasury who also reviewed building regulation for the New South Wales government – similarly warned that the defects in the Opal Tower "are likely just the tip of the iceberg".
Indeed, The SMH (may be a Paywall; see CAAN Link below) reports that hundreds of millions of dollars in damages have been paid out to the owners of buildings across Sydney where defects have been discovered:
View CAAN Website:
https://caanhousinginequalitywithaussieslockedout.com/2019/07/06/revealed-sydneys-30m-plus-in-apartment-defect-payouts/?fbclid=IwAR1zOjkMB1qMVVd4b2mMJ6mhvF3n0jdv0YDbfUwudhLz6SWrXP2kNiE2ARE
Damages exceeding $30 million in five years have been paid out to the owners of buildings across Sydney where defects have been discovered, in court judgments said to reflect the "tip of the iceberg" of the city's building standards crisis.

Experts say hundreds of millions of dollars more have been paid out confidentially in cases that settled before reaching the courthouse steps.

Scores of other owners have missed out on compensation for problems emerging outside NSW statutory warranty periods of two years for minor defects and six years for major defects…

"We've had ceilings collapse in peoples' apartments that weren't affixed to the slab properly," [lawyer David Bannerman said].

"There's buildings where the roofs have blown off … we've had matters where bricks have fallen out of walls and landed on peoples' beds…

"Countless videos of water pouring into apartments through holes and light fittings. And what's a growing trend at the moment is people getting serious illnesses as a result of mould due to waterproofing issues."
Only time will tell how pervasive the problems are. But when viewed alongside the proliferation of flammable cladding, Australia could be facing a systemic problem effecting possibly thousands of apartments built this century: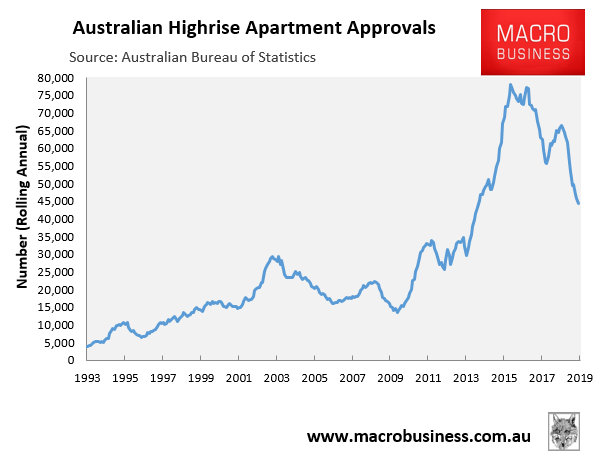 The whole situation is an unmitigated disaster.
Policy makers spent years reducing "redtape" because it was viewed as some sort impediment to business, rather than necessary rules and regulations meant to stop shoddy building practices alongside the use of dangerous building materials.
At the same time, the federal government has flooded our major cities with migrants, which necessarily requires the construction of huge volumes of apartments quickly, thereby compromising build quality.
Enough's enough. It's time for a Royal Commission into building regulations, standards and practices. The whole development system needs to be turned upside down.
unconventionaleconomist@hotmail.com
The roof has been jacked-up
††
The horrific discovery comes a month after residents of the Mascot Tower were evacuated due to 'rapid deterioration'
CAAN: Not unlike the cracking we have photographed in Sydney's NSW Lane Cove Electorate …
Photo: Property Observer: Cracking in the carpark basement at Clemton Park Village has placed Frasers Property amid Sydney's widening building defects calamity.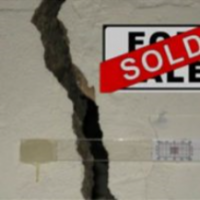 SOURCE: https://www.macrobusiness.com.au/2019/07/another-high-rise-tower-experiences-major-cracking/?utm_medium=email&utm_campaign=Daily%20MacroBusiness&utm_content=Daily%20MacroBusiness+CID_cad7f44c055156671166b6eb5c961f86&utm_source=Email%20marketing%20software&utm_term=Another%20high-rise%20tower%20experiences%20major%20cracking
CAAN FACEBOOK:
https://www.facebook.com/Community-Action-Alliance-for-NSW-744190798994541/?ref=aymt_homepage_panel
WEBSITE:
https://caanhousinginequalitywithaussieslockedout.wordpress.com/