KEY POINTS …
-Sydney's dams dropped a quarter of their volume in the past year
.to sit at 53.9% full as of Wednesday 26 Jun
-over the last 2 years dam levels dropped faster than average during Millennium Drought
-what will happen with another 4.5 M people in Sydney driven by immigration
-Sydney's West is projected to have an extra million people in 20 years
-WaterNSW revealed housing developments built too close to pipelines have impacted water quality
-urbanisation has increased pressure on integrity of water supply infrastructure
.namely the Warragamba Pipeline and the Upper Canal
RELATED ARTICLE:   CLIMATE CHANGE AND POPULATION GROWTH ARE MAKING THE WORLD's WATER WOES MORE URGENT
VIEW:   https://caanhousinginequalitywithaussieslockedout.wordpress.com/2019/05/07/11091/

Taylor Clarke and her mother Kazan Brown are traditional custodians of the Warragamba area and are against NSW Govt plans to raise the dam wall. Photograph:  Jessica Hromas/The Guardian
Guardian bewails Sydney dam that it built
Kazan Brown's father helped build Warragamba Dam – under a kind of duress – after he was forced off his land by it.

The first walls went up in 1948, 138m high, flooding the Burragorang Valley. The Gundungurra people had known it for over 50,000 years, as a place, in creation stories, carved out by a battle between two spirits: Mirragan and Gurangatch.

It took 12 years to trap all that water, a greater volume than in Sydney harbour, and the toil of 1,800 workers – 15 of whom died. And they lost the valley.

The government evicted some of the Indigenous occupants, acquired land, and put it underwater.

Brown's great-grandmother refused to leave, and her sons had to walk in and carry her out, leaving all the furniture behind.

"My mother was born there. My grandfather was born there. We go back before settlement in this area," she says.

"We grew up looking after it. We lived here. My family came out of the valley and moved into Warragamba and it has just been part of us – part of our life."

Warragamba Dam now provides water to the 4.5m people of greater Sydney and surrounding areas. In the 1980s, they raised the wall by 5m. Now the state government is planning to raise the wall again – by 14 or 17 metres, the figures differ.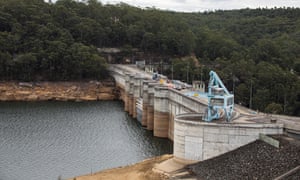 The Warragamba dam wall which the NSW government is proposing to raise. Photograph: Jessica Hromas/The Guardian
*OK, I'm all for protecting the inheritance of the Gundungurra people. So let's not build the dam wall. Let's solve the problem at its source. Reduce population growth.
The same mass immigration model that The Guardian defends to the death every single day. As Greg Jericho so succinctly put it:
Immigration – because there are many desperate to hate – must be treated with extreme care by politicians and journalists, and certainly with more care than Abbott seems capable. The inherently racist parties will seek to use any discussion and any seeming evidence of the negative impact of migrants as fuel to burn their fires of hate.
Dam walls will be built hundreds of meters higher before we are done as Sydney population doubles under The Guardian's mass immigration forever plan.
The city's water storages are already "dropping faster than they have in decades", despite falling average water use:
*Sydney's dams have dropped about a quarter of their volume in the past year to sit at 53.9 per cent full as of Wednesday, WaterNSW data show…

*Dam levels were "dropping faster than they have in decades", a spokesman for Sydney Water said. "Over the last two years dam levels have dropped faster than the average rate during the Millennium Drought."

Average water use is now about 200 litres per person a day in Sydney, down from around 250 litres before the big drought set in.

Total water demand in the first four months of 2019 was about 8 per cent lower than the same period last year – 192 billion litres compared with 209 billion litres. That was one sign consumers were already "doing their bit" to curtail water use, especially during the past summer, the Sydney Water spokesman said.
*So, what happens when Sydney's population balloons by a projected 4.5 million people (86%) over the next 48 years, driven solely by immigration, at the same time as droughts become more common because of climate change?
*Heck, Sydney's West is projected to take an extra one million people alone in the next 20 years, posing major problems for water supply:
And also here:  https://caanhousinginequalitywithaussieslockedout.wordpress.com/2019/07/02/poorly-planned-western-sydney-housing-developments-contaminating-water-supply/
*Documents obtained by The Daily Telegraph can reveal WaterNSW and Sydney Water have voiced concerns that Sydney's urban sprawl and booming population are putting increasing pressure on the water system, and steps need to be urgently taken to ensure Sydney is not hit by a water shortage.

*WaterNSW has also revealed that housing developments built too close to pipelines and canals in Western Sydney have "already resulted in impacts to the water quality".

*"Increasing urbanisation, particularly in western and southwestern Sydney, have resulted in increased pressure on the integrity of critical water supply infrastructure, namely the Warragamba Pipeline and the Upper Canal," the documents state…

*WaterNSW says that housing and land developments need to start considering the impact building is having on water supply.

It is investigating "water augmentation strategies" to service the booming population…
Remember, Western Sydney is also located a long way from the coast and the cost of piping desalinated water uphill will necessarily be very expensive:
And also here:
https://caanhousinginequalitywithaussieslockedout.wordpress.com/2019/07/02/australians-will-have-to-get-used-to-drinking-recycled-water/
"Water being non-compressible and quite a heavy substance — it's quite expensive to transport," said Mr Lovell.

"Even if you're looking at Sydney on the coast through to Penrith or from Wonthaggi to the north of Melbourne — you're looking at 80 to 90 kilometres. That's really expensive, and it's a really inefficient way to transport water"…

Professor Khan said a whole new set of pipelines would need to be built to get desalinated water west of there, where the population growth will be.

"The further you (pump desalinated water) inland, the more you're working in a direction that is opposite to the way our water supply systems are designed and operate," he said.

"They pump water from the source — up in the reservoirs, up in the hills — to the coast. And it's very difficult to actually turn that around."
A word to the wise. There is no fixing Sydney water shortages for double the population without bulldozing anything and everything in sight.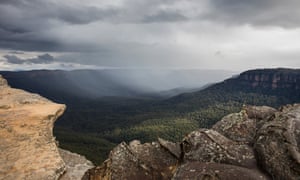 The view from Lincoln's Rock at Wentworth Falls. Photograph: Jessica Hromas/The Guardian
SOURCE:  https://www.macrobusiness.com.au/2019/07/guardian-bewails-sydney-dam-that-it-built/
CAAN FACEBOOK:
https://www.facebook.com/Community-Action-Alliance-for-NSW-744190798994541/?ref=aymt_homepage_panel
WEBSITE:
https://caanhousinginequalitywithaussieslockedout.wordpress.com/