JUST six months later … and a second high-rise building has had to be evacuated …
HAS there been any attempt by the NSW Government to close the stable door?
Despite the reports of Michael Lambert and Bronwyn Weir?
The Engineers Australia Report 2012 finding that 85% of dwellings since 2000 were defective on completion, and the Future Cities Research Centre, UNSW found 80% have faults …
As Standards continued to be eroded and the process of deregulation got away … it would appear the horse has bolted …
WHY have the Developer Lobby and the Construction Consortia been so confident that they could continue to get away with such pooor quality builds … endangering lives let alone financially bankrupting a whole Cohort of Mortgage prisoners?
Faulty apartments create generation of "mortgage prisoners"
Australia's apartment market is in crisis.
On Christmas Eve, all residents at the 392-apartment Opal Tower high-rise were evacuated after serious cracking sent soundwaves across the complex. And then over the weekend, residents of a 12 year-old, 10-storey high-rise apartment complex in Mascot were evacuated after cracks were discovered in the foundation supporting the building's primary corner.
Back in February, Bronwyn Weir – the construction lawyer who last year co-authored a key industry report – said "Opal is the manifestation of a system in trouble" and "the tip of the iceberg of what's potentially going on in buildings", with more building failures similar to the cracks that impacted Sydney's Opal Tower inevitable.
Around the same time, Michael Lambert – the former secretary of NSW Treasury who also reviewed building regulation for the New South Wales government – similarly warned that the defects in the Opal Tower "are likely just the tip of the iceberg".
And this month, Stephen Goddard from the Owners Corporation Network claimed that high-rise faults are widespread and many owners are facing hefty remediation bills, whereas apartment expert and columnist, Jimmy Thomson, claimed newer buildings are being built to lower standards and have some kind of problem.
We also know that potentially thousands of Australian high-rise are infested with flammable cladding like the type used on London's Grenfell Tower, which erupted into flames last year, incinerating hundreds of people.
Over the past 15-years, Australia's has experienced an epic high-rise construction boom, with most of this additional supply coming over the past five years, and concentrated in out three biggest cities: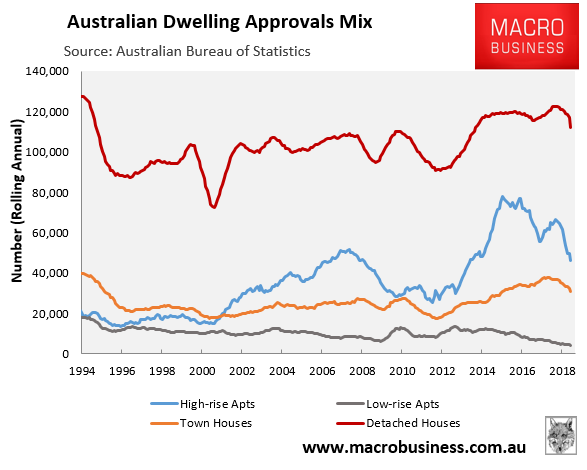 Andy White is unable to sell his apartment after the building had compliance issues. Picture: SuppliedSource:Supplied
Non-compliant cladding caused two apartments to be destroyed in Andy White's building. Picture: SuppliedSource:Supplied
And the proliferation of dodgy high-rise towers has raised concerns that a generation of homeowners could become "mortgage prisoners" in apartments they are unable to sell. From News.com.au:
Residents were evacuated from the Mascot Towers development last weekend after cracks appeared in several places. Picture: Monique HarmerSource:News Corp Australia
Government, builders and the banks have mucked it up and Australian homeowners and homebuyers are on the hook for big financial pain, experts have told news.com.au in the wake of Sydney's Mascot Towers drama…

Steve Jovcevski, housing expert at Mozo, told news.com.au… said the real scale of the issue will become obvious in the next two years, as tens of thousands of apartments come onto the market all around Australia — many with construction issues. Data suggests almost 54,000 apartments will be completed in Sydney before the end of 2019.

REA chief economist Nerida Conisbee said the apartment quality crisis had come at the worst time, as values were already slipping thanks to the large number of properties coming onto the market…

Financing is also problematic for people who already own apartments in new buildings, with banks valuing units in buildings that have had problems significantly lower than their purchase price, pushing owners into negative equity that may follow them around for life.

"It affects the value of your property, you'll get mortgage prisoners stuck in these flats unable to move," Mr Jovcevski said…

"You've got more consumer protection with a toaster than an apartment," [apartment owner Andy White said].

"We bought these apartments with the official stamps saying you're good to go.

"You can't sell, you can't put it up as surety for a loan to buy somewhere else. Be wary and do extra homework if you're going to buy — I would not buy an apartment again"…

A similar situation is being faced by Mascot Towers residents, who have seen their properties become basically worthless overnight.

To add insult to injury, they are now having to cough up an estimated $5 million to pay for the repairs to their faulty building, as the building is outside the six-year major defects construction warranty…

Christoph Reithmeier, Director and owner of Dapcor, a remedial building company, said fixing non-compliant buildings was incredibly expensive…

Dr Lockery said it was high time the government called a national Royal Commission into apartment buildings.

"There's been a fundamental passing of the buck by government, builders, and the regulators," he said.

He warned that without big action the costs for Australia could run into the billions.
There's absolutely a need for a Royal Commission into building regulations, standards and practices. There are clearly systemic failures across all levels of government and industry which warrant thorough investigation and reform.