NSW Budget LIVE: Dominic Perrottet outlines Berejiklian government's public service cuts
That's it for the budget blog. Thanks for reading along throughout the day.
There will, of course, be plenty of extra coverage in tomorrow's print edition of the Sydney Morning Herald.
I leave you with this splendid piece from our economics guru Ross Gittins, who poses an ominous question – just how far will the NSW economy fall before it levels out?
Read his piece here.
Yesterday 
What's in it for the environment?
As Environment reporter Peter Hannam writes, the budget reveals the government will raid its $1.4 billion Climate Change Fund to the tune of $300 million to help businesses deal with the impact of climate change.
However, while the item is the biggest expenditure in this year's budget on climate and environment issues, there is no detail around exactly how the $300 million will be spent.
The budget papers also contained no mention of the state's goal of reaching net-zero greenhouse gas emissions by 2050.
Read Peter Hannam's full report here.
Chief executive of the Nature Conservation Council Kate Smolski attacked the government's spending on renewable energy as "pathetic".
"The Treasurer didn't mention a single significant new clean-energy project in his speech, nor did he announce any significant new funding for nature conservation," Ms Smolski said.
"Spending on renewables is only $142 million, which is just 0.15 per cent of the state's $93 billion expenditure on infrastructure."
Yesterday 
Ratings agencies weigh in on growing debt levels
The state's record infrastructure spend means NSW's debt levels are forecast to hit $39 billion over four years.
Ratings agencies S&P and Moodys have weighed in on the creeping debt levels.
S& P Global Ratings pointed to the fact that NSW's 'AAA' credit rating has been reinforced in the past by the government's program of asset recycling (ie privatisations), such as the $9.3 billion sale of its 51 per cent stake in the Sydney Motorway Corporation.
"The 2019-20 budget published today does not forecast any such major transactions over the next four years; this is consistent with past budgeting practice," the agency said.
"If new asset sales or leases are announced, they could help to alleviate the expected growth in debt.
"Under either scenario–greater debt financing or a new round of asset recycling–we believe that NSW's debt-to-operating revenue burden will remain moderate compared with peers."
Moodys says the overall debt burden remains "manageable" but warned it could pressure the state's crediworthiness if left unaddressed beyond the four year period to 2023.
Yesterday 
Greens' verdict: Budget has new features we didn't want, wrapped up in spin
The Greens are also unimpressed with the budget, and have likened it to the unveiling of a new Apple product.
In a statement, Greens Treasury spokeswoman Abigail Boyd attacked the budget as "essentially the same product as last year's, with new features we didn't want, none of the old problems fixed, [and] wrapped up with spin and pretty packaging."
"What do we expect from a government that calls the people of New South Wales its 'customers'?," Ms Boyd said.
"Where's the spending on environmental rehabilitation? On frontline domestic and family violence services? On breaking the cycle of disadvantage?."
"Again, it is public sector workers and the most vulnerable people in society who will pay the price for this government's stubborn allegiance to discredited neoliberal ideals of small government and low taxes."
Yesterday 
Transport spend 'smashing all records', Minister says
Question times ends with Transport Minister Andrew Constance using a dixer to spruik the benefits of the budget to his portfolio.
He says the government will spent $55.6 billion over the next four years – $32.2 billion on transport projects and $23.4 billion on road projects.
"That's well and truly smashing all records concerned," Mr Constance tells the chamber.
For a more comprehensive look at the transport budget, our transport reporter Matt O'Sullivan has filed this report.
Yesterday 
Regions shielded from public sector cuts
Labor's finance spokesman Clayton Barr has asked the Premier to confirm that there will be no cuts to public sector jobs in regional NSW.
Ms Berejiklian says "absolutely" – the axe to the public service will not hit the regions.
So, the 2000-3000 job cuts flagged by the Treasurer will come from the back office of city-based public sector jobs.
Yesterday 
Labor on the attack
Acting leader of the Opposition Ryan Park bowls Labor's first question.
Mr Park asks the Premier:
After presiding over a property boom, $70 billion worth of privatisation, and a promise we could have it all, how do you justify the massive job cuts and a record $39 billion debt in this budget going forward?
Ms Berejiklian calls the question "ridiculous". She says NSW has generated 100,000 jobs this year, which she says is "double all the other states combined".
She restates the government's promise to increase front line workers across the fields of nursing, teaching and policing over the next four years.
"What we're doing to make sure we pay for all of that is making sure our back office, where appropriate, is reduced," Ms Berejiklian says.
Yesterday 
2019 Budget meets A Few Good Men
The first question is a run of the mill dixer to the Premier. "How does the budget show NSW is the strongest economy in the nation?"
"NSW is not just in the black, but heavily in the black," Ms Berejiklian yells over the din of the chamber.
The Premier – clearly a fan of A Few Good Men – leans across the lectern and yells: "They can't handle the truth!"
We are less than five minutes in to Question Time, and the Speaker has already called the House to order with a noise complaint.
Yesterday 
Question Time kicks off
The bells are ringing!
MPs are filing into the Legislative Assembly for question time where Treasurer Dominic Perrottet and Premier Gladys Berejiklian will look to defend the budget against Labor's attacks.
The Speaker is in the chair, which means the first question is only moments away.
Yesterday 
Health budget to crack $10 billion
What does all this mean for the state's health sector, I hear you ask.
Well, health reporter Kate Aubusson has scoured the budget papers, and has concluded that while there are no surprise announcements, the NSW government's  "hospital building boom" will crack $10 billion over the next four years.
"The announcements contained no surprises, with the government focused on keeping its pre-election promises, including $170 million for "family health" initiatives, from $500 IVF rebates, to eating disorder support, through to palliative care," Kate writes.
You can read the rest of Kate's report here.
Yesterday 
The unions are unimpressed
The unions have delivered their verdict – and they are not impressed.
Reporter Tom Rabe has filed this report:
Unions NSW secretary Mark Morey said Mr Perrottet had "squibbed it".
Mr Morey criticised the government for leaving the public sector wages cap untouched at 2.5 per cent, and said the slated cuts to back-office staff would result in front line staff doing more work.
"This government is no longer cutting fat, it's actually cutting into the bone of the public sector," Mr Morey said.
"These job cuts mean that our nurses, our teachers, our doctors, our paramedics are taking on additional work and being taken away from the primary tasks they need to perform."
Acting general secretary of the Public Service Association Troy Wright said the government had based its budget on a false premise.
"It's based on a premise that around Sydney and around the state there are buildings of public servants sitting around doing nothing…can I assure every member of the public that those people don't exist."
Yesterday 
The 'too long, didn't read' version
What would Budget Day be without a "Winners v Losers" list?
Reporter Matt Bungard has prepared this year's list. Winners include the regional NSW, senior citizens, and the state's parks, while climate change and public servants feature in the Losers column.
If you're after a quick overview of the budget, our NSW political editor Alexandra Smith has filed this helpful snapshot here.
Yesterday 
A review into Australia's federation. Pardon, what?
One of the few *new* things to come out of the Budget was the review announced by Mr Perrottet  into NSW's relations with the commonwealth.
Mr Perrottet flagged the review as part of his "four pillars of prosperity".
The Herald's economics correspondent Matt Wade has a bit more detail on what this will entail here.
Yesterday 
Stand by for the Budget reactions
As you can see, the Treasurer has painted a rather rosy account of things.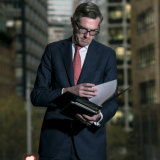 But as the day unfolds, the reactions to the government's plans will flow in thick and fast.
Of course, the Labor Opposition will have more than a few bones to pick. They will be holding a press conference at 1:45 pm.
We'll also be hearing shortly from the unions which will, no doubt, have something to say about the public service job cuts.
Stay with as we dive deeper into the gritty detail of the 2019-20 budget!
Yesterday 
Treasurer concludes: a 'budget of delivery'
The Treasurer wrapped up his budget delivery a short time ago.
He finished on the following note:
"This is a Budget that revs up our regions and supercharges our cities, that supports people-powered businesses creating millions of jobs. A Budget of delivery kicking off a term of delivery,"he said.
"I commend it to the House."
Yesterday 
'Four pillars of prosperity'
The Treasurer also used his speech to talk about "four pillars of prosperity".
Pillar 1 – Economic Blueprint
The first pillar is an "economic blueprint", which will be released by the chief economist of NSW by the end of the year.
"It will identify the industries and markets where our future prosperity lies, and help us to be ready for new opportunities yet to emerge," Mr Perrottet said.
Pillar 2 – Generations Fund
First announced in last year's budget with a seed investment of $3 billion, the Generations Fund has grown to $10.8 billion.
Mr Perrottet described the fund as "a balance sheet buffer to keep our debt sustainable and support our Triple-A rating". He said the fund is expected to reach $28 billion by 2030.
Pillar 4 – Federal Financial Relations
Mr Perrottet said government will launch a comprehensive review of Federal-Financial Relations from a NSW perspective, led by a panel of experts.
"They will be charged with finding ways to give states that embrace reform – more autonomy and
more flexibility – making dynamic federalism a reality," Mr Perrottet said.
"They will develop practical options for state reform on how to best encourage investment and
growth in the State's economy."
Pillar 4  – linking spending to outcomes
Mr Perrottet said the education department will be the first department "shifting to a focus on outcomes."
The government's commitment to the Gonski school funding plan had "seen record real increases in our education budget."
"But we need to ensure this is matched by a corresponding increase in education outcomes," Mr Perrottet said.
As part of this commitment, each government department cluster will have to produce an "Outcome and Business Plan", Mr Perrottet said.
This plan will have to demonstrate "how the taxpayer money it spends will achieve concrete outcomes – and if something's not working – how they will fix it."
Yesterday 
Boost to frontline workers
The Treasurer has also reiterated the injection of frontline workers promised by the government during the election campaign.
Over the forward estimates, there will be an extra:
4,600 teachers.
5,000 nurses and midwives.
3,300 more health professionals.
1,500 more police
Mr Perrottet has also informed the chamber the 2019-20 budget sees the health infrastructure budget hit the $10 billion mark, for the first time ever.
Yesterday 
Budget for the bush
The budget also factors in an additional drought injection taking the total drought funding package to over $1.8 billion.
This funding, Mr Perrottet says, will translate to "more transport subsidies for stock, fodder and water, further funds for emergency water supplies, and waiving charges for water licenses, interest on drought loans and local land service rates."
The total funding for water security projects in this Budget comes to $1.4 billion.
Mr Perrottet says he's "proud" the budget does not introduce a "single new tax".
"While we have tightened our own belts, other states have gone down a different path – cutting
wages for their workers and increasing taxes on their people," he tells the house.
"Over the last four budgets the Coalition has cut nearly $5 billion in taxes to grow our economy."
He says the government has delivered $2 million in cost of living measures back to NSW residents over the last two budget. These include:
• Active Kids voucher and Creative Kids vouchers
• Baby Bundles
• Free Dental checks for Kids
• Reductions in early childhood education costs
• Fee Free Apprenticeships
• TAFE and VET places
• Motor Registration relief for toll users
• Weekly $50 Opal caps
• Energy rebates for self-funded retirees
• Regional Travel Cards for Seniors
• Caravan registration discounts for grey nomads
• expanding the Energy Switch Program to cover gas bills.
Yesterday 
Public service cuts
Mr Perrottet glides over the detail in the "saving" measures" – ie budget cuts – in his speech.
Instead, he talks about a "bigger, better frontline" and a "more agile back-office."
"While our frontline is again boosted, we will drive more efficiencies in our back-office and
contingent labour expenses across government," Mr Perrottet said.
As already reported, around 2000-3000 jobs will go from the public service.
But Mr Perrottet says the government will also "reduce spending on consultants and contractors, abolish bonuses for the highest paid department executives and bring long-service leave benefits into line with community standards."
Yesterday 
"Fortress New South Wales is standing strong"
Mr Perrottet says while the government is "optimistic", the current economic headwinds "have fiscal consequences too."
"The soft housing market has wiped $10.6 billion in forecast stamp duty from the Budget since
2017. The federal budget in April cut a further $2.3 billion in GST receipts as consumers tighten their belts."
Mr Perrottet goes on to say these are "the largest revenue write downs in our history". But he says"fortress New South Wales is standing strong."
"Today I can announce a projected operating surplus for 2018-19 of $802 million, and average
surpluses of $1.7 billion each year to 2023.
"Net debt is again negative – for the fourth year in a row. Our net debt to GSP – the lowest of any mainland state. And our Triple-A rating is once again secured."
Yesterday 
Perrottet delivers his budget to the house
The Treasurer is now in the Legislative Assembly giving his budget address.
He begins by listing the government's infrastructure achievements and priorities, beginning with the North West Metro project, which opened to the public for the first time just over a month ago.
"Over a million people have already boarded these new trains. The nation's first driverless metro, right here in NSW."
Yesterday 
Very much a 'post-election' budget
Our economics correspondent Matt Wade says this year's budget is one of "few surprises as the government prioritises its election commitments."
Unlike other years, this year's run to budget day has been much more subdued.
Rather than the usual stream announcements in the weeks leading up to budget day, most of the big ticket spending items were unveiled months ago during the election campaign.