The moral decay of Australian universities
Last year it was revealed that that the pay of Australian university vice chancellors has ballooned to an average salary package of around $1 million:
University leaders are picking up major pay rises, taking the annual average salary of vice-chancellors in NSW and Victoria to just below $1 million.

Michael Spence, the vice-chancellor of Sydney University, is the highest paid of all, having seen his salary rise 60 per cent in just five years to $1.45 million.

And Melbourne University's Glyn Davis is not far behind, with a $150,000 pay rise in the last year taking his total remuneration to $1.3 million.

Analysis of financial disclosures of 21 universities in NSW and Victoria by Fairfax Media shows eight paid their vice-chancellors more than $1 million in 2017, compared to six last year.

The average pay, which often includes homes on campus and other benefits, rose to $970,000.

By comparison, Oxford University vice-chancellor Louise Richardson is paid £350,000, or $615,000…
Macquarie University paid $222,000 for use of its vice-chancellor's home between 2014 and 2018.CREDIT:WOLTER PEETERS
Today, Fairfax reports that Macquarie University vice-chancellor, Bruce Dowton, has been charging the university to hold events at his Sydney home, which he bought using a cheap loan from the university:
Macquarie University vice-chancellor Bruce Dowton drew an $875,000 loan from the university in 2014, which remains fully drawn, with annual interest repayments of between $23,000 and $28,000.

However, Professor Dowton has been charging the university between $43,000 and $48,000 annually to use the property… at a time when the university has warned of budget cuts and potential redundancies.

The university has paid Professor Dowton a total of $222,000 for the use of his home between 2014 and 2018, while interest payments on the loan issued by the university totalled $129,000 over the same period…

Professor Dowton had an annual salary of $1.01 million last year, up from $980,000 in 2017.
This is another textbook example of the moral decay that has taken place across Australia's university system.
At the same time as vice chancellor salaries have ballooned, both entry and teaching standards have collapsed, as revealed in the last two Four Corners reports into Australia's university system (here and here), driven by the surge in international students: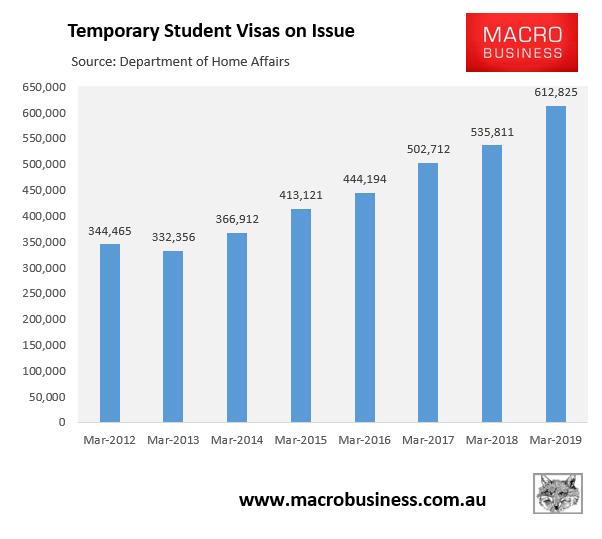 The pay levels for ordinary university staff have also been kept at starvation levels on insecure casual or on fixed-term contracts, with these staff also being told to expect cuts to their pay and working conditions.
Basically, the commercialisation of Australia's university system has fed the fat cats at the top at the expense of ordinary staff and students alike.
SOURCE:  https://www.macrobusiness.com.au/2019/06/moral-decay-australian-universities/
CAAN FACEBOOK:
https://www.facebook.com/Community-Action-Alliance-for-NSW-744190798994541/?ref=aymt_homepage_panel
WEBSITE:
https://caanhousinginequalitywithaussieslockedout.wordpress.com/