IS it any wonder there is a backlog in Visa processing?  ffs … Currently 2.2 Million Visa Holders in Australia!
Was the Home Affairs Minister rattled by a little challenge to his alleged stopping the boats when Blind Freddie can see so many arriving by plane?
View the following 'Chinese Tourists and International Students help Drive Asylum Claims up 311 per cent'
Key Points
-people claiming to be Christian, LGBTI and love children
-all arrived by plane using temporary visas; mainly for study and tourism
-experts warn bogus asylum claims are a way to overstay visas
-some are now queue jumping through protection and bridging Visas to apply for asylum
https://caanhousinginequalitywithaussieslockedout.wordpress.com/2018/12/10/5412/
AND 'Bridging Visas Soar by 147 Per Cent Under Coalition'
https://caanhousinginequalitywithaussieslockedout.wordpress.com/2019/06/02/bridging-visas-soar-by-147-per-cent-under-coalition/
Spotlight shifts from 'boat people' to record numbers of 'airplane people'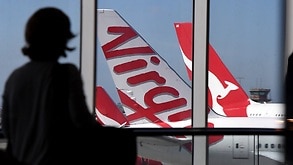 Record numbers of asylum seekers are arriving by plane. Source: AAP
The government may have proudly 'stopped the boats', but more and more asylum seekers are arriving by plane.
3 JUNE 2019
While the arrival of a boat carrying 20 Sri Lankans last week was front page news, each month hundreds of asylum seekers land in Australia by plane without comment.
Now the Opposition wants to shift the political spotlight from "boat people" to these record numbers of "airplane people".
The newly-appointed home affairs spokeswoman Kristina Keneally accused Peter Dutton of losing control of Australia's air borders.
"This is evidenced by the explosion in 'airplane people' arriving into Australia," Senator Keneally said.
The number of people applying for asylum who arrived by plane has skyrocketed to nearly 28,000 last financial year up from 18,290 in 2016-17 and 9,554 in 2015-16.
Chinese and Malaysian applicants account for the bulk of the increase.
Fewer than one in five applicants were successful, but many remain in Australia on bridging visas as they exhaust the appeals process which can take years.
Head of strategic policing and law enforcement at the Australian Strategic Policy Institute, John Coyne, said asylum seeker plane arrivals is something Europe and the United Kingdom have struggled to contain.
"If we are not careful we could become like them. What happens is that the vast majority of people who do not receive or have their asylum claims recognised never leave the United Kingdom," Dr Coyne told SBS News.
"So they enter a grey zone within migration and citizenship and that brings with it a whole heap of social cohesion issues."
Dr Coyne said there are signs that border force officials can look for to identify people who are more likely to be travelling on incorrect visas.
"You're looking for people who have strange arrangements about how they're booked like cash or other ways."
He cited the example of young Thai women from poverty-stricken areas who speak little or no English, but are here on student visas.
"What they won't do is blanketly put up the equivalent of a Trump-like wall… it is a very targeted approach."
What's in it for people smugglers?
As a senior official in the Department of Immigration between the early 1990s to 2007, Abul Rizvi was involved in cracking down on scams exploiting farmers and labourers from Malaysia.
He said people smugglers would lure them with the promise of work in Australia and apply for asylum on their behalf in order to allow them to work while they await the outcome.
"The people will then be taken to various farms, or restaurants or sex shops and they'll be put to work in those places," he said.
Those behind the scam reap a commission for each worker they provide and often a percentage of their workers.
Mr Rizvi said assessing and rejecting the asylum applications quickly was the most effective way of curbing the numbers.
"By processing them quickly we denied the people smugglers the money they were after, the profit from the scam and the people smugglers would back off."
He blames a backlog in visa processing for the current blow out.
"I think people smugglers are absolutely laughing at us. They are making so much money so easily, we are a joke."
SBS News contacted Home Affairs Minister Peter Dutton's office for comment and was referred to Immigration Minister David Coleman's interview on Sky News.
Mr Coleman told Sky News that 95 per cent of aeroplane arrival asylum applications were rejected.
"It's one thing to claim asylum, it's another to actually be successful. And if you're unsuccessful you go home.
"People who arrive in that way have done so lawfully with a valid visa. They have not risked their life and, frankly, they haven't put at risk of lives of Australian border force officials as do boat arrivals."
SOURCE:  https://www.sbs.com.au/news/spotlight-shifts-from-boat-people-to-record-numbers-of-airplane-people?cx_cid=edm:newspm:2019
CAAN FACEBOOK:
https://www.facebook.com/Community-Action-Alliance-for-NSW-744190798994541/?ref=aymt_homepage_panel
WEBSITE:
https://caanhousinginequalitywithaussieslockedout.wordpress.com/