ENOUGH IS ENOUGH!
Rob Stokes' push for Sydney development: no more nasty surprises
CAAN Photo:  At 'The Ponds' taken in July 2018 during the drought.  The ponds had actually shrivelled up! Water leak between the tiny residences under construction on 200 M2 x 6M lots.  Raises questions about the quality of the job!
CAAN Photo:  example of a 'fort-like' stark development in an area of traditional style homes; out of character and over-sized. Complying development would appear to fit developers needs not that of the established community 
The element of surprise needs to be stripped from the state's planning system, says Planning Minister Rob Stokes, to reduce community mistrust and anti-development hostility.
*Speaking to a room of property executives and employees on Friday, Mr Stokes put his case for overhauling the culture of development in Sydney and NSW, arguing the current system was a recipe for mediocrity.
CAAN Photo:  Increased development for a 100% overseas market has robbed Sydney communities of their rights! Here a duplex development is built far forward of the setback of its neighbours; out of character; what appears to be a fast-tracked build of cheap shed-like materials!  It is oversized and towers over neighbouring cottages
*Mr Stokes is attempting to reduce reliance on so-called spot rezonings – processes used by developers or landowners to propose projects exceeding local planning rules.
Such processes have helped foster a culture of mistrust, he said.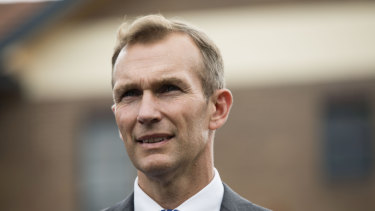 *"When we are dealing with a community we need to recognise that planning is the process through which society makes decisions about its future," Mr Stokes, who is in his second stint as planning minister, told a Property Council of Australia lunch.
*"The stakes are enormously high. And when we plan we make decisions that affect those around us," he said.
"It's no surprise that people get angry when things happen that they didn't expect."
Photo:  Earlier development can be seen to the rear of the photo with yards, gardens and trees. Recent development of smaller lots 400M2 or less, with loss of yard, trees and shade!
No doubt mindful of his audience, however, Mr Stokes also argued strongly in favour of increased development. "The reality is growth is inevitable, change is inexorable, and development is a logical extension of both of those processes."
Sydney's development trajectory was reasonably modest, he said. "Put it this way, by 2056 the average population density across greater metropolitan Sydney will be around 610 people per square kilometre. To put that in context today Paris has a population density of more than 6000 per square kilometre."
CAAN:  What the Planning Minister and the developer lobby appear to fail to recognise is that France is a country with many rivers whereas Australia is the driest continent on Earth;  with few rivers crossing this land; it cannot accommodate a larger population like France.  Desalination plants are very expensive and can only operate on the coast!
STOKES: 
"Even after sustained growth over the next three decades or so we will still be a very sparely populated city by international standards."
But he called on industry and government to lift their ambitions. For example, industry buzzwords like liveability, sustainability or productivity communicated little about the sorts of development that people might want or be impressed by.
CAAN Photo:  Again with Complying development the community have no say about what goes up nextdoor!  Place this next to, for example,  a Federation bungalow, a Colonial cottage! There are two massive oversized duplex.  Concrete seems to be the favoured material despite it emitting Co2 during construction and in its ongoing use!  Where is the beauty … only in the eye of the developer?  How likely is it that the 'inspiration' is shared?
CAAN Photo:  Imagine an oversized duplex or row of townhouses as shown next to a neat 60s style cottage!  That is not being a "Nimby"  … it is about retaining the right of what one has paid for! That is why we had "Planning"!!! 
STOKES:
"We can do even better than liveability," he said. "We can do delight, we can do beauty, we can do inspiration."
Photo:  huge site developments underway in southwestern Sydney; cleared of all vegetation with tiny lots 200M2 x 6M ranging up to 400M2. A heat sink underway!
But he argued that the culture of development in Sydney needed to change.
"The culture of development that has grown up in this city has pitted in many ways supposedly avaricious developers against supposedly blinkered communities with a hapless Department of Planning doing its best to try and mediate the culture of conflict," he said.
This approach, he said, was a "recipe for mediocrity" in which "the very best outcome" was that all parties were a bit unhappy.
CAAN Photo:  Where there was one cottage now 6 townhouses; all trees and garden removed replaced with concrete dwellings and paving. Demolition, excavation, rebuild took more than 12 months;  streets parked out with tradie trucks, concrete pours, noise and air pollution. There is nothing in OVERDEVELOPMENT of benefit to the established community!
As an alternative to spot rezonings, Mr Stokes is pushing for councils to more often remake their Local Environment Plans (LEPs) – laws that govern the shape of development in a particular area.
Spot rezonings or planning proposals are used when proponents push for a development outside the limits of an LEP.
Limiting their use, he said, would help remove surprise from planning.
Jacob Saulwick is City Editor at The Sydney Morning Herald.
Photo:  SYDNEY's HIGH-RISE TOWERS RISK MAKING US SICK: ARCHITECTS
WITH Sydney having been SHANGHAI'D some of Sydney's leading urban designers have called for a rethink on high-rise residential developments … they are damaging people's health and wellbeing.
Read more: https://caanhousinginequalitywithaussieslockedout.wordpress.com/2018/09/30/2306/
Also recall the photo of 'the Semi' cut in two by a residential apartment development.  Good planning?
CAAN Photo:  How can the neighbouring community ever get over 'the surprise'? With a duplex the size of a block of flats, built forward of the setback, rendering a huge impact much taller and larger than its substantial 2-storey neighbours.  Surfaces largely concreted sitting and emitting Co2