DOES it seem that such a trend is a healthy one for the prospects of Our Youth?
Previously CAAN has shared with you this report questioning the validity of the claim that International Students are a $32 or $34 Billion Export Industry
ARE INTERNATIONAL STUDENTS REALLY A $32B EXPORT INDUSTRY? 
https://caanhousinginequalitywithaussieslockedout.wordpress.com/2019/03/27/9686/
AND fyi … University Vice Chancellors are enjoying an annual remuneration averaging $1 MILLION!
Following this article from the Unconventional Economist we share a Commentator's research on this issue!
International students will soon dominate Australia's universities
Late last year, Dr Bob Birrell from the Australian Population Research Institute (APRI) released a report showing how the share of international students at Australia's Group of Eight (Go8) universities ballooned from 21.8% in 2012 to 28.9% in 2017: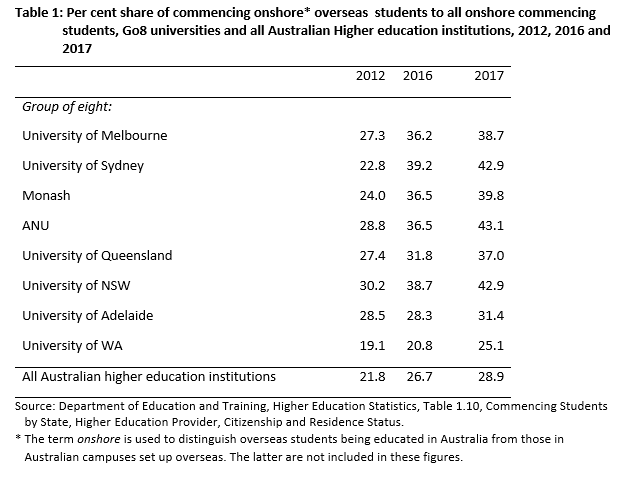 As we reported yesterday, the number of temporary student visas on issue ballooned by another 77,000 in the year to March 2019 to a record high 613,000: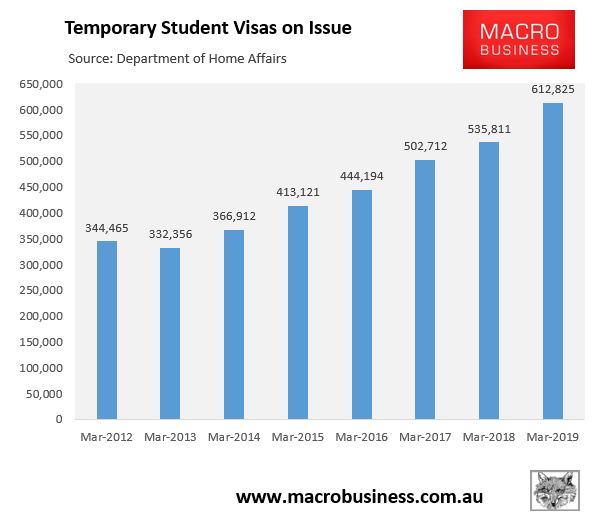 With this big lift in student visas, we can confidently assume that the share of international students across Australia's G08 universities grew further in 2018, most likely to above 30%.
Moreover, shares of over 40% are now likely for the University of Melbourne, the University of Sydney, Monash University, the Australian National University, and the University of New South Wales.
One commentator, that goes by the avatar JerryOneClass, believes that this trend will continue and that international enrollments could surpass domestic enrollments at the University of Melbourne by 2020:
In this report, we use the University of Melbourne as a case study for international tuition and student enrollment trends as they relate to domestic student trends and inflation…

In 2014, international students represented 31 per cent of the University of Melbourne student population. In a matter of four years, that percentage rose to 46 per cent.

In the University of Melbourne's annual report for 2018, it was reported to be 42.1% in 2018, yet their international load to their total student load, when calculated, indicates its 45.81%. We rounded it up here.

…international students are enrolling at the University of Melbourne at a far greater pace than domestic students…

In reality, domestic enrollments has not only slowed, but declined since 2014. In 2014 there were 29,437 domestic enrollments. In 2018 there were 28,579.

In 2017 and 2018, the University of Melbourne saw a fall of domestic enrollments by -0.8 per cent and – 5.5 per cent, respectively…

If the present course remains unchanged, there could be more international students enrolled than domestic students by 2020.

Total enrollment of international students has gone from 13,200 to 24,166 in the period from 2014 to 2018. That is, the percentage of international students enrolled at the University of Melbourne has increased by 83.07 per cent in a matter of four years.

With no cap in place for international student enrollment at the University of Melbourne, international students will continue to eat away at the student population proportion.

In 2018, 4178 new international students enrolled in 2018. That makes last year the largest intake of international students ever by the University of Melbourne…

By our estimates, the University of Melbourne could see international student enrollments surpass domestic enrollments as early as 2020 if present trends are extrapolated to the next few years.
Given four Go8 universities had higher international student shares in 2017 than Melbourne University, it also won't be long until they too are dominated by international students, assuming current trends persist.
FROM THE COMMENTATOR:
SOURCE:  https://www.macrobusiness.com.au/2019/05/international-students-will-soon-dominate-australias-universities/
CAAN FACEBOOK:
https://www.facebook.com/Community-Action-Alliance-for-NSW-744190798994541/?ref=aymt_homepage_panel
WEBSITE:
https://caanhousinginequalitywithaussieslockedout.wordpress.com/