Universities confess dangerous reliance on international students
Earlier this month, Ross Gittins derided Australia's university system as "de-facto privatisation" gone wrong, whereby "governments of both persuasions had gone for years trying to get the universities off the budget books", thereby giving universities "unrestricted power to charge overseas students".
As a result, vice chancellors have become "as money-obsessed as any company chief executive… slashing entry requirements and cramming in as many more under-qualified undergrads as they could".
The end result, according to Gittins, is that universities have "gone too close to turning undergrad teaching into a money-making sausage machine, where you have to be really dumb not to pass".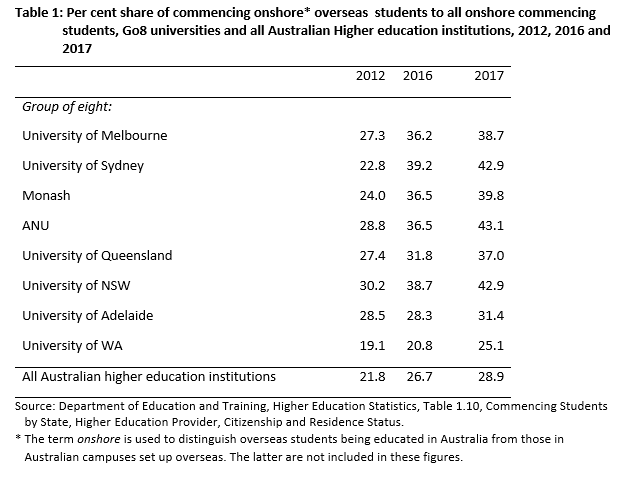 Yesterday, Australia's Group of Eight (Go8) universities, who have experienced explosive growth in international students (see above table) and last year banked nearly $8 billion in tuition fees from these students, admitted that their reliance on international students for funding is unsustainable. From The Australian:
[Universities] are aware that the large Chinese student market, which delivers nearly four in 10 of the international students in Aust­ralian universities, is softening.

The Group of Eight univer­sities, which do the majority of ­university research, say they are dependent on international ­stud­ent revenue to fund their ­research programs.

"We cannot sustain a funding model which relies on foreign stud­ents to subsidise research, and that's the crux of the issue," said Group of Eight chief executive Vicki Thomson…

She said that the Group of Eight universities, which source only 35 per cent of their revenue from government, were now effect­ively privately funded.
It's hard to take the universities' crying over funding seriously when vice chancellors are creaming it with average salaries of around $1 million:
Analysis of financial disclosures of 21 universities in NSW and Victoria by Fairfax Media shows eight paid their vice-chancellors more than $1 million in 2017, compared to six last year.

The average pay, which often includes homes on campus and other benefits, rose to $970,000.

By comparison, Oxford University vice-chancellor Louise Richardson is paid £350,000, or $615,000…
Perhaps universities should first cut the fat cat salaries to pay for extra research before demanding more taxpayer money?
Moreover, it's not just international student numbers that have skyrocketed, but domestic students as well, as universities slashed entry requirements to bring in as many domestic students as possible under the demand-drive system: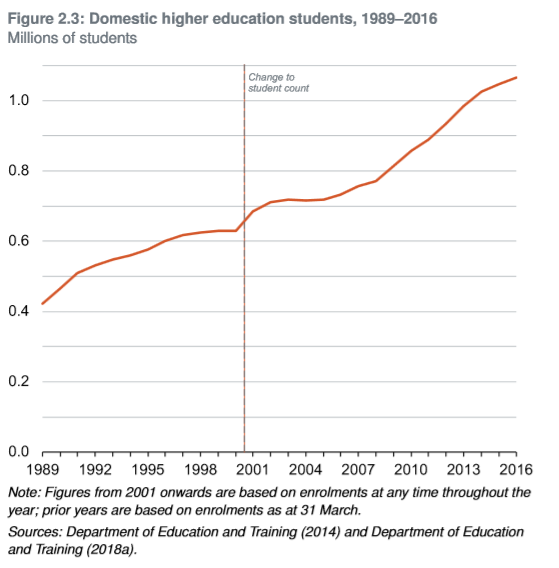 Given the myriad of problems identified in last week's Four Corners expose and elsewhere, there is an obvious need for a broad-based review into Australia's higher education system by the Productivity Commission.
Throwing taxpayer money at universities, without first identifying and fixing the underlying problems, is a recipe for disaster.
SOURCE:  https://www.macrobusiness.com.au/2019/05/universities-confess-dangerous-reliance-on-international-students/
CAAN FACEBOOK:
https://www.facebook.com/Community-Action-Alliance-for-NSW-744190798994541/?ref=aymt_homepage_panel
WEBSITE:
https://caanhousinginequalitywithaussieslockedout.wordpress.com/