DUE to the damaging policies of the LNP Coalition, and the dubious competence of the FIRB Chinese developers have an established presence in Australia …
-mainland developers and investors accounted for more than 30 per cent of Australian residential development site sales in 2018;  as in 2017
-they bought more than a quarter of the sites transacted in each of the past five years
-in Sydney, Melbourne and Brisbane some 11 per cent of new apartments built by Chinese developers in 2018
.their share expected to rise to 22 per cent by 2021 for those currently under construction
-mainland developers have diversified; increasing their exposure to commercial property
-China Poly Group and Aqualand have purchased office buildings in Sydney in the past three years
In the year to June 30 2018
-China the leading recipient of government approvals for foreign investment in our residential and commercial real estate
.obtaining consent for A$12.6B investment; one quarter value of real estate approvals
DUE to the high influx of largely 'Black Money' house prices escalated in Sydney and Melbourne …
-with the consequence Our Banking Sector exposure to residential property is more than 50% of total assets
-with household debt ratios among the highest in advanced economies
A conspicuous sign of the correction the sharp fall in the value of development sites purchased by Chinese investors but despite the woes Australian property holds its appeal for the Chinese …
-'international students' are lured by both our real estate for 'investment' and 'permanent residency'
-mainland developers it would seem have played a major role in the 'awfulization' of where we live with the 'differentiated product based on Chinese architectural styles' 
The View by Nicholas Spiro
Slowdown in Australia's property market won't dampen Chinese investor interest
Not only is the market correction happening in a fundamentally strong economy, but Chinese developers' established presence in Australia and Chinese people's favourable sentiment will ensure the appeal of Australian property endures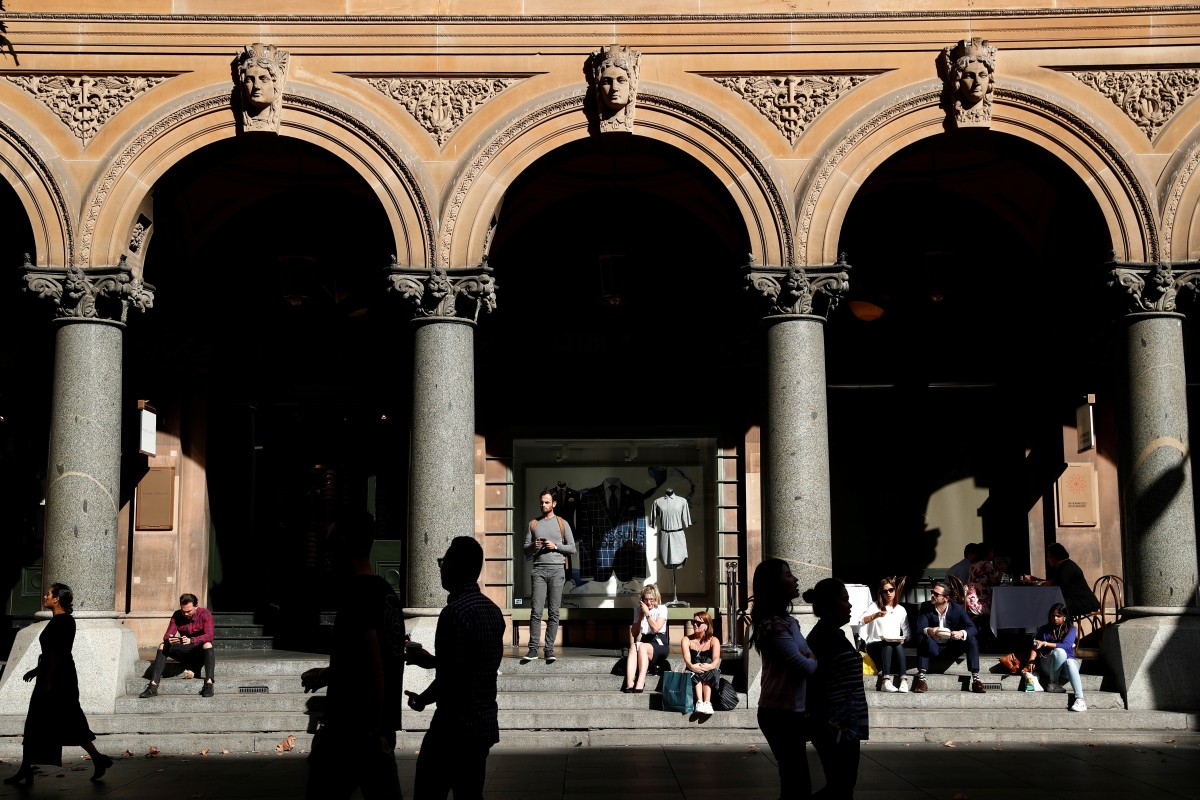 Office workers walk past the General Post Office building during lunchtime in Sydney, Australia. Politically stable, economically resilient and highly transparent, Australia has long been one of the preferred markets for Chinese cross-border property investors. Photo: Reuters
Chinese real estate developers and investors have more than their fair share of problems at home.
Whether it is a sharp slowdown in the economy, softening demand for new office space in coastal cities or tighter capital controls that have curbed overseas acquisitions, mainland property companies face significant challenges.
Yet, for those that have sought refuge in Australia's property market, it has been the worst of both worlds of late.
*In the year to June 30, 2018, China was the leading recipient of government approvals for foreign investment in Australia's residential and commercial real estate markets, obtaining consent for A$12.6 billion (US$9 billion) of investment, or one quarter of the total value of real estate approvals, according to a report from Australia's Foreign Investment Review Board published in February.
Australia's once-booming housing market has come off the boil, with median house prices falling by nearly 5 per cent last year, led by declines in Sydney and Melbourne – which together account for almost 60 per cent of the value of the market – of nearly 9 per cent and 7 per cent respectively, according to a report  published in January by property adviser Jones Lang LaSalle.
*A confluence of domestic and external factors – a tightening of banks' lending standards due to stricter macroprudential measures, an increase in housing supply, particularly in the apartment market, and a significant drop-off in demand from both foreign and domestic investors – has exposed vulnerabilities in Australia's housing market and the broader economy.
*Not only is the banking sector's exposure to residential property substantial, at over 50 per cent of total assets, household debt ratios are among the highest in advanced economies, the International Monetary Fund warned  in February.
*One of the most conspicuous signs that Australia's housing market is undergoing a correction is the sharp fall in the value of development sites purchased by Chinese investors. According to a report published in February by property adviser Knight Frank, mainland developers and investors acquired $1.3 billion  worth of sites last year, a 35 per cent fall on the previous year.
Even in Australia's better-performing commercial property market, where transaction volumes in the office sector last year surpassed the $19 billion mark for the first time on record, mainland investors have retrenched significantly. According to a report published in January by CBRE, a real estate adviser, Chinese investment fell to just over A$1 billion last year, its lowest level since 2013, as mainland buyers, such as Dalian Wanda Group, were forced to dispose of assets.
Anglophone, (English speaking) politically stable, economically resilient (Australia has racked up a record 28 years without a recession) and highly transparent, Australia has long been one of the preferred markets for Chinese cross-border property investors.
*In its 2018 Global Real Estate Transparency Index, Jones Lang LaSalle ranked Australia second behind the UK and described it as "the standard-bearer for transparency" in the Asia-Pacific region. What is more, Australia is one of the most multicultural nations in the developed world, and a popular destination for Chinese students attending university.
*Armed with an extensive database of buyers in China and expatriate workers, mainland developers have built up a solid track record in Australia's residential market, offering a differentiated product based on Chinese architectural styles and marketed by bilingual agents.
**Knight Frank notes that mainland developers and investors accounted for more than 30 per cent of Australian residential development site sales last year – more or less the same share as in 2017 – and have bought more than a quarter of the sites that have transacted in each of the past five years.
*In Sydney, Melbourne and Brisbane, nearly 11 per cent of all new apartments were built by Chinese developers last year, with the share expected to rise to 22 per cent by 2021 for those currently under construction and with planning approval, according to Knight Frank.
*Mainland developers have also diversified their portfolios by increasing their exposure to Australian commercial property, particularly offices.
China Poly Group and Aqualand, two residential-focused developers, have purchased office buildings in Sydney in the past three years.
Australia's post-election tax gives property investors cause for pause
From a sentiment standpoint, moreover, Australia remains popular among Chinese investors, despite concerns about the country's housing slump. In a survey of Chinese cross-border real estate investors' intentions, published in February by property adviser Cushman & Wakefield, Australia was neck and neck with Britain as the third-most-popular destination for investment this year. The residential market, along with offices, was the preferred sector for investment last year.
Australian regulators and policymakers are also acutely aware of the threat posed by the downturn in the housing market. The Australian Prudential Regulation Authority reversed some of its lending restrictions last year to reduce the risk of a credit crunch, while the central bank shifted its policy stance to neutral in February, acknowledging the threat posed by tumbling house prices.
Even the IMF, which has warned that vulnerabilities in the housing market could become more severe, says the correction is taking place against a backdrop of "strong growth" and "a financial system [that] remains fundamentally sound". The same cannot be said for China's ailing housing market.
Chinese investors' love affair with Australian property is set to endure.
Nicholas Spiro is a partner at Lauressa Advisory

Published:  South China Morning Post
SOURCE:  https://www.scmp.com/comment/insight-opinion/article/3005149/slowdown-australias-property-market-wont-dampen-chinese
CAAN FACEBOOK:
https://www.facebook.com/Community-Action-Alliance-for-NSW-744190798994541/?ref=aymt_homepage_panel
WEBSITE:
https://caanhousinginequalitywithaussieslockedout.wordpress.com/