There's a boom in negative gearing stupidity
One of my favourite things to do on a Sunday morning is to search the term "negative gearing" and then read the various special pleadings and scare campaigns.
This weekend delivered the goods in spades, with a veritable smorgasbord of stupidity served up.
First, we got Realestate.com.au claiming that first home buyers (FHB) are urging Labor to reconsider its negative gearing plan based on the testimony of one victimised FHB couple:
Sisters Brooke and Jade Miller are fresh off buying their first home in the Penrith area and claim cuts to negative gearing would be "devastating".

The pair are planning to put their home up for rent next year to help take the sting off their repayments for a while, but the removal of the concession on January 1 as proposed by Labor would make a significant dent in their finances.

"We work hard. We were hoping negative gearing would give us a leg up into the market," older sister Brooke said.

The 25-year-old added that buying their home was a challenge. She was only able to afford the purchase by working two jobs, one in a High School office and the other at ANZ stadium on the weekends.

The sisters also had to get help from their parents who went guarantor on the loan for their $510,000 house in Cambridge Park.

They were planning to live with their parents when they temporarily rented out the home, but leasing out the property next year will mean they will miss the deadline for Labor's proposed grandfathering of exsiting negative gearing arrangements and will not get the benefit…

The Miller sisters said they didn't agree with the assumption that those claiming negative gearing concessions didn't need the help. "We had to put a lot of effort into saving because you have to build a really big deposit to be able to buy property these days. It took us quite a few years.

The sisters were planning to live in their property for the first six months to qualify for the NSW government first homebuyer concessions. The concessions offer an exemption on stamp duty payments for first home buyers properties prices under $650,000.

"You've got to do whatever it takes to make it work," Brooke said.
Earth to Brainiacs: if you want to obtain negative gearing benefits under Labor, there's a simple solution: rent your property out before the 1 January 2020 implementation date.
Further, did you ever stop to think that one of the reasons why you spent so much on your property in the first place was because you had to compete against investors? If this investor demand didn't exist, you wouldn't have had to struggle so hard. So why should future FHBs also be forced to struggle?
Next we had News.com.au interviewing two industry mouthpieces nonsensically warning of impending doom under Labor's policy:
[Labor's policy] is expected to weaken investor demand, pushing down prices but pushing up rents.

"Unless investors buy property, rents will end up rising because it's a simple supply and demand problem," [BMT Tax Depreciation's Bradley Beer] said.

Real estate author, academic and investor Peter Koulizos said that in 1985, when Labor previously "fiddled with negative gearing and introduced capital gains tax", property prices dropped by 10 per cent and construction fell 27 per cent.

Mr Koulizos forecast property to fall again if Labor was elected, but not by as much because most cities were already in downturns.

"I understand they're trying to make property more affordable, but making it affordable is code for property prices coming down," he said.

Mr Koulizos suggested investors buy established properties before January 1. "Even though buying a new property has greater depreciation benefits, its capital growth isn't as good," he said.
Bradley Beer obviously has never bothered to look at the housing finance data, which shows that 90% of investors buy established dwellings: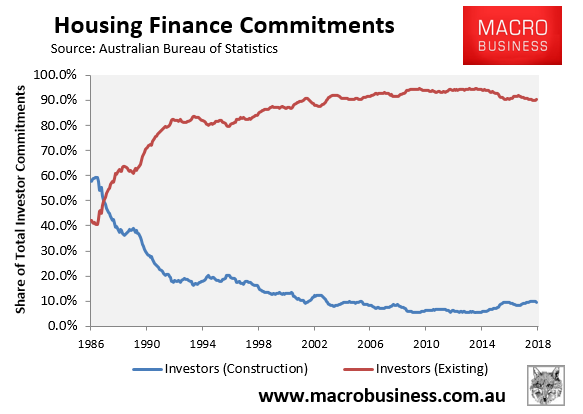 Therefore, if investors stop buying these dwellings under Labor's policy, there will be minimal (if any) impact on rents as these homes will be purchased by FHBs, resulting in a corresponding decrease in rental demand.
Peter Koulizos' claim that the temporary abolition of negative gearing in 1985 (and the implementation of CGT) caused dwelling construction to crash is similarly asinine. The fall in construction can be explained by the sharp rise in mortgage rates, from 11.5% in March 1985 to 15.5% in September 1986 to June 1987 (circled below):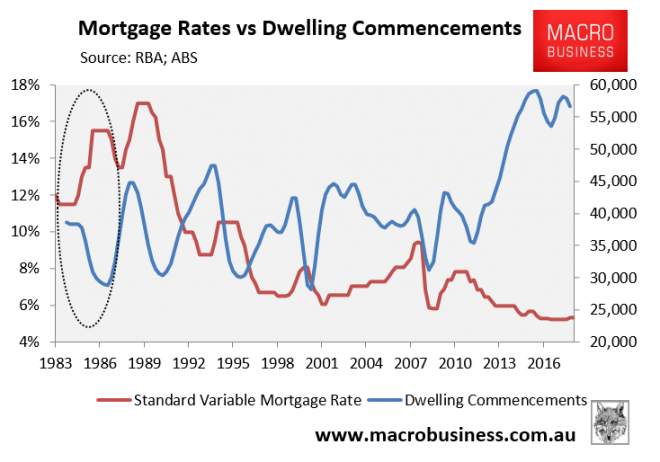 Indeed, the decline in construction, which bottomed out in March 1987, was one of six corrections over the last three decades that all closely followed, or were simultaneous with, rises in mortgage rates.
Koulizos also failed to mention that the stock-market bubble would have attracted funds away from property, or that the ensuing "crash of '87", would have caused a flight back to property. Pretty basic stuff.
Also, why would Koulizos recommend "investors buy established properties before January 1" if Labor's policy will cause prices to fall? How is that rational?
Finally, we got the national personal finance writer for NewsCorp, Sophie Elsworth, penning a ridiculously self-serving article painting property investors as innocent victims of Labor's policy:
I am a property investor and I am certainly not rich…

In most instances property investors are honest, hardworking Australians who are trying to plan for their future and have a good investment vehicle working for them.

But it's bugging me how property investment has become the new superannuation.

The fat cats in Canberra are putting their grubby mitts all over property investors when they would be better to leave them alone…

I purchased an existing property, a two-bedroom unit on Brisbane's northside back in 2012… What concerns me is that if I go to sell it, why would a property investor buy my property or any existing property over a new build under the new proposed rules?.

If I was an investor I would want to take advantage of the negative gearing tax deductions that will only come with new properties if Labor's new legislation gets in from January 1.

Labor is also going to halve the capital gains tax discount from 50 to 25 per cent for any investment gains made from purchases after January 1…

Renters too will be hit as more investors pull out of the market. Why not just leave the whole thing alone?
Nice contractionary analysis there, Sophie.
On the one hand you say "If I was an investor I would want to take advantage of the negative gearing tax deductions that will only come with new properties", which necessarily would result in more housing supply and lower rents. But then on the other you say that Labor's CGT changes would cause investors to "pull out of the market" hurting renters. So what is it?
The property market may no longer be booming, but bullshit analysis of Labor's policy most certainly is.