Despite all the contrary evidence NSW Inc forged ahead to destroy the pristine environmental bushland at Ourimbah Road Kangy Angy … it was reduced to desolate wasteland for a train maintenance facility!
NSW Inc appears to be hell-bent on repeating the sameness, generic development across NSW … transitioning Ourimbah from a rural residential zone to a suburban zone …
The developer has now submitted a third proposal … having been defeated twice by the community …
IS this about developing housing for International Students … full fee paying students?
The population growth contrived through immigration has meant Ourimbah residents had to oppose a high-rise mini Chatswood to retain some semblance of the character and heritage values of Ourimbah!
– real concerns about the compatibility of new development with Ourimbah's character and heritage appear warranted!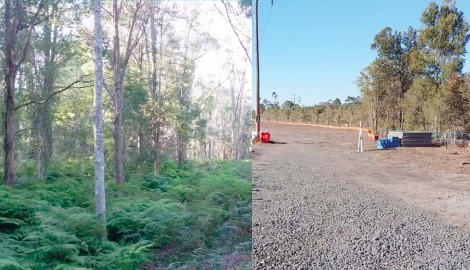 Photo:  https://coastcommunitynews.com.au/central-coast/news/2018/07/pristine-bushland-turned-desolate-wasteland/
CENTRAL COAST
Ourimbah masterplan reveals new town centre, 100 homes, multi-storeys
It's Ourimbah — but not as you know it.
Central Coast Council has revealed a complete reimagining of the suburb to include a new town centre involving a realignment of the town main street to extend along Jaques St.
More than 100 new dwellings are expected to be built suburbwide and a move to incorporate low and medium density housing, including shop-top development, will be adopted.
The council's draft Ourimbah Land Use Strategy and Masterplan makes clear a 20-year vision for the suburb as it grows to absorb more of the Central Coast's expected population growth over the coming decades.
Ourimbah's location beside the M1 motorway and on the train line make it an area with "longer term potential for economic development", reads the report.
It also notes the suburb's status as a "preferred location" for the federal government's only high speed rail stop on the Central Coast.
Under the plan, residential growth of small and medium density, such as apartments or villas; would be encouraged in locations with easy access to the town centre and train station.
An area along Teralba St and on Baileys Rd would be the first parcels of land to be rezoned over the next 5 years. Teralba St would transition from a rural residential zone to a suburban zone allowing for 60-70 new dwellings, and at Baileys Rd 30-45 dwellings could be built.
Other areas, such as the hilltop around Reservoir Rd and at Shirley St, would be considered for residential development over the next decade, and if improvements to Enterprise Drive are realised, the possibility of staff and student housing near the University of Newcastle's Ourimbah campus would be explored.
But it will be a reorientation of the town centre that current residents will feel the benefits.
Council has proposed to reorientate the main street away from the Pacific Hwy with the aim of creating a more attractive town centre and an "urban village feel". The street would have two active frontages, and the council would work to facilitate the development of a small supermarket.
The preferred alignment for achieving this, the report read, is for a staged extension of Jaques St. The local road network would be tweaked to ensure residents would not have to join the highway in order to reach the shopping district. This extensive and transformative work would be funded largely by developer contributions.
Further to this, the council plans to use Dennys Lane to provide direct access to Ourimbah station. The council's plan notes that this would require the relocation of the telecommunications exchange facility.
The report also suggests adaptive reuse of the postmaster's cottage and the historic post office and the conversion of the Nissen hut into a community centre.
To improve the connectivity of the suburb, a new road bridge across the railway would be required, including an alignment at either Burns or Yates road; and an upgrade to the existing rail bridge at Chittaway Rd. A replacement bridge at Shirley St would also be required.
Lobbying the state government for an upgrade and improvement to Ourimbah station's platforms will continue behind the scenes.
Central Coast Council first floated the Ourimbah masterplan in 2016. It went on exhibition and community feedback saw the council's staff make several changes.
The current draft reflects a significant scale back of original plans which had set aside land at Walmsley Rd, Railway and Mill St and near the university for more than 500 new residential dwellings.
In a statement Ourimbah Region Residents' Association (ORRA) president Di Willard described the masterplan as a "sensible plan" on the whole
"It achieves population growth while being more sympathetic to retaining the character and heritage values of Ourimbah.
"The previous versions of this plan turned Ourimbah into a high rise mini Chatswood."
Ms Willard said ORRA had some objections over the proposed town centre.
"Central Coast Council will need to resume a minimum of four existing properties
including the Telstra telephone exchange to construct a new main street plus further properties to provide for parking.
"Residents' main concern is that development along Jaques St will be piecemeal, with individual developments being approved.
"There are also real concerns that there will be no compatibility of new development with Ourimbah's character and heritage.
"ORRA recognises the Masterplan is only a concept but Central Coast Council must develop a strategy to co-ordinate this development," Ms Willard said.
She said the group also had concerns over permissible eight storey development adjacent to the Big Flower site.
Among the first set of priorities for the council is to floodproof parts of Ourimbah, and to provide evacuation routes for local residents during a flood event.
Council is expected to finalise the plan and implement it at a meeting to be held next month.