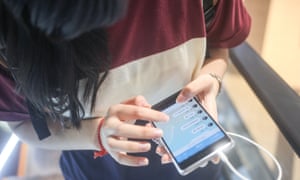 The pro-Liberal posts on WeChat centred on the Safe Schools controversy, same-sex marriage and economic management. Photograph: Jiangang Wang/Moment Editorial/Getty Images; 2016
IS AUSTRALIA STILL A DEMOCRACY?  PULL THE 'RACIST CARD'!
FROM ONE OF OUR COMMENTATORS …
Unfortunately, it is what it is ….
If you recite the numbers, the Statistics, you will be slammed for it as being 'RACIST'…
Anyone who had seen/listened to news broadcasts over the last week following Daley's comments which cost him the NSW election … as true as they were, would have been shocked when also … and aside from ex SBS broadcaster Li Lin Chin who slammed Daley, who is loved by all of us by the way …
CAAN:  What Michael Daley said happens to be true!
PhD STUDENT VISA … DISCOVERED!
MARCH 25, 2019 / CAA4NSW
WAS MICK RIGHT?
A Gate to Permanent Residency!
https://caanhousinginequalitywithaussieslockedout.wordpress.com/2019/03/24/9594/?fbclid=IwAR1rCOFgN8pyCVvfoeQF-ZajQH1yLCyN9TzQBBrBHWfNg1u4IzJMzrTYQmA
AND …  further, midway through 2018 there were 2.2 MILLION TEMP. VISA HOLDERS IN AUSTRALIA … of which 1.6 MILLION VISA WORKERS!  
That creates a lot of competition for housing and jobs!
… would have also heard another Chinese immigrant interviewed say to the effect …
"if you stuff with the Chinese community you will be crucified!"
WELL, that indicates to me the clout, the power!!
… i.e. in NUMBERS the Chinese community has in order to dictate election outcomes.
Photo: 2016:  A Chinese-language flyer endorsing the Christian Democratic Party; likening transgender people to rapists; handed out by a ChPhinese Christian group in the seat of Bennelong
So, If we can't talk about particular Migrant numbers, and from where the numbers are from in terms of ethnicity and the political influence they possess …
How the HELL are we going to be able to control developments?
Photo:  Greaton, a Developer along with others landbanking St Leonards South … homes a thing of the Past!
AND those undertaken by an ex international Student who decided to then manipulate his Visa to stay here,  and from destroying our neighbourhoods?
It's Madness!! … This NICHO TENG guy may very well have been one of those wealthy PhD students who took the place of one of our poor domestic students …
Who knows?
View:  https://caanhousinginequalitywithaussieslockedout.wordpress.com/2019/03/28/9716/
Are we not allowed to say that without being called up as RACIST?
The facts remain … the majority of our migrant intake is ASIAN …  nothing wrong with that … and it just so happens that most by far are from CHINA ….
Again fact … is it fair?
… No, and are also low and behold WEALTHY …  that we do know … funny about that … Money talks.
No wonder our politicians in cahoots with … old mate HARRY TRIGABOFF are falling over themselves to butter up, gain favour, and receive donations and kickbacks from Chinese wealthy nationalists.
Photo:  The Australian
So, what chance have we got to change the status quo at the upcoming Federal election after what's happened in the NSW State Election?
… We have to be fairdinkum, there is no such thing as free speech, and accept that if we speak out there are consequences.
CAAN FACEBOOK:
https://www.facebook.com/Community-Action-Alliance-for-NSW-744190798994541/?ref=aymt_homepage_panel
WEBSITE:
https://caanhousinginequalitywithaussieslockedout.wordpress.com/