View the Video:  "Housing development has outgrown infrastructure so much in one part of Sydney's north-west that the State Government has suspended all planning proposals pending a council review."
Does it seem that the Planning Minister is feigning concern?  He says:  this move is about "good planning"  …. this coming from the same Minister who met with 53 DEVELOPER GROUPS from January to September 2017 and not a single resident …
RYDE LGA has been overdeveloped with massive precincts in Meadowbank/Shepherd's Bay, Top Ryde, Macquarie Park, North Ryde Station, North Ryde, Gladesville and the Medium-Density Code of duplex, triplex, granny flats …  view CAAN Photo Album for more!
THE SOLUTION – SYDNEY – vote the LNP out and demand the ALP Feds enforce the Anti-Money Laundering Legislation for the Real Estate Sector!  That'l stop Visa Manipulation and slow down migration/population growth … 
MEANWHILE …  some of the high-rise development underway in Waterloo Road Macquarie Park …
CAAN Photo:  Chinese developer JQZ "PRIME" Waterloo Road, Macquarie Park; promoted as a Precinct within itself.  This was formerly a premium commercial site within the business park in a bushland setting;  employing local residents.
CAAN Photo:  ICON project, Waterloo Road, Macquarie Park formerly a commercial building site replaced by this high-rise residential.
CAAN Photo:  Demolition underway of 30 year old commercial building by RomeCiti for apartment development Natura due for completion in 2020.  Waterloo Road, Macquarie Park
CAAN Photo:  February 2019. Demolition complete; RomeCiti has commenced preparation for residential development Natura. Waterloo Road Macquarie Park
Background residential apartment towers along Herring Road, Macquarie Park
Photo: SMH: 'Gobbledygook and doublespeak':  How 'Gladys' gang' is failing Sydney on planning
NSW Libs deploy planning propaganda 101
The NSW Liberal Government has resorted to propaganda in a bid to deflect voter anger about overdevelopment and declining liveability in the lead up to the state election.
Instead of being honest and upfront about the massive number of apartment developments planned for Sydney, the Government is instead spruiking "more parks and open space". From The SMH:
When the government feels obliged to tell the world about a new batch of apartments it wants built, it tends to employ the ruse these days of talking about parks instead. It's the parents' trick of cloaking a trip to the dentist in the promise of future chocolate.

"More parks and open space," declared the announcement about the redevelopment of Waterloo in inner Sydney.

Those interested in what was actually planned had to do their own sums to see the proposal in fact represented a scale of residential development never seen in Australia. And yet, somehow, Gladys' gang described that as "more parks"

The dissembling is not an aberration. Rather there's been an incoherence that long ago seeped into the government's planning and development policies and which, with an election around the corner, has hardened into gobbledygook and doublespeak.
The fact remains that access to open space will shrink as long as Sydney's population continues to balloon via mass immigration: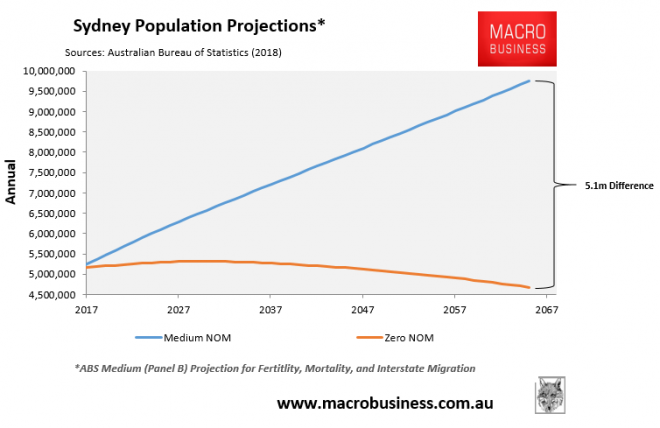 Piling millions more people into the existing urban footprint necessarily means less open space per person. It's basic math.
In fact, Infrastructure Australia's recent projections for Sydney show that access to green space – let alone jobs, schools and hospitals – would reduce as Sydney's population balloons to a projected 7.4 million people by 2046 (let along to around 9.6 million people by 2066, as projected by the ABS), irrespective of how Sydney builds out: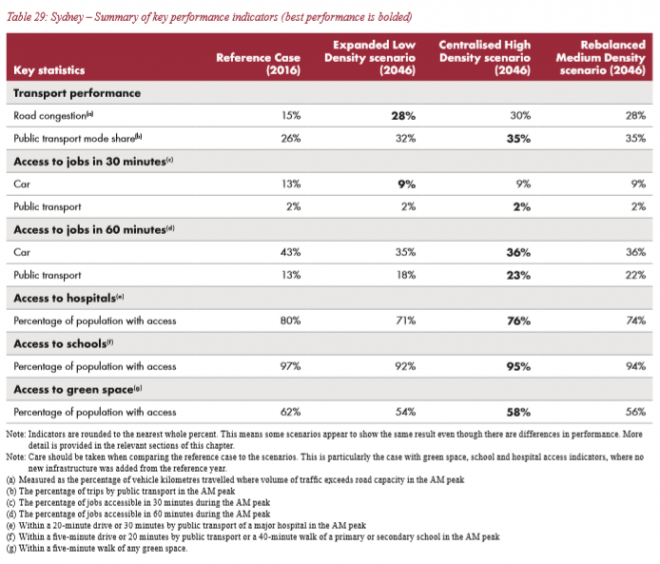 So, thanks to the federal government's mass immigration 'Big Australia' policy, and the over-development that this entails, liveability in Sydney will be unambiguously eroded.
Rather than resorting to dishonest propaganda (Liberals) or faux concerns regarding over-development (Labor), both major parties need to meet in the middle, adopt a bi-partisan stance, and publicly demand that the federal government dramatically slow the immigration intake.
Because building ever more concrete box apartments for ever more migrants is the hallmark of brain dead policy and a guaranteed recipe for lower living standards.