Labor to axe first home buyer super scheme
With the East Coast property bubble raging, the Turnbull Government in October 2017 passed legislation to allow first-home buyers (FHBs) to use up to $30,000 of voluntary super contributions for a housing deposit. The scheme was announced as part of a 'housing affordability' package announced in the 2017 Federal Budget: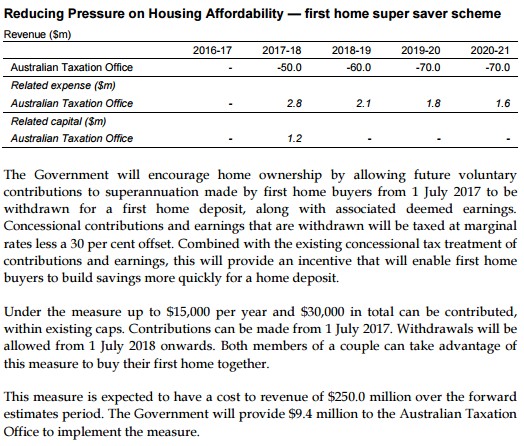 Now, Labor has vowed to axe the scheme in the event it forms the next government. From The Brisbane Times:
Labor voted against the scheme when it was created by the Coalition government, and Mr Bowen says that if elected the ALP would phase it out…

"It was always a fig leaf to cover up their failure to properly deal with housing affordability," he said…

Between the start of the program on July 1 last year and the end of January this year, 2374 people have made requests to access their super under the program. That equates to fewer than 4 per cent of all first home buyers to have been granted a home loan over the past 7 months.
This was always an unambiguously bad policy.
At the margins it places upward pressure on house prices (other things equal), which is the antithesis of a 'housing affordability' measure.
The scheme also clouds the purpose of super from being a retirement savings vehicle that is intended to relieve pressure on the Aged Pension.
The bigger question is: with the housing market crashing, would a future Labor Government launch bigger FHB bribes, such as direct grants, to help counteract the negative price pressures created by its signature negative gearing and capital gains tax reforms?
Wait and see.