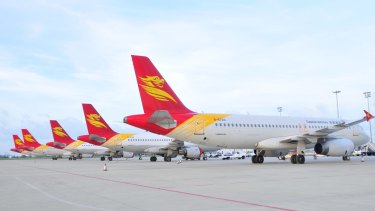 Photo:  SMH: Arrival of seventh Chinese airline to Sydney
The ultimate result was a massive lift in Australia's net migration intake, which surged from the mid-2000s and pushed population growth to roughly twice long-run norms. Moreover, the official projections are for this high intake to persist for the next half century (see next chart).
Yes, Australia's offshore detention policy is unambiguously cruel, an utter waste of precious taxpayer money, and should be closed-down.
*But let's also not forget that the humanitarian intake is a tiny component of Australia's total permanent program – comprising a mere 16,250 of the 178,700 places in 2017-18: