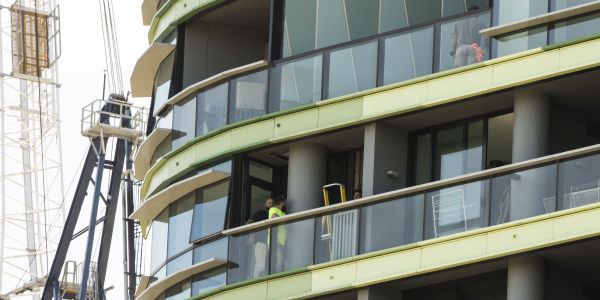 Tradesmen work on Opal Tower in Sydney Olympic Park, which was evacuated late 2018. Photo: Dominic Lorrimer
Buyers try to 'rip off' Opal Tower owners by offering half the price
While residents and owners of Opal Tower apartments remain in limbo over the structural integrity of their homes, neighbours in surrounding buildings are being caught up in the fallout.
Apartments listed for sale in nearby residential towers are languishing with agents reporting buyer interest is slow with offers from bargain-hunters of as little as half the units' asking prices.
Developer Ecove has borne the brunt of the pullback at several of its other developments close to the Opal Tower in Sydney Olympic Park.
Ecove holds approximately 30 apartments in Opal Tower and said 60 per cent of the apartments in its neighbouring Boomerang development, which is under construction, have sold so far.
Director Bassam Aflak was confident prices for Opal Tower units would hold steady but said that in the traditionally slow summer period, followed by Easter and school holidays, it would take time for sales in its projects to pick up again.
"We don't expect a return to normal selling until around May 2019," he told Domain.
Du Yang, selling agent at SY Realty, had listed two apartments for sale in the Opal Tower before Christmas with a price guide of $500,000.
"I've had several inquiries and offers because the buyers think they can rip off the owners," Mr Yang said. When asked by how much, he replied: "By half."
Meanwhile, in Ecove's completed Australia Towers nearby, several apartments listed for resale are suffering a similar fate.
Deepak Kumar, selling agent at Village Quay Real Estate, said Sydney Olympic Park and nearby suburbs Wentworth Point and Rhodes have all been on the slower side of the property market, but the Opal Tower news has exacerbated the situation.
"People are a little bit concerned to buy. I think prices have been affected a little bit as well. After the news I haven't got any offers so it's definitely hard to say, but interest has dropped a lot actually," he said.
"A lot of the market isn't that great at the moment; it's on the slow side. The Opal Tower has affected it more than the actual market. Enquiry has dropped off."
Steven Hou, selling agent at Hualei Properties, also has a listing with Ecove's Australia Towers with a price guide of $700,000. Mr Hou said it has been on the market for a year and has had less than a dozen interested buyers in that time.
"So far I've only shown six people in the past year. It's a very slow market, and Opal Tower has made it even worse," Mr Hou said.
But Kay Lee selling agent of C J Real Estate has a listing in One Australia Avenue, another Ecove development next door to Opal Tower, and is more optimistic about her vendors' prospects despite the apartment being on the market for six months.
"The whole Sydney market is in a similar condition. It's not really affected by the Opal Tower; we're still getting the same enquiries. I don't see a big difference [in the number of inquiries]," Ms Lee said.
She estimated that between five to 10 enquiries on each listing in Sydney Olympic Park and days on market ranging from three months to six months.
"Buyers are still asking if it's the same builder. They're not comfortable to purchase," she said.
At a price guide of $730,000 to $750,000, Ms Lee received a sole offer last week but it was five per cent lower than expected, and she rejected it.
"Some owners [are] willing to wait until the market picks up again," Ms Lee said.
"I feel sorry for some of the owners of Opal Tower. I don't think anyone will want to buy apartments in the building. The owners next to the tower are a little bit worried."
But she quickly added that investors and owners shouldn't worry much "because things are happening, [there's] good potential in the area," she said.
In another listing at One Australia Avenue, with a lower price guide of mid $600,000s, selling agent Michelle Zhang of Miluxe Realty also played down the impact of the Opal Tower.
"The inquiries for this property hasn't reduced, it has actually been increased," she said, but added that none of the prospective buyers appeared serious.
"It could be [that buyers] think they can take advantage, maybe they can buy things cheap."
Ms Zhang said she had an offer of $620,000 withdrawn after the buyers were concerned about the structure of the building.
But she went on to say: "It's a different building, I don't think it has a direct effect. So far I haven't heard any negative feedback about Opal Tower".
Mirvac also has an apartment development in Sydney Olympic Park, and head of residential Stuart Penklis said the project was unaffected by Opal Tower.
"Our Pavilions development is yet another high-quality Mirvac project that we are proud to be delivering for our customers, and we have had no changes to the levels of enquiries or sales at our Pavilions development," he said.
SOURCE:  https://www.domain.com.au/news/opal-tower-developer-ecove-doesnt-expect-a-return-to-normal-selling-until-may-2019/?utm_campaign=strap-masthead&utm_source=smh&utm_medium=link&utm_content=pos1&ref=pos1